I don't necessary like carrot, especially the cooked one. I will prefer if it comes fresh, the crispier, the juicier, the better. I usually leave it raw in my salad and only toss briskly in hot oil while stir frying.

Thai carrot salad is basically the alternative version of Thai spicy papaya salad. Those who doesn't prefer raw papaya finds carrot more delicate and sweet. Carrot is rich with vitamin A. It is very healthy and good for our skin.
Thai carrot salad is very flavourful and spicy. The sweetness of carrot is enhanced by the earthy sweetness of palm sugar and the sourness of lime juice makes it more balance and subtle. Groundnut adds the nutty flavour and crunchy texture to the dish. It's a simple, rustic and easy to make. I know you will be hooked at first bite.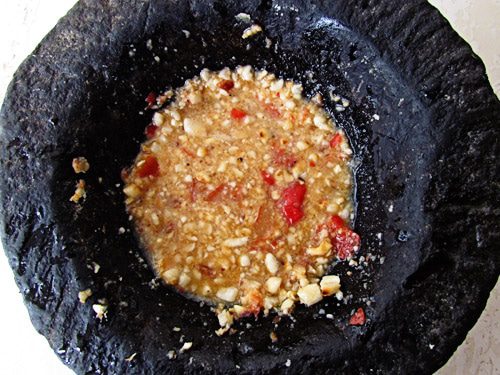 Thai Carrot Salad

Ingredients: (2 servings)

3 carrots- julienned or finely shredded

1 red chili

1 clove garlic

1/2 cup roasted peanut

2 tsp palm sugar

1 tbsp lime juice

2 tsp fish sauce or to taste

Preparation

Roughly grind chili, garlic and peanut until coarsely ground.
Add palm sugar, fish sauce and lime juice. Mix well.
Add carrot and stir until everything is mixed. Check the seasoning and serve.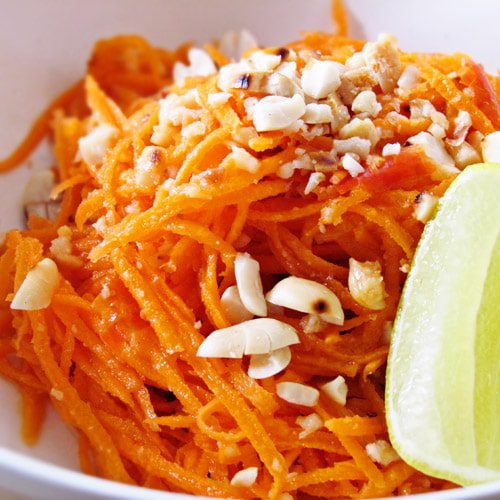 What I love the most about this dish is that it is incredibly light and healthy. The carrot was so fresh and drenched in delicious, spicy and savoury sauce. Peanut gave the dish an interesting texture. The peanut crumbs mixed in with the dressing adding the wonderful nutty flavour to it. This spicy carrot salad was wonderful with deep fried shrimp crackers and BBQ chicken.