One of the rare occasions I get to go out alone with my husband, and guess where we went? Grocery shopping at the supermarket! DOH! Someone kill me already.
So we were walking by the fruit section and saw a crowd congregated at one corner. Curiosity got the better of us and we went in for a closer look. The star attraction? Blueberries! I was about to walk away but my husband stopped me and said we should get some too! Talk about herd mentality. Tsk tsk.
Two hours later (spent reading nutritional facts and comparing prices of bargain items … how romantic), we came home with a tub of blueberries, which I have never been a fan of. Yeah, the fruitarians can gasp all they want! I am not a (raw) fruit person and apart from durian, which I like (but am not crazy over), I am not wild about fruits in general.
I saw the husband try to coax the kids to try some blueberries but instead, got rebuffed. And in a desperate attempt to ensure that the berries did not go to waste, I decided to "make them into something".
So I looked around for recipes with blueberries and I either got muffins, pies or jam. I settled on making a blueberry "cake" (read: 1 giant muffin) because I didn't have any muffin cups and was too lazy to go out again.
As the recipe called for buttermilk which I also didn't have, I made my own using the juice of a lemon added to fresh milk. Not wanting to waste the rest of the lemon, I zested it and used it to make streusel for the topping.
Well, the muffin "cake" turned out all right, but would have been nicer without the blueberries. The texture was fine-crumbed and very tender, thanks to the buttermilk. The lemon streusel provided a crusty, citrusy dimension. But the blueberries spoiled it for me 🙁 They were so bland and tasteless. Bleah. I just didn't like them in my cake. I still have some fresh blueberries in the fridge which I didn't use, and am wondering what I should do with them?
Maybe a spoonful of sugar will help them all go down … now where's Mary Poppins when I need her?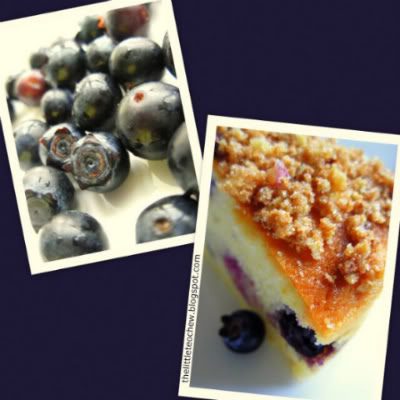 Recipe for easy reference
(from here)
For the muffins (or "cake", if you want to take the easy way out)
– 3 cups all purpose flour
– 1 tbsp baking powder
– 1/2 tsp baking soda
– 1/2 tsp salt
– 1/3 cup unsalted butter, very soft
– 1/4 cup vegetable oil
– 1 cup sugar
– 2 large eggs
– 1 tsp vanilla extract
– 1 1/2 cups buttermilk
– 1 1/2 – 2 cups (fresh or frozen) blueberries
* Note that I halved the recipe and it yielded a 6-inch cake (or 8 big muffins).
1. Preheat oven to 190 degree celsius. Line 16 muffin tin cups (might need two tins) with paper liners.
2. In a medium bowl, whisk flour, baking powder, baking soda and salt.
3. In a large bowl, cream together butter and sugar until light. Beat in the eggs one at a time, followed by the vegetable oil and the vanilla extract.
4. Alternate buttermilk and flour into butter mixture, ending with an addition of flour and working in 2 or three additions. Stir in blueberries.
5. Divide batter evenly among muffin cups.
6. Bake for 18-22 minutes, until tops are lightly browned and a tester comes out clean. Cool on a wire rack.
For the lemon streusel
– zest of 1 lemon
– 6 tbsp granulated sugar
– 1/2 cup flour
– 5 tbsp warm, melted unsalted butter
Mix all and mash with a fork until clumpy. Sprinkle over muffins/cake before baking. Bake till crusty and golden.