"Never cook boy choy more than a minute", my mother used to say, fresh vegetables are always good as they are. So we love to toss the green leaves in the smoking hot wok, and let the leaves rustle fiery, greasy, iron surface. And it's all to be quick, only a minute, let the heat seals that succulent juice within the fat stalks. The lively color of green turns deep, rich and glossy when the flavours are imprisoned in the luscious leaves.
A quick stir fry is my number one choice of cooking. The "quick" is not only suitable for our busy lifestyle but also a technique that helps retain a wonderful freshness texture and nutritional value in food.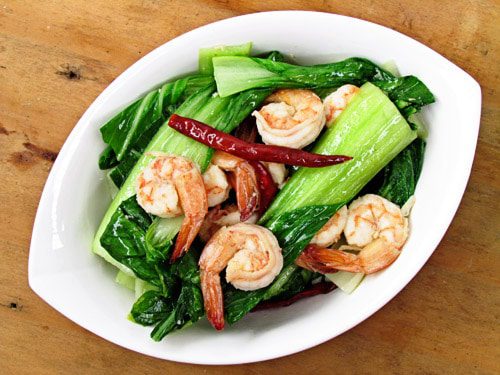 Our stir fry bok choy is as simple as it is quick. We only allow the mellowy aroma of garlic to sweep in those gorgeous green petals. Bok choy is always great with chicken and seafood, although it alone makes a wonderful vegetaian stir fry. The soft leaves embrace the savoury tenderness of the meat beautifully.
Stir Fry Bok Choy with Prawn

Ingredients: (2-3 servings)

2 large bok choy (about 400 gm)- washed and cut in halves lengthwise

250 gm prawn- peeled and deveined

3 cloves garlic finely minced

2 whole dried red chilies- optional

1 tbsp light soy sauce

1 tsp rice wine vinegar

1/2 tsp sugar

1 tbsp cooking oil

1 tsp sesame oil

Preparation

Heat oil in a large wok over the medium-high heat and sauté garlic until aromatic.
Add dried red chili and fry for a few second.
Add prawns, light soy sauce, vinegar, and sugar. Stir for a few minutes or until the prawns turn pink and curl up.
Add bok choy and seasame oil. Stir fry continuously for 30 seconds or until bok choy leaves slightly soften but still crunchy. Remove from the heat and serve hot with some rice or stir fry noodle.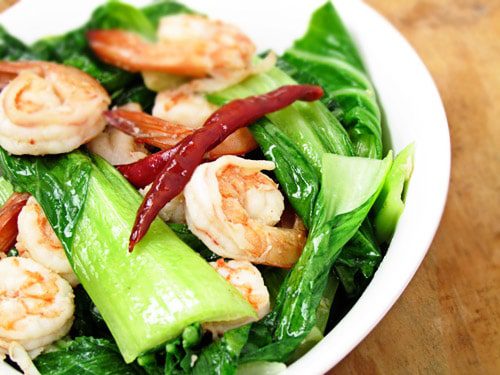 Stir fry bok choy with prawn over a bowl of hot rice was so warm and comforting. The fresh leaves and juicy prawns drifted just enough savoury lava to melt in soft rice. The beautiful flavour unfurled in our mouths every single bite.
Have a lovely day,