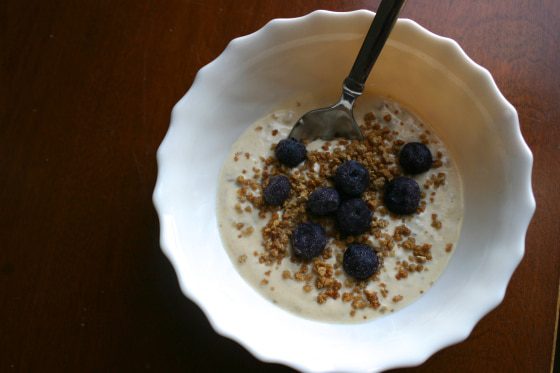 The blueberries create little streaks of color when you swirl it together. Very entertaining.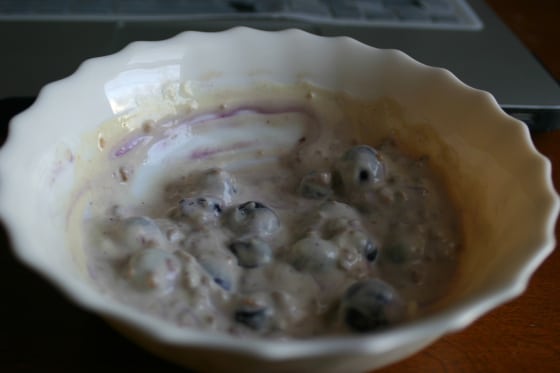 I threw some ingredients together for breakfast and then ate three more bowls of it and took pictures, which is incidentally the recipe for a blog post. I realize this isn't a "recipe" per se, but it is a nice little bunch of ingredients Ferdinand and I threw together.
It's reminiscent of a PB&J, it's absolutely delicious, and has no sweetener of any kind. It doesn't even need it.
I used brown cow plain cream top yogurt because it is yummy as …heck, and doesn't need much added sweetness. The blueberries do the trick. Frozen blueberries are a great thing to have around when you're craving just a little bit of sweetness.
I also used PB2 powdered peanut butter, which is peanut butter with the oil taken out of it (to make peanut oil). This can easily be re-constituted into peanut butter using a little bit of milk or water. I like to add it to my yogurt, pad thai, or steamed cabbage. It is more processed and contains a really tiny bit of salt and sugar, but gives you the same taste as peanut butter without the fat, and it's not that expensive ($5.79 per jar at my local co op and I've seen it cheaper in other places), especially considering the volume is about doubled if you reconstitute it. It's probably healthier to eat the less processed and (good) fatty version, but if you're just looking to add a peanut taste to a dish (with less than 1/4 the calories), this is a good way to do it. To read an argument against PB2, visit this Food Babe article on the subject.
It seems that the general consensus on nut butters is that almond butter is the best for you. Not that almond butter wouldn't be a fantastic addition to this.
Whatever nut you find most morally and nutrionally sound, throw it in. It's a filling, fiber, and protein filled snack with the added benefit of some god bacteria–essentially a digestive magic potion. Just go nuts on this
Blueberry peanut butter breakfast
Servings: 1
You Will Need
Ingredients
1/2 c plain yogurt (use cultured soy or coconut yogurt to make it vegan)
1/3 c unsweetened almond milk
1/3 T grape nuts cereal (I used Roundy's off-brand "nutty nuggets")
1 1/2 t powdered peanut butter (or regular peanut butter) –the PB2 brand has a tiny bit of sugar added, so if you're 100% not eating sugar try a different brand or go for the regular peanut butter
Handful of blueberries
Dash of cinnamon