I mentioned in my last post that I had had two failed baking attempts this week. A sauceless 'self-saucing' Chocolate Pudding and an Autumnal Eton Mess which really wasn't appealing.
The disappointing part of these failed bakes wasn't that they had failed. It was that I wanted to share the combination of blackberry and bitter chocolate with you; a flavour combination that I love.
My Autumnal Eton Mess consisted of Chocolate and Cinnamon Meringue, Spiced Poached Pears and Blackberry Cream. Sounded great, tasted ok… looked disgusting. It was a cool idea that I still want to pursue but only after a few successful bakes to make me feel experimental again. Maybe cherries and plums would be better?
On day three of baking, I can happily say I have made something successful. I don't think you'd usually think of putting blackberry and chocolate together but they compliment each other well. The bitterness of the blackberries against the sweet sponge and cream makes a nice contrast to a usually sickly sweet strawberry and vanilla swiss roll.
I have to admit, after two years of being a pastry chef, this is only the second time I have made a sheet of Roulade sponge. I had only made one yule log back at school before this attempt. I make Roulade sponge regularly at work, but not as a swiss roll.
I love this sponge because it's gluten-free but doesn't compromise on taste and texture. If you bake it just right, the texture is soft, springy and moist.
This is a great cake to make when your tight on time, or are in need of cake satisfaction but just simply can't be bothered to spend hours in the kitchen. Make a bit of sponge, make a bit of cream and roll it all up together. No need for fancy decoration, but it sure does make it pretty.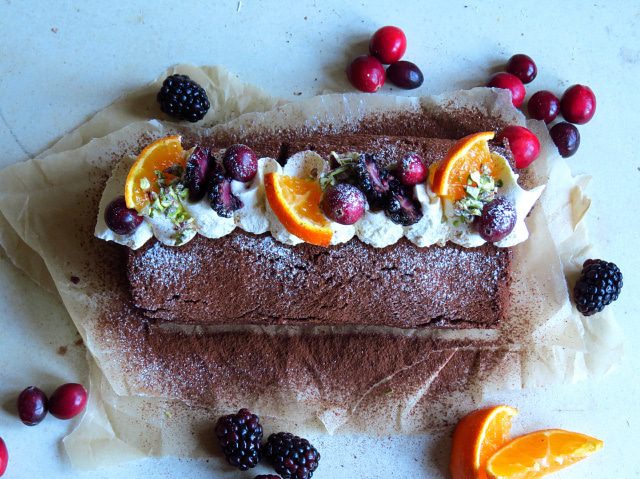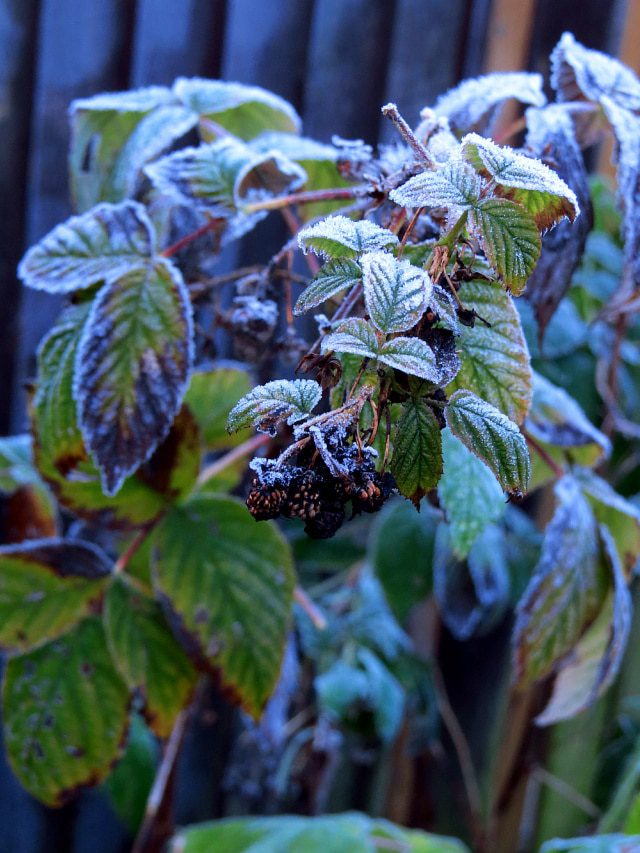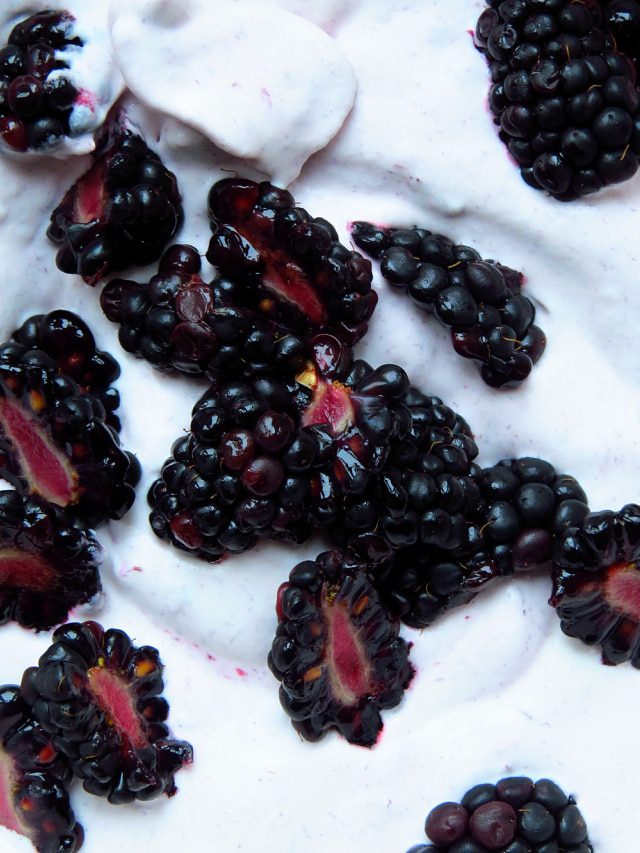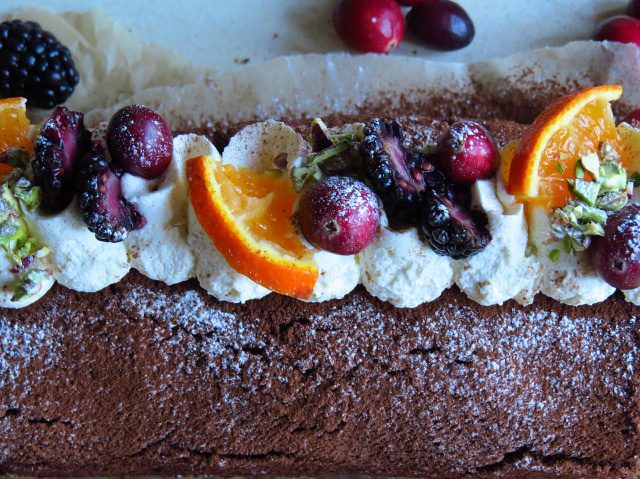 Ingredients
175g dark chocolate
zest of 1 orange
1 tsp. finely ground coffee
175g caster sugar
6 eggs, separated
2 tbsp. cocoa powder, sifted
300ml double cream
30g caster sugar
125g fresh blackberries
1 tsp. vanilla extract
Method To make the Chocolate Roulade
Pre-heat the oven to 180C and line a 14×9 inch baking tray with butter and then a piece of baking parchment.
Place a pan of water on medium heat. Break the dark chocolate into a heatproof bowl and melt over the pan of boiling water, stirring occasionally. Add in the orange zest and ground coffee. Leave to cool once melted.
Place the 6 egg yolks into a bowl with the 175g of caster sugar and whisk until pale and fluffy. It should have a ribbon like texture when let to fall back onto itself. Fold in the cooled chocolate.
In the bowl of a stand mixer, whisk the 6 egg whites until stiff. Take a scoop of the meringue and beat into the egg yolk/chocolate mixture. Next, tip in the rest of the meringue and gently fold it into the chocolate mixture until no lumps of  meringue remain (try to keep as much air in as you can here, be gentle!) Lastly, fold in the cocoa.
Pour the sponge mixture out onto the prepared baking tin and spread into an even layer. Bake for 10-20 minutes until springy to the touch.
Once out of the oven, immediately place a piece of baking parchment over the top of the roulade and turn out onto a cooling rack. Leave the existing piece of parchment paper on from underneath and cover the whole sponge with a cloth. This will make sure the sponge doesn't dry out before you roll it.
To make the filling
Whip up the cream, 30g of caster sugar and vanilla extract until firm. (Reserve some of this cream now if you wish to use plain cream for the top as I have, or reserve some later if you want blackberry cream for the top.) Squash 2/3 of the blackberries with the back of a fork. Fold these through the cream.
Assembly
Take off the cloth, peel off the baking paper and place the cloth back onto the bare sponge. Flip the roulade back over so that the crispy top side is facing up again.
Spread the blackberry cream over the sponge, making sure not to overfill the swiss roll.
Cut up a few more blackberries (remembering to reserve some for decoration) and sprinkle over the cream. Begin by rolling up the roulade from the shortest end, using the tea towel underneath to help you.
Once rolled up, cut off either end for a clean finish and carefully lift onto your desired serving plate.
Dust with icing sugar or cocoa powder. Pipe the cream on top and decorate with fresh cut fruit and nuts if desired.