Happy Sunday everyone! The weather here in Flagstaff is finally starting to warm up– that is, to 40 degrees instead of 20! While it is still chilly outside, I have to admit that I have been avoiding the cold by staying inside under a heated blanket (and wearing layers… lots and lots of layers!) It brings joy to my heart to see all the little kids sledding on what remains of the snow– how fun would it be to return to those times, right?!
Today, I have a whimsical and really delicious recipe for you guys, that is not only low fat and full of fruit, but that also tastes like cheesecake and pudding combined! These Blueberry Cheesecake Pudding Triflesare the perfect mix of the creamy sweetness of a cheesecake and the fluffy, light texture of whipped pudding. Layered together with graham cracker crumbs and big, beautiful, juicy blueberries, these guys are to die for!
Frozen fruit really isn't used enough in my opinion, which is a shame. It is a wonderful way to have seasonal produce on hand all year long, and frozen fruit naturally sweetens anything you put it on! I use frozen blueberries in this recipe, and take advantage of the juice when they thaw to give the pudding a gorgeous purple color. These trifles are very rich and feel so indulgent, but are completely guilt-free and a lot healthier than traditional versions. They are a whip to put together, and can be made up to two days ahead of time and left in the fridge. You can always garnish the trifles with more blueberries on top (above) or just some whipped cream and graham cracker crumbs (below). Regardless, these make for the perfect sweet treat!
Blueberry Cheesecake Pudding Trifles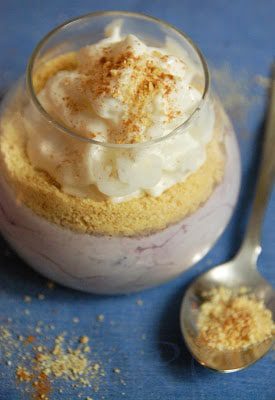 Serves 6         
Serving
Size: about 1/3c. pudding, 1 tbl graham cracker crumbs, and 2tbl whipped
topping    
Calories/serving: 184
Ingredients:
1 (8oz) package fat free cream cheese, thawed
2tbl splenda
1 (8oz) container fat free frozen whipped topping
1 and ½ cups frozen blueberries, thawed, with juice
1/3c. graham cracker crumbs
1 can fat free whipped topping (such as Redi-Whip)
Instructions:
Beat together cream cheese, splenda, and whipped topping
until fluffy and well-mixed. Mix in blueberries until evenly distributed (and
that beautiful purple color)! Place in a covered container and refrigerate for
at least 3 hours, or freeze for 1 (stirring every 15 minutes if doing the freezing method).
To assemble cups, place 1/3c. of the cheesecake mixture into
each of 6 serving bowls. Top each bowl with 1tbl graham cracker
crumbs and 2tbl fat free canned whipped topping.