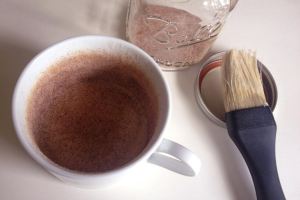 Grab a mug and try this recipe for those EMERGENCY homemade sweet treat cravings without an oven. A great quick fix for that slight sweet tooth craving with just the right amount of espresso to satisfy your taste buds.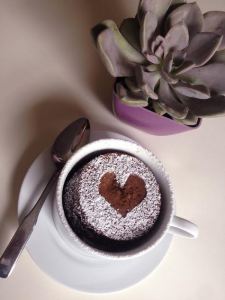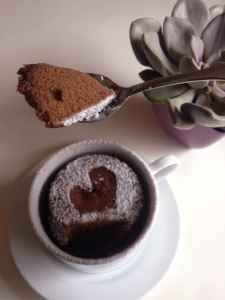 INGREDIENTS:
3 tablespoons flour
1 – 1 1/2 teaspoon instant espresso/coffee
2 tablespoons drinking chocolate powder or sweetened cocoa powder
2 1/2 to 3 tablespoons sugar
1/4 teaspoon baking powder
2 tablespoon milk
1 egg
2 tablespoon oil
1/2 teaspoon vanilla
GREASING THE MUG:
Butter
Cinnamon sugar mixture, dusted over the butter (optional but highly recommended)
INSTRUCTIONS:
1. Mix dry ingredients in a bowl. Add wet ingredients and mix well.
2. Pour mixture into a greased mug and microwave for 90 seconds. (Might need a few more seconds, depending on microwave. Do not over cook.)
3. Serve with a dusting of powdered sugar, caramel or chocolate sauce…great with a scoop of vanilla ice cream. Enjoy!