In case of pitch darkness and lack of colour: plantain
parties,Isabjhdffdgghfjkdottir, frog
rescuing, Kings of the Rye, Deadpool, fizzy pop doughnuts.
IRN-BRU BAKED DOUGHNUTS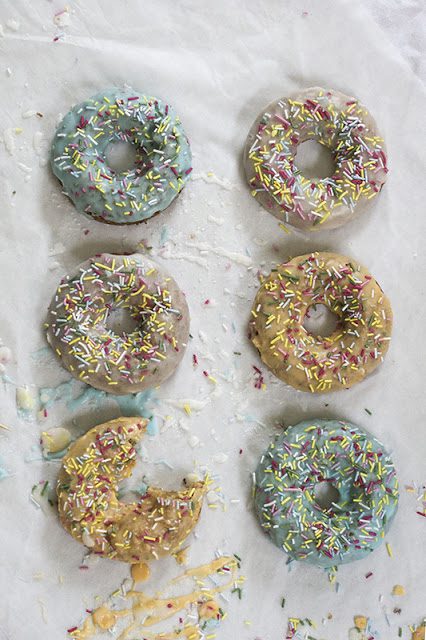 160g (1 1/3 cup) plain flour
150g (3/4 cup) sugar
¾ teaspoon baking powder
½ teaspoon bicarbonate of soda
90ml (1/3 cup) sunflower oil or other flavourless oil
1 teaspoon cider vinegar
1 teaspoon vanilla extract
240ml (1 cup) Irn-Bru
fizzy pop
Glaze:
120g (2 cups) icing sugar
2 tablespoons water
radioactive food colouring, optional
Preheat oven to 180°C (360°F) and lightly grease two
doughnut tins. In a bowl whisk together all the dry ingredients. In
a separate bowl whisk together the wet. Pour the wet into the dry and
mix until combined. Pour into the prepared tins and bake for 12 minutes or
until a toothpick inserted into the centre of the doughnuts comes out clean. Cool
in the tins for 10 minutes, then transfer to a cooling rack.
Next make the glaze: mix icing sugar and water until
smooth, then add the food colouring if using. Dip the top of each doughnut into
the glaze then top with sprinkles and enjoy with a glass of fizzy poppp.