Just like "how a fly is attracted to a light" I'm so attracted to recipes with unique names and especially those that can twist my tongue like an acrobat (without making me bite my tongue of course!). This recipe not only has the name that makes you hit your brakes but also lets you take the next step of actually going through the recipe. Once you scan through the recipe even a novice can spot that they are quite easy to make which suites the fast paced life that we lead.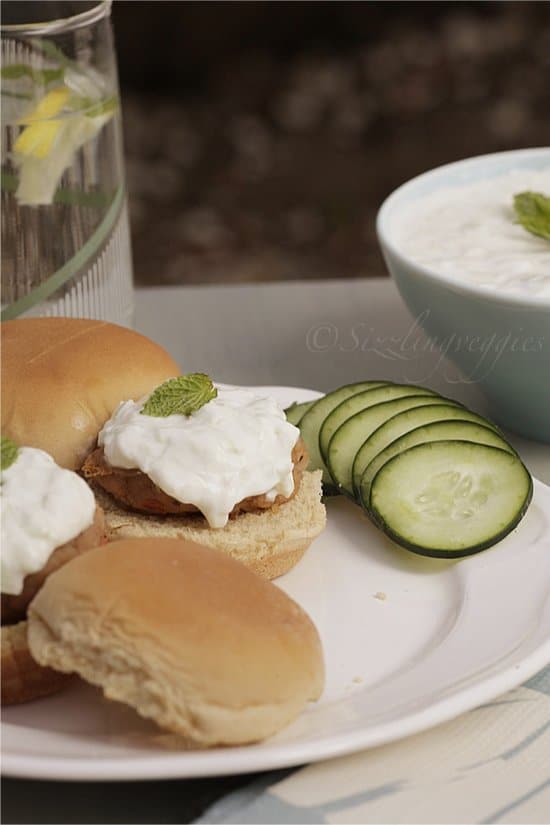 Though this dip is suitable for any Weather they especially are quite soothing for Summer. We haven't started spring yet but where I live the past couple of days the weather is quite warm around 75 F and my excitement and longing for upcoming warm weather have hitched a new level. I had to quench my excitement and had to make something that reminded me of Summer and this cucumber yogurt dip did it. The soothing cucumber and the creamy yogurt along with slight tart taste from vinegar with the balance of olive oil makes this recipe a wonderful side for any dish like pita, flat bread or just as is. I used them to top the mini burger buns with left over dabeli masala and the wonderful balance of many different flavors in each bite were dancing and swirling in perfect rhythm that I felt I was transferred just out of the world.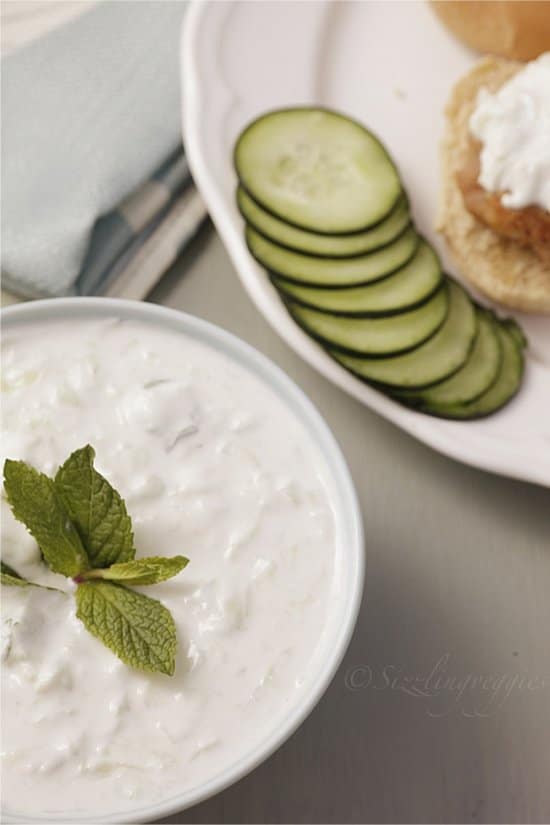 Tzatziki [Cucumber Yogurt Dip]
Ingredients
Cucumber — 1 medium (English cucumber preferred but I used the Indian cucumbers)
Fage or Thick Greek Yogurt (non-fat) — 1 cup
Olive Oil — 1/6 cup
Red Wine Vinegar — 1/2 Tbsp
Garlic — 2 small pods (mashed to paste)
Fresh Mint Leaves — 1/2 Tbsp (finely minced)
Salt — to taste
Instructions
Peel and grate cucumbers with the large grater. Squeeze excess water from cucumber and add them to a separate bowl. Add Fage or any other super thick Greek yogurt to the cucumbers.
Add rest of the ingredients (olive oil, red wine vinegar, garlic, mint leaves, and salt). Mix well. Cover the bowl and refrigerate for at least 2 to 3 hours for the flavors to blend with the yogurt.
Serve with your choice of pita bread or other flat breads. Alternatively they can also be substituted for mayo in sandwiches. For added variation instead of grating the cucumbers cut them to small cubes if you prefer a crunchy dip. Enjoy!