Soul Food. Food good for your soul. Does that phrase bring to mind macaroni and cheese, scalloped potatoes and fried chicken? Maybe chicken noodle soup? Some cheesy movie from the late 90's? Peach Pie A la Mode? Well not for me, soul food is comforting, warms your tummy and feels like a hug from your mama. My mama doesn't make fried chicken. My mama makes me buttery toast with cinnamon and sugar, kefta with potatoes and stuffed grape leaves.
I got laid off, it happens. My parents thought it was a good idea for me to go home for a few days and take advantage of my unexpected free time. I walked on the beach all day, sulked in my sister's super fancy apartment, had business lunches with my daddy and made stuffed grape leaves with my mama.
1 Cup Uncooked Rice
1 Pound Finely Chopped Lamp, or Ground Beef
8 TB Toasted Pine Nuts
1 TS Cinnamon
1 TS Allspice
1 Lemon's Juice
About 55 Grape Leaves (If you grew up in Napa Valley you could sneak into vineyard and cut them and use fresh ones. If not, sucks to be you, but you can buy them in jars at a Middle Eastern market)
Salt & Pepper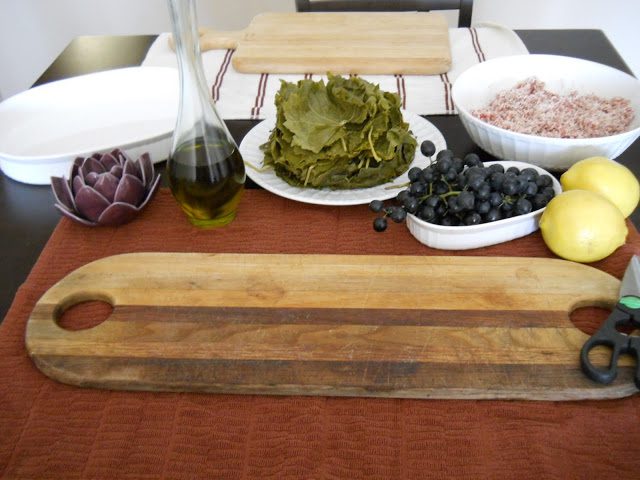 Set up yourmis en place. Now that is French for something like "everything in its place". It is important whenever you are cooking but especially this time because you are about to have raw meat under your fingernails so you don't want to be opening all your cabinets looking for your allspice and contaminating everything.  Then you'll just either have to spend a sunny afternoon deep cleaning your kitchen or end up get some weird-bacterial-digestive-crazy business next time you get the allspice to put in your pumpkin pancakes and you'll think it's the pancakes that made you sick and swear them off for life when it really wasn't even their fault and you should have just washed your hands. This didn't happen to me, I'm just saying, mis en place is important.
Rinse the rice and drain. Mix all the ingredients in with the rice with the exception of the grape leaves and the lemon juice. Mix well. Use your hands, I know its kinda gross feeling but do it anyway.
If you are using fresh grape leaves you will need to blanch them in hot water to make them a little more flexible and easier to roll. If you are the using the jarred kind, rinse them off and you are good to go.
Place about a teaspoon of the rice mix on the edge of the dull size of the leaf. Don't use a teaspoon, use your hands, but about that much. It is good to shape the rice mix in a long skinny line about the size of your index finger. Remember that rice expands when it is cooked and meat shrinks, but overall the filing will expand so don't put too much or they will all explode.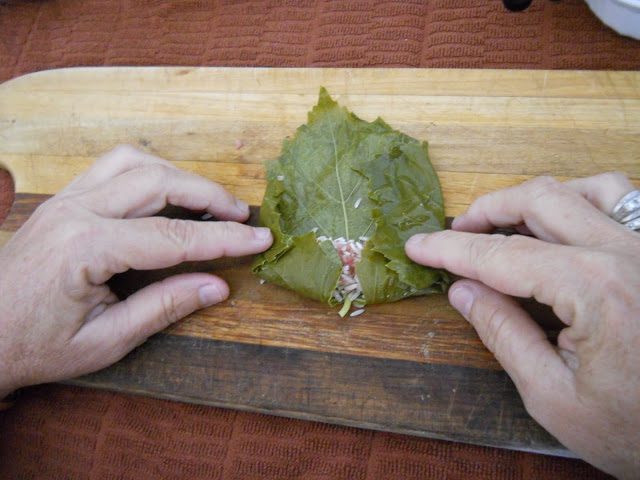 You might need to cut the stem off the leaf. Keep some kitchen scissors handy.
Roll up the bottom of the leaf to cover the rice, then fold in the sides and then roll the rest of the leaf. If you run into some random screwed up grape leaves that are too small, too narrow or ripped, save them because you'll need them to line the bottom of the pan.
Keep rolling them up until you run out of something. Then line the bottom of your pot with the reject ones, stack the finished ones in and cover with water or chicken stock if you want a richer flavor than then place on the stove over medium heat. Sprinkle with salt and lemon juice. If you were my Teta or were cooking for the whole family you would use a really BIG pot and put a whole chicken in there to cook as well. Then you would have yummier grape leaves and tasty moist chicken too.
You need to cover the pot, but if you want some old school mama tips use a plate instead of the top of the pot because it will weigh down the rolled up grape leaves so they won't burst open. Cook until the rice is fully cooked and the liquid is evaporated. This should take about 30 minutes. Yes, it is going to splatter out and get your stove top dirty. Get over it; you'll just have to clean it once the oven cools down.
Once it is done put a different plate on top of the pot and invert. The stuffed grape leaves should unmold and be on the plate when you lift off the pot. Do not try this if there is a chicken in there too, trust me, it won't be pretty.
Stuffed Grape Leaves are a staple in Lebanese cooking, oh you thought they were Greek, well guess what Greek is just a bootleg version of Lebanese and have almost all the same stuff. Except we came up with it first. They are usually served as an appetizer; this recipe will serve 6-8 people or one Issa Moussa. I like them with a little extra lemon squeezed at the time of eating and some Lebne to dip. Lebne is a thick almost cream cheesy yogurt that makes almost anything taste better.