Every breakfast should start out with one of these babies.  Who needs eggs or oatmeal anyway?
Actually, I do eat oatmeal almost every day for breakfast.  It satisfies me.  Once you're finished eating your bowl of oatmeal you're not like, man, I wish I had another bowl of oatmeal… I'm going to go make some more.  Or maybe you do that, I don't know.  (You're so healthy!)
If I eat one muffin for breakfast, there's no way that's going to satisfy me.  Two muffins?  Maybe, but probably not.  I used to bake those Martha White muffin mixes in high school and eat probably a half a dozen.  What?!  They were quick and easy.  Geez, I don't use muffin mixes any more.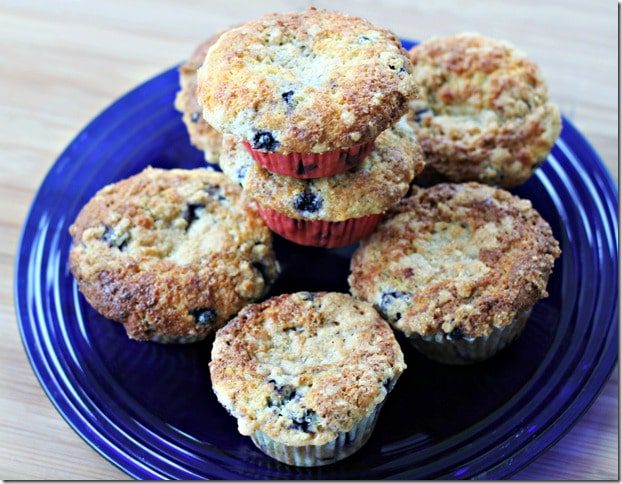 Blueberry season is almost here, and I can't wait!  Blueberries are my favorite fruit, I think.  Blueberry muffins are my favorite muffins.  Coincidence?  I think not.
When you get your hands on some fresh blueberries, you'll definitely want to give these muffins a try.  If you don't want to wait you can use frozen wild blueberries.  I like frozen wild blueberries.  A lot.
These wild blueberries are from Canada, eh?  They tasted vaguely like Canada… maple syrupy with a hint of Celine Dion.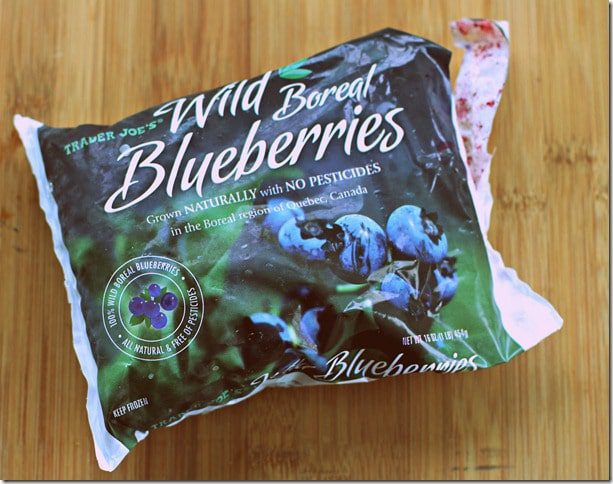 Bad joke, sorry.  You wouldn't be here if you didn't like it.
So these are nice buttery muffins made with sour cream, filled with cream cheese.  The topping is a crispy streusel made with butter, brown sugar, flour and cinnamon.  The streusel melted down a little more than I would have liked (maybe try adding adding a little more flour and sugar?), but still delicious none the less.  Maybe it's better that way, so you don't get streusel crumbs everywhere.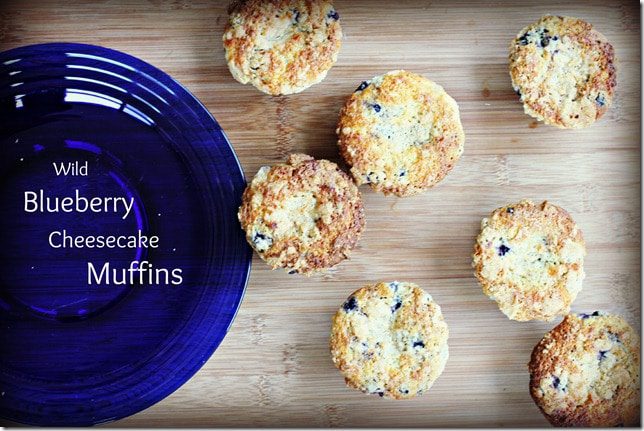 Wild Blueberry Cheesecake Muffins
1 1/2 cups unbleached all purpose flour
2 teaspoons baking powder
1/4 teaspoon salt
3/4 cup granulated sugar + 3 tablespoons, divided use
6 tablespoons unsalted butter, melted
2 large eggs, divided use
1/2 cup sour cream
1/4 cup water
1 teaspoon vanilla extract
1 cup wild blueberries
1/3 cup cream cheese, softened
Streusel
1/3 cup unbleached all purpose flour
3 tablespoons brown sugar
3 tablespoons granulated sugar
1/2 teaspoon ground cinnamon
3 tablespoons cold unsalted butter, cut into small pieces
Heat oven to 400 degrees F.  Line 12 muffin cups with liners.
In a medium bowl, sift together flour, baking powder and salt; whisk in 3/4 cup granulated sugar until combined.  In a separate large bowl, whisk together melted butter, 1 egg, sour cream, water and vanilla until combined.  Gently stir flour mixture into egg mixture until almost incorporated.  Stir in blueberries until just combined.  Place batter into muffin cups, making little wells in the centers (this is where the cheesecake filing will go).
In a medium bowl, whisk together additional 3 tablespoons sugar, 1 egg, and cream cheese until well combined.  Place a spoonful of cheesecake mixture into the center of each muffin cup (you will have leftover filling).
To make the streusel, whisk together flour, brown sugar, granulated sugar and cinnamon.  Knead in butter, using fingers, until well incorporated, and small clumps form.  Sprinkle streusel over muffin batter.  Bake 30-35 minutes, or until well risen and golden brown.  Cool 5 minutes before transferring muffins to wire racks to cool.
Makes 12 muffins