I recently found these tiny fingerlings, called "peewee" potatoes, at my local market. They're a variety of Yukon gold potatoes, so they have an incredibly thin, tender skin and they just begged to be roasted whole. With a light coat of olive oil and a slow roasting session, the skins get nice and crispy. Fingerlings are a real treat so I decided to pair them with fennel seeds: a unique spice for a unique potato.
This recipe can be made with any size potato; just cut your raw potatoes into 1-2 inch chunks before roasting.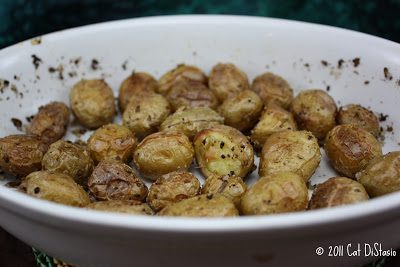 Fennel-crusted Tiny Taters
Yield: As much or as little as you want!
For each pound of potatoes:
1 tsp olive oil
1/2 tsp coarse sea salt
1 tsp fennel seeds, crushed (or 3 seconds in a spice grinder)
1/4 tsp fresh pepper (I use a tri-color blend)
Preheat oven to 400°F.
Toss potatoes with olive oil in a baking dish. Sprinkle on remaining ingredients and toss to coat.
Bake 30-40 minutes. Allow to cool a few minutes before serving.
Notes: As you can see, I used these amazing grape-sized fingerlings. I highly recommend them if you can find them because the spices create an amazing crust on the skins. If you're using regular potatoes, cut them into bite-sized chunks.