Sometimes we eat waffles for dinner… It's a fun way to make a Tuesday night a little more happening, especially if you eat them with the best scrambled eggs ever and lots of real maple syrup.  These waffles might be gluten-free, but they don't really taste gluten-free. Even my not-so-gluten-free husband loves them.  The secret is folding in whipped egg whites just before you toss them on the griddle. The egg whites make them light and crisp, while butter makes them, well, butter-y. These are adapted from a great little cookbook, but I use my own brown rice flour mix.
Sometimes we eat ours the traditional way (syrup and berries), but they are also great for breakfast sandwiches. You could always add a little cheddar and chives to the batter before making them into egg and ham sandwiches. Go crazy, y'all.  Happy Monday!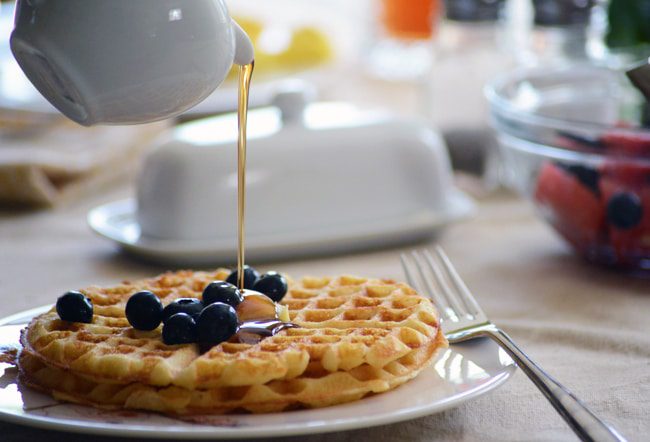 Belgian Waffles
Adapted from Artisanal Gluten-Free Cooking by Kelli & Peter Bronski
Click here for a printable recipe!
Ingredients: 
1 3/4 cup all purpose gluten-free flour
1 tablespoon baking powder
1/4 teaspoon salt
2 eggs, separated
1 3/4 cup milk
1 teaspoon vanilla extract
8 tablespoons unsalted butter, melted
Prep: 20 minutes
Cook Time: 15 minutes
Yields: 6 waffles
Method:
1. Combine flour, baking powder, and salt together in a large bowl.
2.  Stir in egg yolks, vanilla, and milk into dry mixture. Add melted butter. Whisk until just combined.
3. In a separate bowl, eat egg whites with a hand mixer until stiff.  Gently, fold the egg whites into batter.
4.  Heat waffle iron and cook according to manufacturer's instructions.  Be sure not to peek at the waffles until they are completely done.  (Usually when steam stops coming up from the edges of the iron.)
5. Repeat to make remaining waffles.  To prevent waffles from getting while you are making the rest of the batch, place them on a single layer on your oven's rack.  These waffles freeze well and reheat great in the toaster oven.