I am a bit partial to strawberries. I much prefer them in cakes or desserts rather than fresh as they are, the smell of sweet, fresh strawberries cooking is just sublime! I love the look of them, they are one of my favourite foods to photograph, yet the smell is what gets me.
I also have a thing for buttermilk, I don't quite know why. I am intrigued by it, yet I am not inclined to drink it. I have read though that it goes down nicely in cakes, so I whipped up this simple recipe complete with buttermilk. And strawbs of course!
I think the vanilla bean and sugary sweetness compliment the tangy hint of the strawberries perfectly, I really liked the balance between the two. My teenage nephew visited, needless to say the cake was quickly devoured. I will definitely be using buttermilk in cake again, what a delightful little ingredient.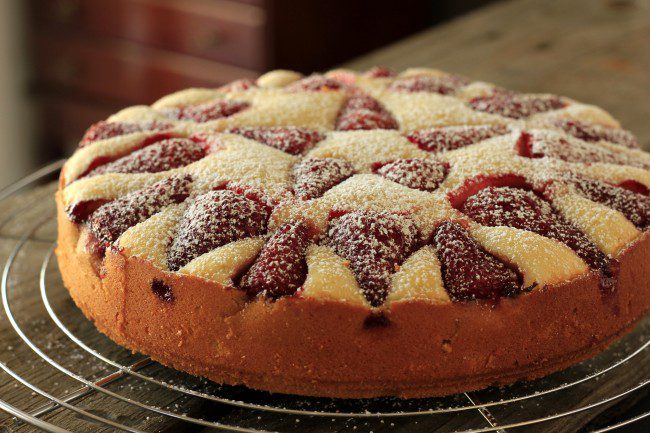 Ingredients:
2 cups plain flour
½ tsp baking powder
¼ tsp bicarb of soda
½ tsp salt
100g unsalted butter, softened
1 cup caster sugar
3 eggs
1 tsp vanilla bean paste
200ml buttermilk
1 punnet strawberries, hulled and halved
Method:
Preheat oven to 180C. Grease a 9" cake tin.
Sift flour, baking powder, bicarb soda and salt together.
In another bowl cream butter and sugar with electric mixer until light and fluffy. Add eggs one at a time, add vanilla bean and buttermilk. Mix well.
Gradually add flour to butter mixture until well combined.
Transfer mixture into greased tin. Arrange strawberries on top, sprinkle with sugar.
Bake for 30-40 minutes or until cake is well risen, light golden colour and firm to touch. Allow to cool in tin. Once cool turn cake out, cut and serve as is or with a dollop of fresh cream!