HOW do you stop at one?
I made theseCorn And Prawn Fritters again. Couldn't resist. Saw the beautiful sweet corn while buying groceries and had to (HAD TO!) grab them.
The last time I made them with leeks. Today, I used loads of spring onions. Mmm Mmm. Finger-lickin' good.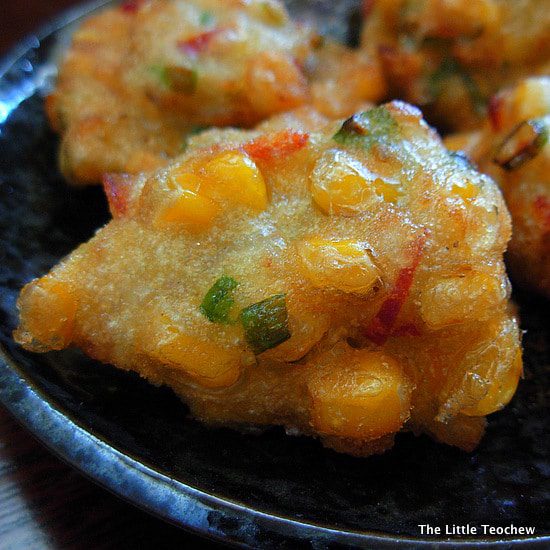 HOW do you say no to these? Bliss … really.
Recipe
(adapted from recipe by Amy Van, Today newspaper)
Or if you want photo references, check out my older post here.
– 150g fresh prawns (shelled, deveined and chopped into small chunks)
– 2 ears sweet corn (peeled, washed, kernels removed from cob)
– 2 shallots (peeled and chopped)
– 1 stalk spring onions, chopped
– 1 red chilli (seeds removed, sliced or chopped)
– 300g flour
– 1 tsp baking powder
– 375 ml water
– Oil for deep-frying
– Salt, to taste
– Pepper, to taste
1. Sift flour and baking powder into a bowl. Add salt and pepper. Slowly stir in water to obtain a thick batter (batter should slowly drip off the spoon).
2. Add prawns, shallots, sweet corn, spring onions and chilli to the batter. Stir until well-mixed.
3. Heat the oil in a skillet over medium-high heat. Drop 1 tbsp of batter into the oil, one at a time, until the skillet is filled up. Make sure your have sufficient space in between fritters so that they don't stick. Flip the fritters to ensure that both sides are browned. Fry in batches.
4. Remove the fritters from skillet and drain on paper towels (I find tempura paper better).
5. Serve with dips, although they are lovely on their own.