If you ask me to order some vegetarian dishes in a restaurant here in India, my first pick would be Vegetable Manchurian. The name may sound very Chinese, but Vegetable Manchurian is actually an Indo-Chinese Cuisine, which is an Indian interpretation of Chinese food. Indo-Chinese is like a perfect marriage between Chinese cuisine and Indian Cuisine. The dishes are very vibrant, pungent and colorful.
A plate of Vegetable Manchurian consists of deep fried vegetable balls coated with spicy, savory sauce. These vegetable balls taste like heaven, crunchy on the outside, soft and oozy on the inside. They are made with chopped veggies, flour and corn starch.
The sauce is also very easy to make. It's a quick stir fry of aromatic ingredients like green chili, ginger and garlic. And finally, when everything comes together, you can have them as appetizer, snack and even side dish.
Vegetable Manchurian

Ingredients: (4 Servings)

1/2 cup finely chopped cabbage

3/4 cup finely chopped cauliflower

1/4 cup finely chopped carrot

A pinch of salt and pepper

1/2 cup plain four

1/4 cup corn starch

1 tsp baking powder

1/4 cup chill water

1 tbsp chopped fresh green chili

1 tbsp minced ginger

1 tbsp minced garlic

1/2 onion- chopped

1/2 cup vegetable stock

1 tbsp soy sauce

1 tbsp corn starch- dissolved in a little water

Chopped spring onion for garnishing

Oil for deep frying and stir frying

Preparation:

In a large bowl, combine chopped cabbage, chopped cauliflower, chopped carrot, salt and pepper. Mix well.
Add plain flour, corn starch and baking powder. Stir until combined.
Add water and mix well with your hand. Take a little mixture at a time in your hand and form a medium size ball. Don't worry if the mixture didn't stay as firm as you want it to be, when it goes to hot oil, it should stay together well.
Heat oil in medium saucepan or deep fryer to medium heat. When the oil is hot, add 4-5 vegetable balls at once and deep fry them until golden brown and cooked through. Cook all the mixture until you have all the vegetable balls you need.
To make the spicy coating, heat 1 tbsp oil in a pan until medium-high heat. Add green chili, garlic, ginger and onion, and then stir fry for 1 minute or until fragrant.
Add soy sauce and stir for 10 seconds.
Add vegetable stock and bring to boil. Check the seasoning and thicken the sauce with corn starch liquid.
Add vegetable balls and stir to coat them well with the spicy sauce. Add some spring onion, give a final quick stir and turn off the heat.
Serve hot as appetizer or side dish.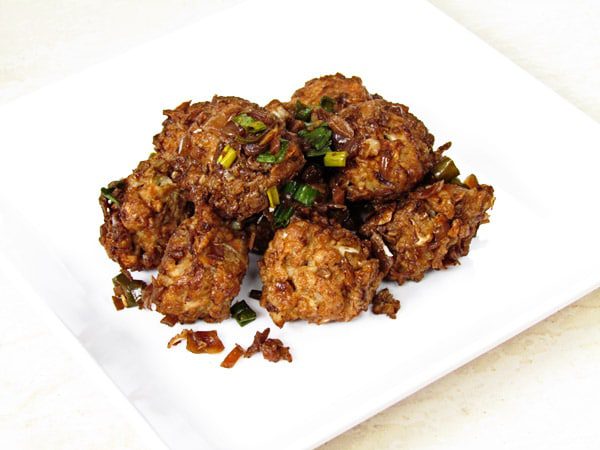 I usually serve these delicious vegetable balls as appetizer, but they also go so well with fried rice or stir fried noodle. I love the aromatic ginger kick in this dish, fresh green chili just add a fresh and pungent flavor to it as well. Try it and you will hook on this recipe