I have no special claim on Moon Pies.  I have no stories about how these were a special part of my childhood, or when I rode my bike to the corner store I'd buy these with the few dimes in my pocket, and I'm sorry about that.  I feel like some how I was deprived. Knowing now how amazing these treats are I can say with all certainty I was definitely deprived.  I'm doing my best now to make up for it.
When my kids were little I found the mini versions of Moon Pies at the grocery store and periodically I'd tuck them in to their sack lunches as treat, trying to remember how it felt to have a "forbidden" dessert at school. My parent's were pretty health conscious people back then, it was the 70′s and it was all the rage to make your own yogurt, among other things. I always was envious of the kids who's mom's packed Twinkies, or Snowballs and made sandwiches with bologna and white bread. Just to make up for that perceived deprivation, I did go through a period of time when I was away at college that I ate sugar cereals for breakfast every morning, and just about every other "bad" food I could get my hands on for every other meal. It was awesome, and I paid for it. Dearly. The freshmen 15 was more like the freshmen 20, by the time I'd finished my first year.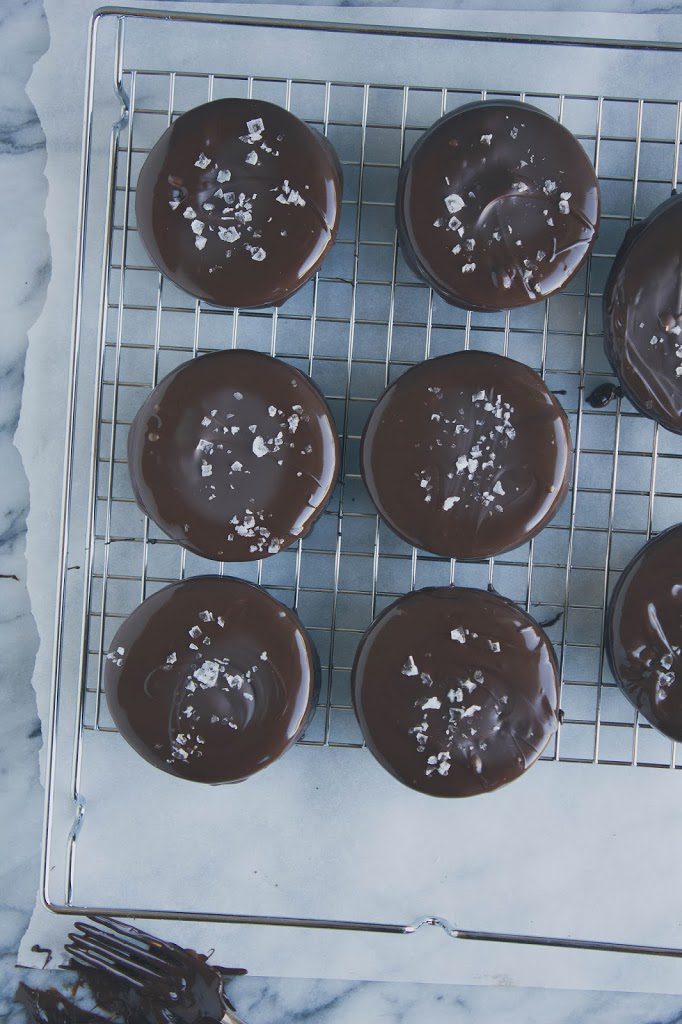 So other than occasionally treating myself, I managed later to adopt a much more healthy and mature approach to eating those forbidden foods.  I'd give them to the boys on occasion, just so they weren't so forbidden to them with the hopes that they wouldn't o.d. on them later in life.
I much prefer a moon pie to a whoopie pie. Whoopie pies with their super sweet filling seem a bit heavy to me, but after all, we are talking about marshmallow, graham cracker cookies and dark chocolate so who am I to judge what's heavy or not?
This is a s'more in it easiest most portable form.   Soft fluffy marshmallow filling, cinnamony (it's my new word) crumbly cookies all lovingly buried under some gorgeous melty dark chocolate. Yes please.  The only thing lacking?  The smallest sprinkling of coarse sea salt, to slice through all that delicious richness with a little savory counterpoint. Oh yeah..
In order to prevent your own ugly moon pie o.d. situation, I strongly suggest you make these when you have somewhere take them to give them away.  They really are best eaten within a day of making them, the salt begins to dissolve a bit, but really I wouldn't let something like that slow me down. I also made these slightly smaller than the traditional moon pie size. I just found that the original was a bit too much, too rich and more than needed.
I realize that I have been really remiss in sharing with you some links to some of the gorgeous things I can't stop thinking about lately. Stuff that really needs to happen in my kitchen soon.  There is just too much crazy good food and crazy good blogging out there not to share.  So without further ado, my first ever list of "Crazy Good Food". Do yourself a favor and check it all out.  You won't be sorry.
1.Poached Halibut in Thai Coconut Curry Broth  From Alaska from Scratch
2.Sorghum Oat Biscuits  From Southern Souffle
3.Beetroot Tart with Spring Onion Vinaigrette and Vintage Cheddar From The Sugar Hit
4.Salted Nutella Latte From The Fauxmartha
5.Caramel Cream Cheese Buttercream From Wicked Good Kitchen
And what's a day without a little pasta?  Not a good day in my opinion! So this is definitely on the menu:
6.Spaghetti with Parmesan, Pine Nuts & Brown Butter Sauce From Savory Simple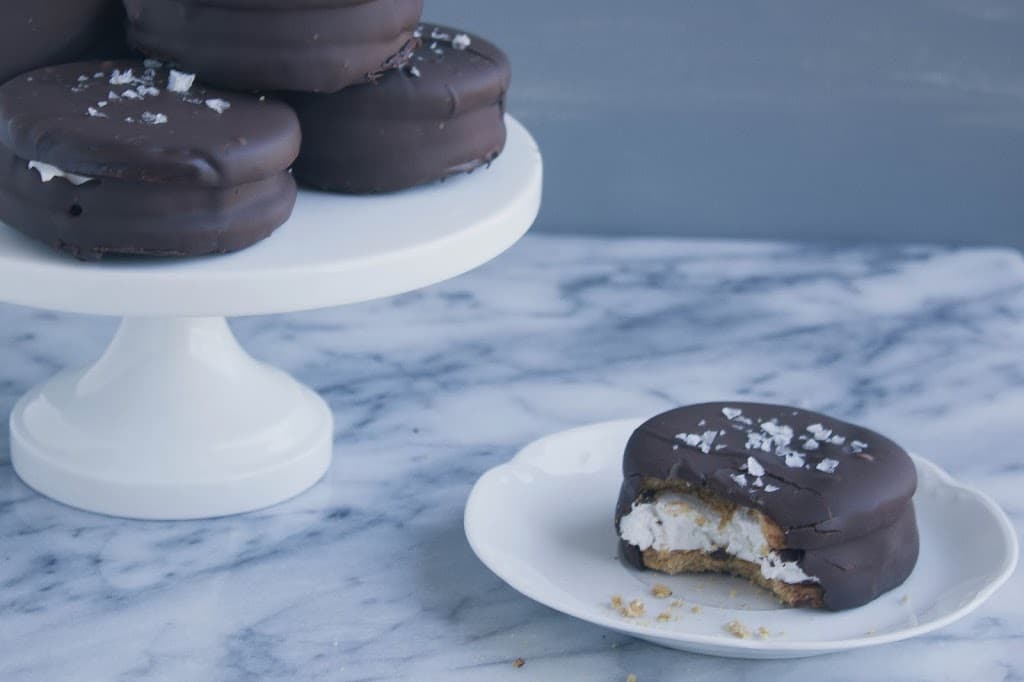 Salted Moon Pies
Makes about 12
For the Cookies
6 oz. unsalted butter, room temperature
1/4 C. light brown sugar
1/4 C. Golden Syrup (or Steen's Cane syrup if you can get your hands on it)
1/2 tsp. vanilla extract
1 1/2 C. all purpose flour
1 1/4 C. graham cracker crumbs, finely ground
1/4 tsp. salt
1/2 tsp. baking powder
1/2 tsp. baking soda
1/4 tsp. ground cinnamon
1 T. milk
In the bowl of a mixer, combine the butter, sugar, syrup and extract.  Blend on medium until light.  Combine the dry ingredients in a separate bowl and whisk lightly to break up the lumps.  Add in spoonfuls to the butter mixture, combine on low until fully incorporated.
Add the milk to help the mixture bind.  Remove the dough from the bowl, wrap in plastic wrap and refrigerate for 1 hour.
Remove the dough from the refrigerator and roll on a heavily floured board to 1/4″ thickness. Using a 2 3/4″ circle cutter, cut the dough into approximately 24 rounds.
Preheat the oven to 325 degrees. Bake cookies for 11-12 minutes until softly golden around the edges. Set aside to cool.
For the Marshmallow fluff:
4 tsp. powdered gelatin
1/2 C. cold water
1/4 C. lukewarm water
4 T. light corn syrup
3 T. honey
3/4 C. sugar
3 egg whites
Pour the gelatin over the 1/2 c. of cold water, stir and set aside. In a medium sized saucepan combine the 1/4 c. water, the corn syrup, the honey and the sugar.  Stir and set over medium high heat.  Add the egg whites to the bowl of a mixer with a whip attachment.  Set aside. Clip a candy thermometer on to the side of the sauce pan and bring the mixture to a boil.  Boil until the mixture reaches 200 degrees F.  At that time turn the mixer on high and begin to whip the egg whites.  Continue whipping the egg whites while all the while watching the sugar mixture.  Once it reaches the soft ball stage, 240 degrees F. remove it from the heat and stir in the gelatin.
With the mixer running slowly pour the hot mixture into the whipped egg whites.  Continue whipping for an additional 8 minutes or so. The mixture should be thick and glossy and stiff peaks should form.
The bowl will still be slightly warm.
For assembly:
Using a self releasing ice cream scoop, dollop about 1/4 C. of the marshmallow fluff onto half of the upturned cookies. Place the other half of the cookies on top, just pressing down enough for the filling to reach the edges of the cookies.  Set aside on a baking sheet and refrigerate while you make the chocolate coating.
For the Chocolate:
2 lbs. dark chocolate chunks or morsels
2 T. vegetable shortening or coconut oil
1-2 T. coarse sea salt
In a small heatproof bowl place the chocolate and the oil together. Set over a pan of simmering water and stir periodically until everything is melted.  Set the bowl aside for 5 minutes to cool slightly.
Remove the pies from the fridge and dip each one in the chocolate, covering thoroughly. Sprinkle salt on top of each pie if desired. Set aside to harden on waxed paper.