Last week, I blogged about quinoa corn patties. If you liked those, you'll love their cousin, tuna croquettes. Barring any tuna hatred, of course.
It seems to me that people either love tuna or hate it. If they love it, they'll eat it all kinds of ways: Tuna sandwiches, tuna casseroles, tuna melts, tuna croquettes. If they hate it, they probably can't stand the smell, either.
Clearly, I am a tuna lover. And so is my husband.
Quick shout-out to the StarKist mascot, Tuna Charlie. Or is it Charlie Tuna? I have a soft spot for little Charlie, not just because I like tuna or because I'm loyal to StarKist, but because I like the sound of it: Tuna Charlie, Charlie Tuna. My husband even let me name our internet "TunaCharlie."
Um. Anyway.
If you like tuna and if you need a sandwich filler, try these tuna croquettes. I briefly thought about saving some for lunches during the week, but then we finished them with sweet potato fries and salad for dinner.
There's always next time.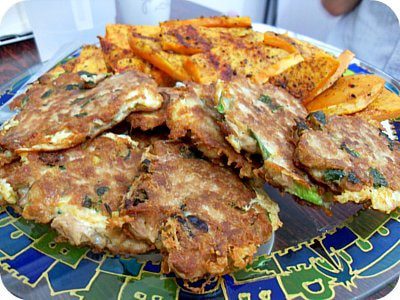 Tuna croquettes
Tweaked from Enlitened Kosher Cooking
Yield: 6-8 croquettes
Ingredients
2 cans tuna, drained
1 whole egg plus 2 egg whites
½ cup chopped scallions
2-3 Tbsp fresh parsley, finely chopped
1 Tbsp soup mix, dissolved in 1 Tbsp hot water
freshly ground black pepper, to taste
canola oil, for frying
Directions
1. Place tuna in a bowl and flake. Add remaining ingredients and mix well.
2. Stick in the fridge for 10 minutes. This lets the soup mix thicken the mixture.
3. Heat oil in a non-stick skillet. Fry three croquettes at a time, using about one heaping spoonful (as in a soup spoon), until each side is golden brown.