What makes a good french fry? Personally, I like lots of potato, lots of flavor, and no guilt. Which is why I'm such a fan of these baked sweet potato "fries."
They're simple to make and great as a snack or side dish with dinner. We had them the other night with red lentil curry and last week with those cheesy baked vegetable crocks. And yes, white potatoes do the job just as well.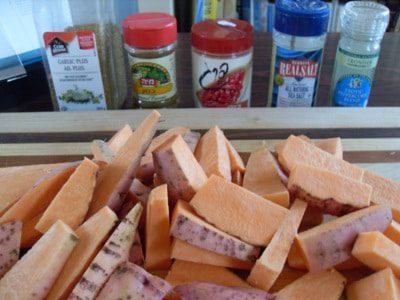 The spice combination in the ingredient list below is all Jamie Geller, but the method is mine. (She suggests combining a teaspoon or two of everything and then tossing the potato wedges in the mixed spice rub. Since sweet potatoes vary in size, though, I find the results are better when I just sprinkle the seasonings over the tray as I would for normal roasted potatoes. More control that way.)
Try these now while sweet potatoes are still NIS 6/kilo!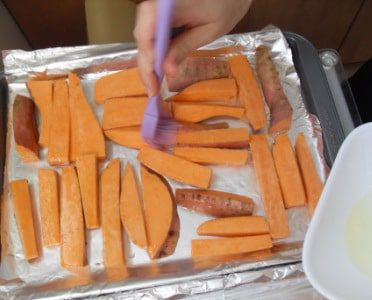 —–
Baked Sweet Potato Fries
Ingredients
sweet potatoes, assume 1/2 to 3/4 potato per person for medium potatoes
canola oil
cumin
garlic powder
salt
freshly ground black pepper
cayenne pepper, if you like your fries spicy
Directions
1. Preheat oven to 425 F/220 C.
2. Scrub potatoes and slice them into sticks/wedges about 1/3 of an inch thick.
3. Cover baking sheet with aluminum foil and spray with cooking oil. Pour a small amount of canola in a bowl and use a pastry brush to coat the potatoes lightly with oil, brushing all visible surfaces of the potatoes.
4. Sprinkle each of the spices over the potatoes. Don't be too shy.
5. Bake for about 40 minutes, though because cooking time may vary, check them after the first half-hour.