In my house, there werealways three types of flour stocked up in the pantry; the plain, the self raising and the ever fanciful bread flour. That is, until recently. In my futile attempt to melt away the post-pregnancy weight, I deliberately omitted the bread flour from my grocery list-I thought that would be the only way possible to stop me from making more bread, buns, teacakes and the like. Later I realised that just like a junkie suffering from the withdrawal symptoms, my cravings for breads only became unbearable to a point that I had to buy the bread flour, and started scouring for a 'healthy' recipe albeit a carb-laden ones. I gave myself some good excuse to break the diet with a quick and easy Naan, which, not only is worth breaking the diet for, but is also ever popular with my food critic, The Husband.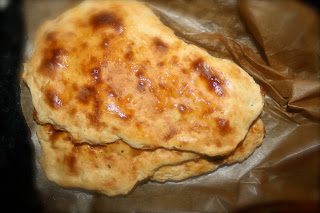 It turned out better than our favourite takeaway restaurant, so that is something to talk about. I kept relegating about it so much so that my food critic sarcastically said 'Maybe you should put it in your CV', whilst munching it away with some mutton curry. Hmmph. Well, I think I shall post it in the blog instead, like, pronto.
So, what makes this naan special? I personally like the addition of plain yogurt into the dough, as it not only makes the turned out naan softer, it also gives a tangy flavour to it. Add in some mashed garlic in a spoonful of ghee and brush away on the naan as you take it from the grill, what you get is an insanely gastronomic delight on a heightened level.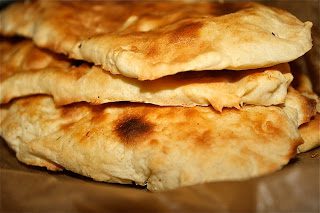 I obviously do not own a 'tandoor' (clay oven) at home but my pizza stone certainly took care of that to bring out an authentic look to the naan. If you don't have a pizza stone, I believe the same outcome can be achieved with a griddle, or place the naan on  parchment paper in a very hot oven-grill. Just a little tip for those using pizza stone: parchment paper is an ideal replacement of a pizza peel. Roll out the naan on the parchment paper and place it on a preheated stone, then slide out the paper easily within minutes.
So enough of my kitchen ramblings, shoot on straight to the recipe. Yes, in my book, it's the best in town, as yet.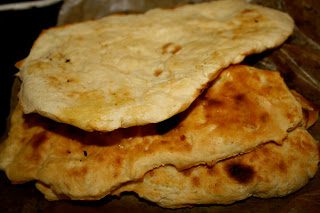 Naans
yield around 10 tear-drop shaped pieces
3 1/2 cups bread flour
1 packet instant dry yeast
1/4 cup melted butter
1 egg-beaten
1/2 tsp baking soda
1 cup warm water
2 tbsp sugar
2 tbsp plain yogurt
3 tbsp milk
a pinch of salt
2 cloves garlic-mashed
ghee (clarified butter) for brushing
Method
1. Proof the yeast by placing it in the mug of warm water and add in the sugar. Set aside for 10 minutes.
2. In a bowl, mix in the egg, melted butter,  baking soda, plain yogurt, milk and salt. Add in the proofed yeast. Gradually add the bread flour and knead away until a thready consistency is achieved. Hand kneading is sufficient here without using the dough hook on mixer.
3. Leave the dough to rise until it doubles in bulk.
4. Once the dough is doubled, punch out the air and form small balls. At this point you can also add in any shredded coconut and spices or garlic if you like to flavour the naan, hence making peshwari or garlic naan respectively. Leave the dough balls to rise for at least 30 minutes.
5. Preheat the pizza stone at 220C. Dust the parchment/baking paper with some flour. Roll out the balls into a tear drop shape naans.
6. Switch on the grill. Grill the naans on pizza stone for several minutes, flipping on the other side until golden brown bubble textures are formed.
7. Brush the grilled naans with mashed garlic-ghee mixture. Leave the naans to cool slightly in tea towel before serving.