How do I even begin to describe how amazing these cookies are?  The title says everything you need to know.  Chocolate on chocolate on chocolate with homemade caramel stuffed in the middle and a light dusting of sea salt on top (to cut the sweetness, of course).
So what are these three types of chocolate I speak of…? Cocoa powder, dark chocolate chips and a creamy, Nutella center.  Amazing!  The cocoa powder gives the cookie that chocolaty goodness we all crave; the dark chocolate chips add a touch of bitterness and the Nutella center a smooth hazelnut finish.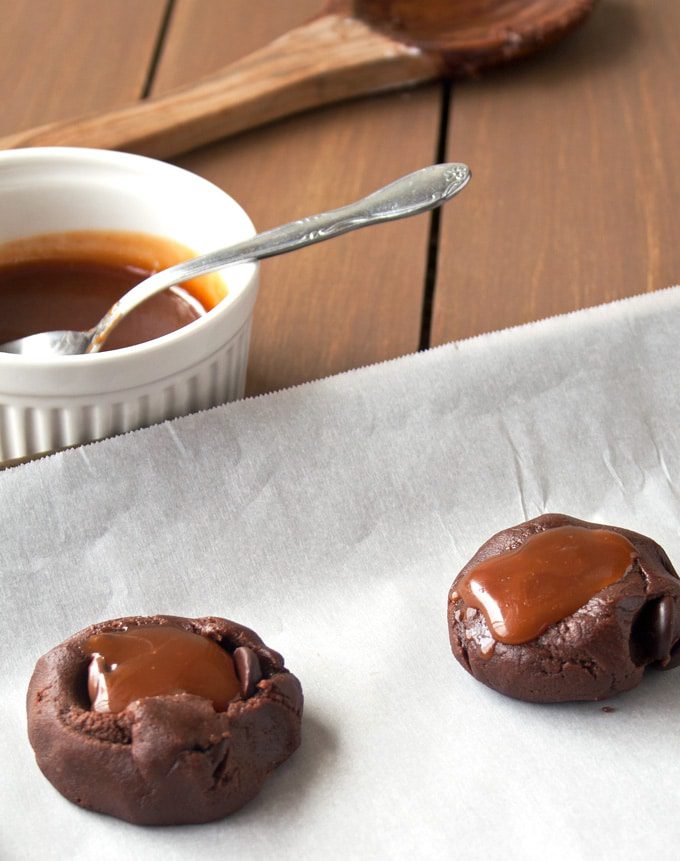 But wait, right alongside that soft Nutella is gooey homemade caramel.  Sticky and sweet with that deep familiar hue of browned sugar, the perfect complement to the smorgasbord of chocolate going on here.
And I believe everything, sweet or savory should have a good dusting of sea salt.  It's especially perfect when paired with this uber sweet cookie.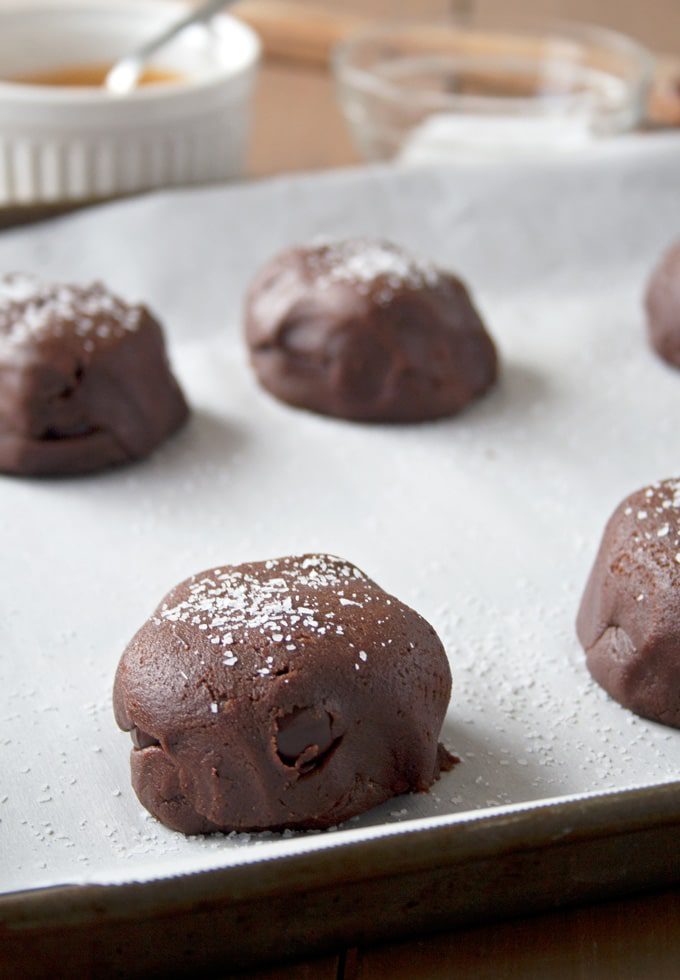 And about those cookies, they are more similar to the texture of a brownie or molten chocolate cake- more gooey and thick than a traditional cookie, but bite size and handheld (everything we love in a good cookie).
And while these babies look all fancy and extreme, they are really quite easy to make.  I chose to make homemade caramel.  Izy from Topped with Cinnamon has the ultimate tutorial for making caramel, plus her blog is chocked full of amazing recipes.  And these cookies are actual one of her recipes.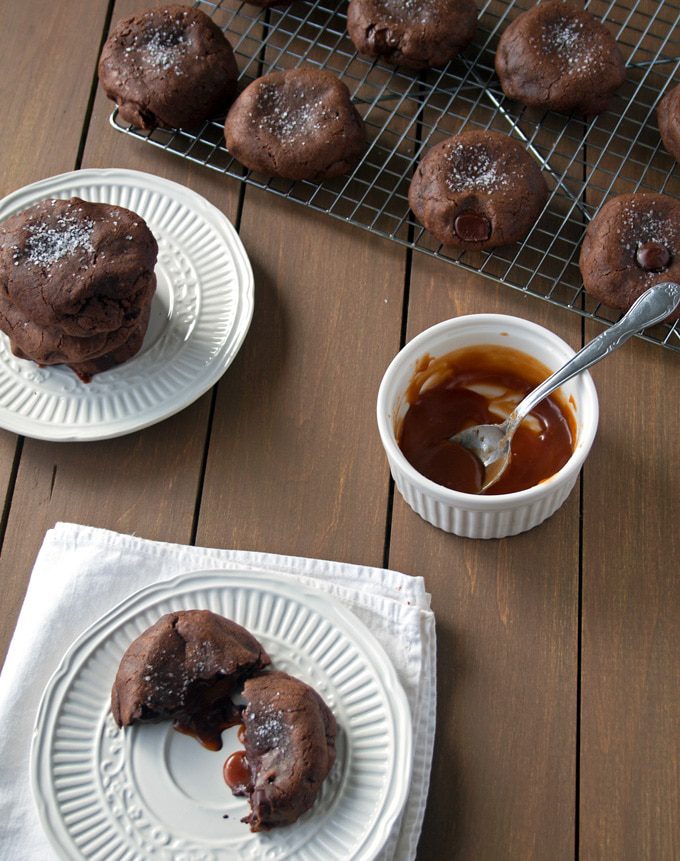 But if you aren't feeling all crazy and want to make your own caramel, simply buy a bag of caramels at the store, cut them in half, and stick one half into the center of the cookie right along with the Nutella.  A lot easier but you're going to miss out licking the leftover caramel from the pan.
You can also keep these cookies in an airtight container, and while they are delicious at room temperature, to experience that ewwy, gooey fresh out of the oven caramel, just pop this in the microwave for a few second.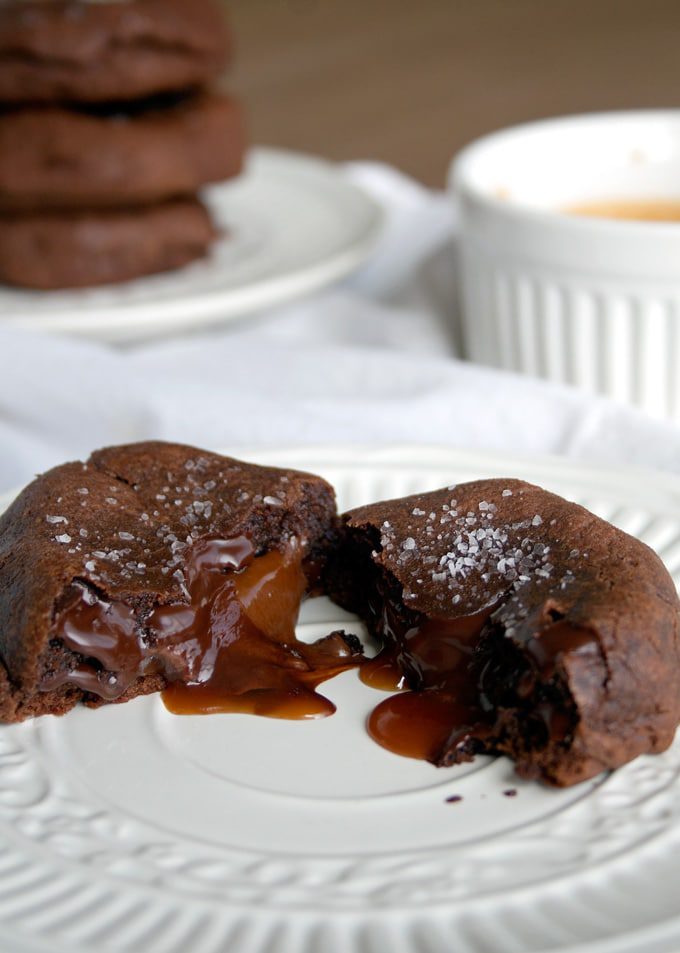 These triple chocolate and salted caramel cookies are totally decadent, but your totally deserve it!
Triple Chocolate and Salted Caramel Cookies
Serves: 16 cookies
ingredients
½ cup butter
1½ cups light brown sugar
½ cup cocoa powder
2 eggs
¼ teaspoon salt
¾ teaspoon baking powder
2 cups all-purpose flour
½ cup bittersweet chocolate chips
sea salt, for dusting tops of cookies
approximately ½ cup nutella
1 recipe of salted caramel (see blog for recipe) or store-bought caramels cut in half
Instructions
Preheat oven to 350 degrees F.
Line a baking sheet with parchment paper.
In a medium saucepan, melt the butter.
Remove from heat and stir in the brown sugar and eggs. Stir well after each egg addition.
Add the cocoa powder, salt and baking powder stirring well until combined and there are no dry spots in the batter.
Add the flour, one cup at a time, and stir well until there are no flour patches in the batter.
Stir in the chocolate chips.
At this point make the caramel, unless using store bought caramels.
Take a heaping tablespoon of dough and place it on the parchment paper. Make a large indentation with your finger in the center of the dough.
Fill the indentation with a small dab of Nutella and a small dab of caramel/
Top with a flatten disk of dough, just enough to cover and seal.
Sprinkle the tops with sea salt.
Bake for 8-10 minutes. The inside will still be a little soft and gooey.
Cool on a wire rack for 5 minutes.