My earliest memories of pizza are from the family's days in Madras – that was before it became Chennai. Pizza was just about gaining popularity during the mid 90's and of all the brands available – Chef Express used to be the family favourite. My palate used to have a pronounced Indian bias during those days and I found their pizza's 'punchy' when compared to the rest. Almost 18 years later, in 2013, a new benchmark for pizza's was set – when Sudha and I had a 3 week holiday in Italy. I was startled and amused to see how simple their pizza's were compared to the commercial ones available here. They were full of fresh flavours and the crusts were always delightful. One particular pizza that we both relished at a trattoria in Palermo, Sicily was a simple pizza with anchovies. There was something magical about the simplicity and freshness that made we wish the pizza wouldn't end.
So last Sunday, when the younger sibling came visiting, I asked people around if they'd like a simple pizza for lunch and I heard a lot of polite sounds. After a bit of humming and hawing, they acceded. And as I collected my thoughts on what I'd like to create, they flew to the simple cheese and anchovies pizza from Palermo – that had left an indelible stamp on me. I didn't have those salty beauties but I remembered the duck sausages I'd picked up a few days earlier. So, I played and the outcome was gratifying – not even crumbs left. I'm sure Ginger Sumitran didn't approve.   I always under estimate how much more people can eat when something is home-made. Have you been guilty of the same?
Ingredients:
The ingredients listed below will do for a medium sized pizza (should work for 3 people). Double the ingredients for 2 medium sized pizza's).
Crust: (the secret to a great pizza is in the crust – this one's crisp yet soft)
100 ml water
1 egg
225 g* maida / all purpose flour
1 t* salt
2 T* butter
1 t instant yeast (use 25% more if using active dry)
Topping:
3 T* pizza topping sauce (I didn't have too much time so I used Arrabiata sauce from a bottle. I've also used Mustard sauce and even Molaga-Podi (Idly Chutney powder – the one that's mixed in sesame oil. After all, how will you ever know unless you play?)
150 g* Mozzarella cheese, sliced finely
3 fresh tomatoes, quartered and the whites & seeds scooped out
1 small yellow / red / green capsicum sliced medium thin
50 g* duck sausages crumbled / torn into pieces or any meat (vegetarians – cooked kathal or raw jackfruit would be a delicious alternative)
12 large Basil leaves
3 Green chillies – slit diagonally  (they're prettier this way
6 large cloves of garlic
50 g* Feta cheese, crumbled (I ran out of this but would strongly recommend some Feta)
2 T EV Olive il
2 T freshly grated Parmesan cheese
Salt and freshly ground pepper to taste
Mix all the ingredients for the crust and knead till you get a smooth, silky and elastic dough. Transfer to a large bowl, cover with cling wrap and place in a warm place for the dough to rise for about 60 to 90 minutes, or till the dough has roughly doubled in size. While the dough is rising prepare the toppings. I like to toss the vegetables (or for that matter anything that can dry out in the oven heat) in E V Olive oil.  When the dough has risen, remove it and place it on a lightly floured surface. Knock it back gently and if you're making 2 crusts, divide into 2 portions. Preheat oven to 220C. Roll out the pizza into one or more 12″ rounds or oblongs or rectangles and transfer onto parchment paper lined baking pan(s) or baking sheet(s). Brush EVO olive oil over the edges. Spread the pizza sauce over the pizza base(s) and arrange 2/3rds of the mozzarella slices on top. Scatter with the tomatoes, pepper strips, crumbled sausage, garlic, whole basil leaves, remaining mozzarella, feta.
Drizzle over olive oil and sprinkle the Parmesan. Season with salt and pepper. Here's a picture before it went into the oven.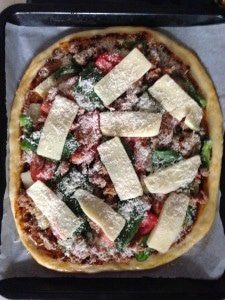 Bake for 15-20 minutes, or until golden and sizzling. Serve after a few minutes. Here's what it finally looked like – hissing and sizzling out of the oven.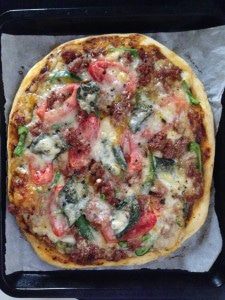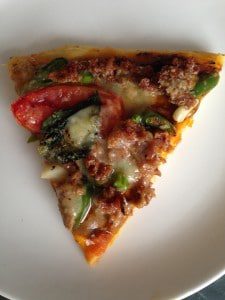 Learning's: The crust is what makes the pizza special. The next time around, I intend replacing half of the maida (APF) with atta (whole wheat flour). Should result in a nuttier flavoured  crust. A lot of 'how to make pizza's' talk of rolling the dough and then pushing it outwards so that a 'lip' is formed at the edges. I find that leaving it flat without any sauce or toppings makes it rise naturally.
And the toppings are juicy and crunchy and 'bursts of flavours' when you abstain from chopping them fine. 
And, it's not only about mozzarella – different cheeses make the pizza taste richer. Gives it a depth that's hard to imagine.  So, what's your signature pizza going to look like? And what kind of toppings are you going to play with?