Looking for a little taste of India but want something quick, healthy and kid-friendly. I would normally think of fries as Indian cuisine but the addition of cumin and paprika make these oven-baked fries delicious and exotic. Serve alongside any Indian curry dish or try them with your favorite veggie burger.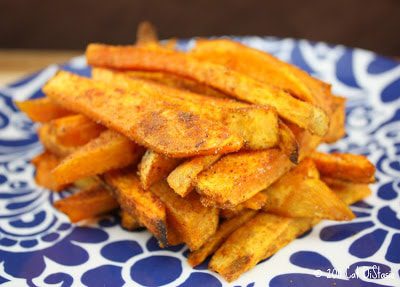 Bengali Style Oven Fries
Yield: 4 servings
1-2 garnet yams, peeled
1/2 tsp cumin
1/2 tsp coriander
1/4 tsp smoked paprika
1/8 tsp cayenne
salt and pepper to taste
Preheat oven to 350°F and spray a baking sheet with olive oil.
Cut potatoes lengthwise into 1/2-inch thick strips and arrange in a single layer on the baking sheet.
Spray with olive oil, sprinkle with spices and toss to coat. Add salt and pepper to taste.
Bake 20-25 minutes until crispy and golden brown.
Serve hot with lemon juice or veg mayo.