Elevate your spring berries with this delicious, no-bake pie.  Two things really make this pie fabulous: 1) chocolate crust and 2) the berry glaze; I repeat chocolate crust.   Something about the bright, sweet berries atop a creamy filling and then the wonderful contrast of the semi-sweet chocolate pairings. It's perfect, easy, and would be great with a multitude of fruits.
As for the glaze it uses strawberry jam, lemon juice & chambord liqueur to create a light, syrupy and delicious addition.  It melts over the creamy filling and adds an uninterpretable delightfulness to the pie.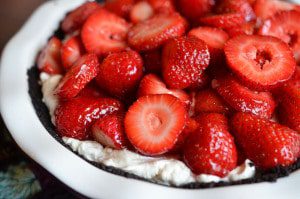 NO-BAKE STRAWBERRY PIE
25 chocolate wafers (such as Nabisco's Famous Chocolate Wafers)
3 ounces bittersweet chocolate, finely chopped
2 teaspoons canola oil
Cooking spray
6 ounces 1/3-less-fat cream cheese, softened
1/3 cup powdered sugar
3/4 teaspoon vanilla extract
2 cups frozen fat-free whipped topping, thawed
2 tablespoons strawberry fruit jam
1 tablespoon Chambord (raspberry-flavored liqueur)
1/2 teaspoon fresh lemon juice
1 pound small strawberries, hulled and cut in half
DIRECTIONS: Place chocolate wafers in a food processor, and process until finely ground. Place the chopped chocolate in a small microwave-safe bowl. Microwave at HIGH for 45 seconds or until chocolate melts, stirring every 15 seconds. Add melted chocolate and oil to processor; process until well combined. Gently press the mixture into bottom and up sides of a 9-inch pie plate or removable-bottom tart pan coated with cooking spray. Place in freezer 15 minutes or until set.
2. Place cream cheese, sugar, and vanilla in a medium bowl; beat with a mixer at medium speed until smooth. Fold in whipped topping. Carefully spread over bottom of crust. Place fruit spread in a large microwave-safe bowl; microwave at HIGH 10 seconds or until softened. Add Chambord and juice; stir with a whisk until smooth. Add berry halves; toss to combine. Arrange berry halves over pie. Chill for 30 minutes before serving.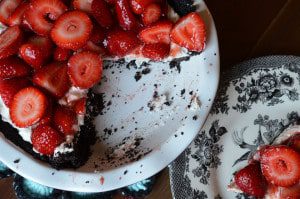 I served the remainder a couple days later and it was still divine.  Another delicious little ditty from Cooking Light: A New Way to Cook Light.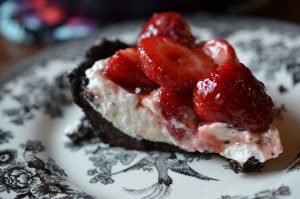 Don't heat up the house, whip up this cool, delicious treat!