When I was studying in Thailand, in front of my apartment there was a small restaurant with the small kitchen up front. People lined up to get in and waited for some take away. I would stand right there in front of that restaurant most afternoons after class waiting for some quick lunch. You could order anything you wanted and the restaurant owner-also-chef would prepare it for you. There was no menu so the food would be any common dish Thai people ate like fried rice, Pad Thai, stir fried chicken with basil, Tom Yum seafood, stir fried vegetable with oyster sauce, etc.
One of the popular dishes in that memorable restaurant was Thai red curry paste fried rice. The smell of curry paste just impregnated the surrounding areas right away as soon as he dropped the curry paste in the hot peanut oil and let it sizzled in the bottom of the large wok. The good part of waiting there for my meal was to see how various dishes was prepared right in front of the shop. He was so quick and confident. There was no measurement, he just threw everything in the wok and anything came out of it always matched the perfect standard.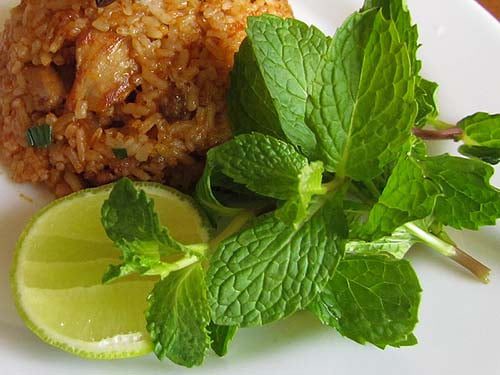 This curry paste fried rice dish was so simple, aromatic and addictive.
Thai Red Curry Paste Fried Rice
Ingredients: (2 servings)
3 cups cooked rice
3/4 tbsp red Thai curry paste
150 gm boneless chicken- sliced (used tofu or vegetables in vegetarian version)
1/2 tbsp fish sauce or to taste
1/2 tbsp soy sauce
1/2 tsp sugar
Few spring onion or scallions chopped
1/2 lime- juiced
Fresh mint for garnishing
2 tbsp oil
How to cook:
Heat oil in the large pan or wok over the medium heat.
Add curry paste and stir fry it until fragranced and the oil separated from the paste.
Add chicken and stir fry for 5 minutes or until cooked thoroughly.
Add rice, soy sauce and stir for few minutes or until mixed well.
Add fish sauce and lime juice to taste.
Serve hot with more lime wedge and mint for garnishing.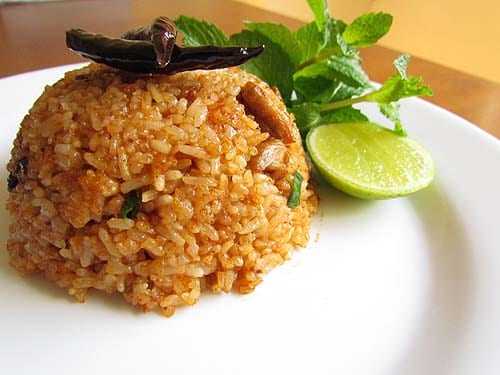 The fried rice came out more than perfect with glorious red in color and smoky herbs smell. The chicken was tender and the rice was just warm and melted in the mouth. We love tear some mint leaves in and squeezed some more lime over it. It's another successful lunch, we're very happy
How's your weekend cooking?