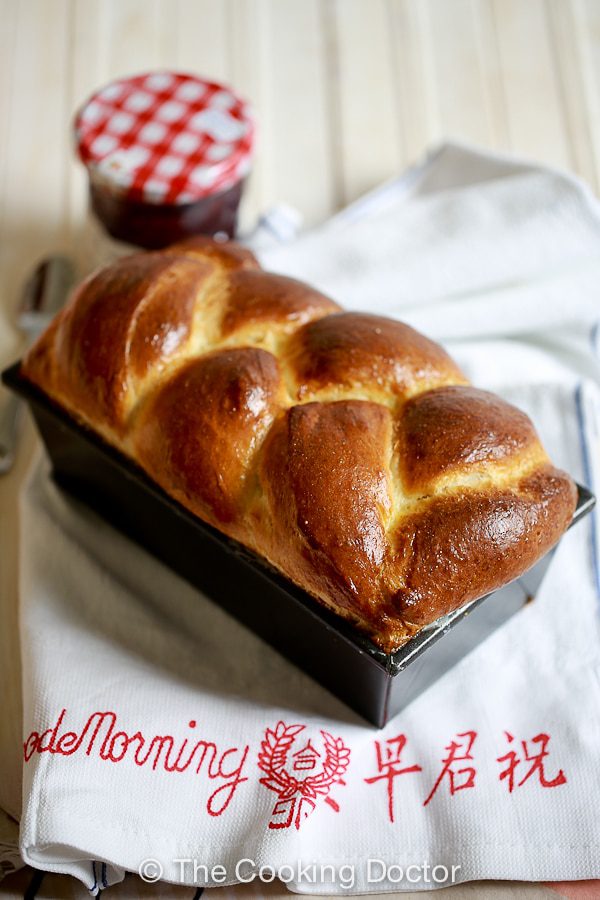 How was your morning today?
With Public Holiday one after another, it was great to have a sit-down breakfast instead of the usual hurried one on the go. The leisurely sleep-in is always welcome, especially when the meal that greet afterwards is freshly baked, like this french brioche. There is something calming about the yeast waiting game. Will it rise? Is the kitchen warm enough? Is the frozen yeast still active? No matter how often I bake these breads, the questions will always come back. Thankfully they usually turn out alright!
This brioche is really the re-enactment of my student days. I would look forward to the weekend as it also meant a luxurious purchase of the brioche from my local grocery store. They would be sliced thickly, and slathered with sweet jam no less than Bonne Maman conserve, as that was the only one that resembled a homemade version. Sweet with almost whole fruit immersed in it. We would finished the loaf within a day, my mom and I. Most often not sliced but torn ravenously and washed down with percolated coffee. Years later when I finally learnt the art of making bread, brioche remains exclusively the item that I crave most weeks.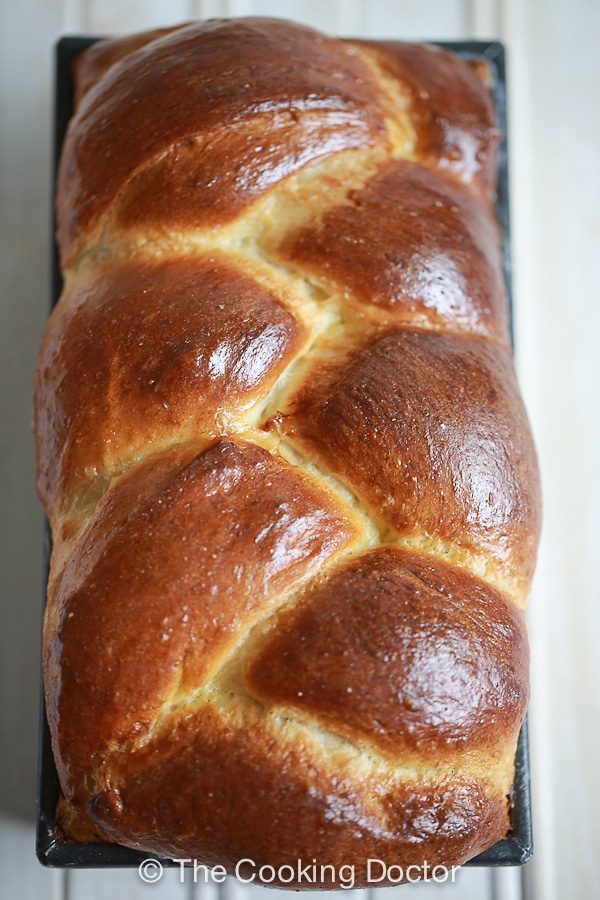 There is also another trick to get really soft bread. Just cover it immediately with tea towel right after you take it out of the oven. Sometimes I even brush some milk on top for softer crust. On the other hand for crusty top just brush with egg wash ( 2 tbsp water mixed with an egg ) prior to baking.
Are you up for baking this weekend?
French Brioche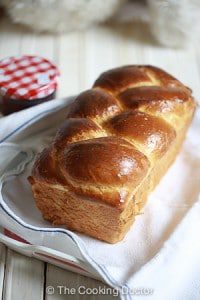 Prep time
1 hour
Cook time
20 mins
Total time
1 hour 20 mins
An easy and light french brioche made using tangzhong method
Author: Jehanne
Recipe type: Breakfast
Cuisine: Continental
Serves: 6
Ingredients
For bread dough:
2½ to 2¾ cup bread flour ( strong white flour )
1 large egg
½ – ¾ cup milk
1 tsp salt
2 tsp instant yeast
60g unsalted butter
60g sugar
Egg wash ( 1 egg mixed with 2 tbsp water)
Milk for brushing top after baking
Instructions
Mix all the ingredients listed for the dough, only add milk gradually and not the full amount at once.
If using dough hook and stand mixer, knead for 10 mins until the dough is elastic and soft. It will take longer but possible by hand kneading. If the dough appears dry, add more milk as necessary.
Let the dough rise in greased bowl until doubles in size.
Punch down the air from the risen dough and shape into a loaf. Here I have cut the loaf into 3 logs and twist it around to make it braided in shape.
Place the folded or shaped dough in a loaf pan for second rising of 20 minutes.
Preheat the oven at 200C.
Brush the top of the loaf with egg wash and place it in the oven.
Reduce heat to 180C and bake for 20 minutes.
Once bread is out of the oven, brush with milk on top and cover with tea towel until ready for serving.
Serve warm as is.