Who stole the cookie from the cookie jar?
ummm…. everyone literally. The moment that each cookie was baked hot out of the oven, the scrumptious smell of the dough was released into the air, lightly cooled before being placed into the eyed-at-all-times jar, hands start barging through the entrance of the lid, busting the lid open like doors being busted on Black Friday. But does anyone truly know the inventor of chocolate chip cookies? Let me guide you through a very celebrated moment in history….(looks off into the distance)
It was 1938 when Toll House's own owner Ruth Wakefield was baking a batch of chocolate cookies for some of her inn's guests. She looked down at her cookie batter to fin that she did not have enough chocolate to mix in with her batter. "Alright," she said to herself, "let's try something." She broke up chunks of chocolate into the batter and hoped that the chocolate would melt and just absorb into the batter. She placed it in the oven and came on to take it out 30 minutes later. She was horrified to discover that the chocolate had only spread to some parts. But she tasted it and thought to herself "That'll do." And then she distributed her "chocolate chip" cookies to the world, bringing on a famous treat still existent today.
Now not all the aspects of this story may be correct, but what's life without a little interesting turn and twist in your life. So try this twist on gluten-free chocolate chip cookies and turn your life around! (Oh, and by the way, they stay chewy even after they cool, its the best thing in the world!)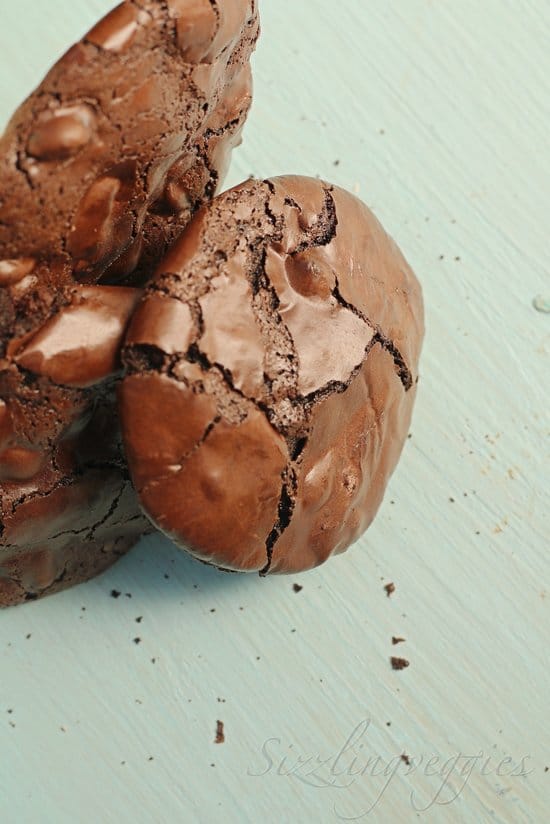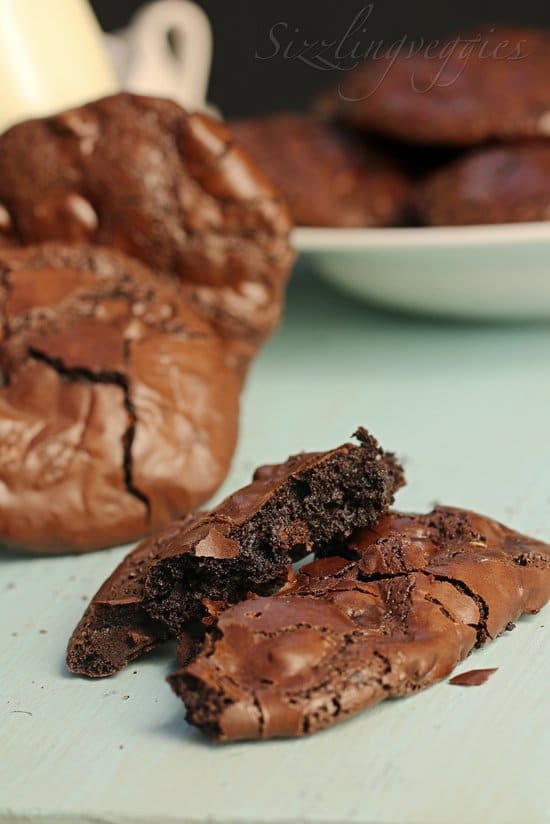 Gluten Free Chocolate Cookies
Ingredients
Gluten Free Flour – 1/2 cup (if needed)
Cocoa Powder – 2/3 cup
Powdered Sugar – 3 cups
Salt – 1/2 tsp
Egg Whites (at room temperature) – 3 large
Vanilla Extract – 1 tsp
Semi-Sweet Chocolate Chips – 1 1/2 cups
Instructions
Prepare cookie sheets with parchment paper or baking mat. Preheat oven to 350F
In a large bowl whisk powdered sugar, salt, and cocoa powder
Add egg whites and vanilla extract until the batter is completely moistened. The cookie batter will be thick. Mine was thin so I added 1/2 cup gluten free flour to the batter to make the batter thick
Add chocolate chips and fold them into the batter
Scoop the batter on the prepared cookie sheet. Space them atleast 2 to 3 inches apart. Bake the cookies in the oven for about 10 to 12 minutes. The cookies are done when the top of the cookies get cracked and glossy.
Let them cool on the baking sheet for few minutes. Transfer them to cooling rack to completely cool them.