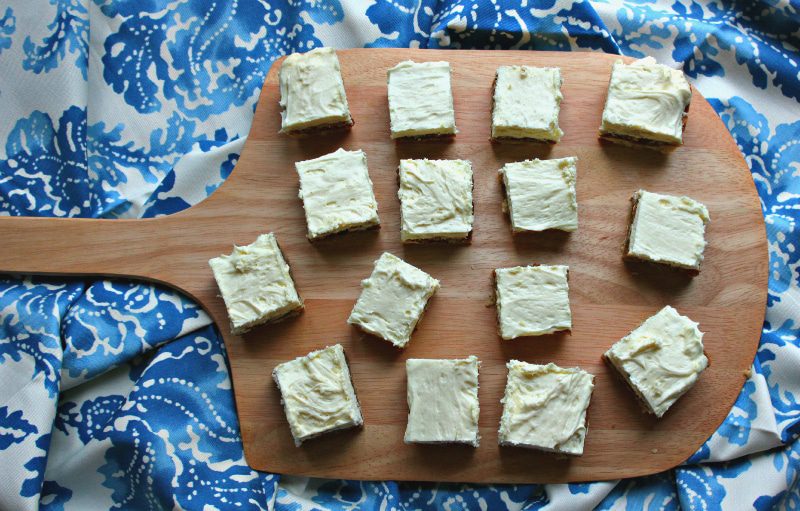 PECAN-COCONUT BARS WITH WHITE CHOCOLATE CREAM CHEESE FROSTING
I made these this time around in an 8×8-inch cake pan, but I'm going to hunt down a 9-inch one for next time–I think these would be even better if all the layers were a little thinner.
Adapted from Laura Calder'sDinner Chez Moi
Base:
1 cup flour
2 tablespoons lightly-packed brown suga
1/2 cup salted butter, softened
Filling:
1 cup pecans, toasted and chopped
1 cup lightly-packed brown sugar
1/2 cup unsweetened coconut
2 tablespoons flour
2 eggs
1 teaspoon vanilla
1/2 teaspoon flaky sea salt
Frosting:
4oz (half a package) cream cheese (regular or light), softened
1/2 cup salted butter, at room temperature
6 ounces white chocolate, melted until completely smooth
1/4 cup icing sugar
Juice of half a lemon
Heat the oven to 325F. Line an 8- or 9-inch square cake pan with a piece of foil large enough to overhang the sides and be used as handles later. In a medium bowl, rub the butter into the sugar and flour to make fine crumbs about the size of rolled oats. Press evenly into the cake pan–make sure you get right into the corners–and bake until lightly golden and the centre no longer looks soft, 15-18 minutes.
Meanwhile, add the filling ingredients together in the order listed, so that the eggs are on top. Puncture the yolks with your spatula, then stir together the filling ingredients until everything is evenly amalgamated. When the base comes out of the oven, spread the filling over the top–again, get it right into the corners; I use a little offset spatula for this and the frosting–return to the oven, and bake until set, about 25 minutes.
Cool in the pan for five minutes, then use the foil to remove the whole thing to a rack. Allow to cool completely on the rack before peeling off the foil.
For the icing, beat the cream cheese and butter–I used my electric hand mixer, but you can totally do it by hand, or in the Kitchen Aid–until smooth and fluffy. Then beat in the melted chocolate until smooth. Gradually beat in the icing sugar, and lastly the lemon juice. Spread the icing over the cooled filling, and chill the whole pan of squares. With a hot, dry knife, cut into 16 or 25 squares. I think they taste best cold, but they're good at room temperature too.