I debated for a good ten minutes as to what to name these beauts.
Thai spring rolls? Nah, they aren't exactly "rolls" in the traditional sense.
And then there was the discussion I had with the boss man the other day about his (incorrect) belief that spring rolls were always fried, as if they were synonymous with eggrolls.  This, of course, could not be further from the truth.  Another colleague and I tried to school him in all things spring rolls, explaining that they are equally served fresh wrapped in rice paper or fried depending on their origin, but our logical and well supported argument fell on deaf ears.
At the risk of unnecessary confusion, I vetoed the spring roll title.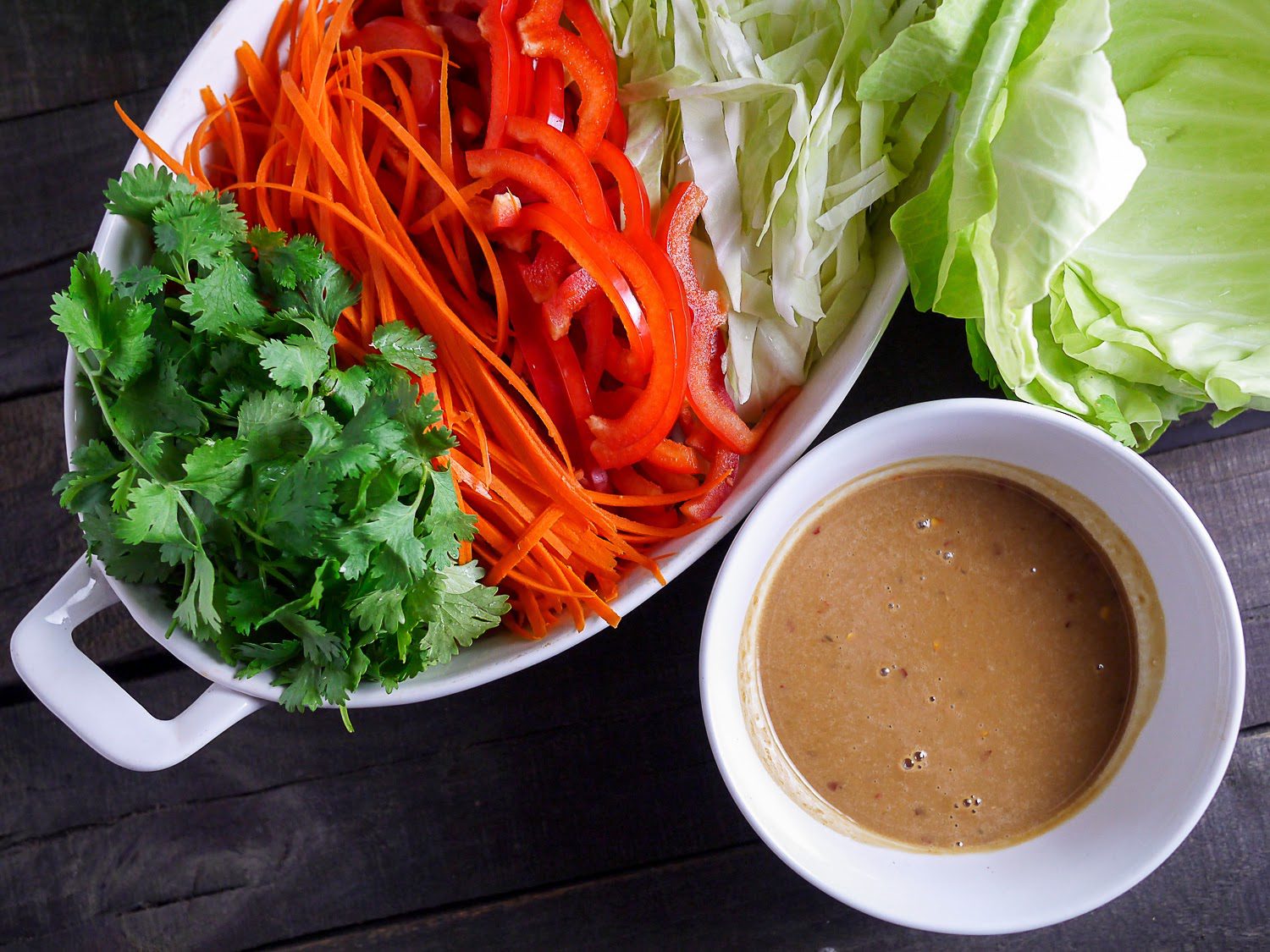 Thai chicken
lettuce
ergh cabbage wraps, perhaps?  I couldn't risk the potential discrimination of associating these bad boys with cabbage.
While we're here, can we all just agree that cabbage unfairly gets a bad rap?   People, Wake. Up.  Cabbage doesn't have to be the stinky, boiled to death slop your grandmother served you.  It's a delicious, crispy, versatile, and nutrient rich vegetable that is amazing raw or cooked (properly).
Ditch the prejudice, cabbage is bad ass.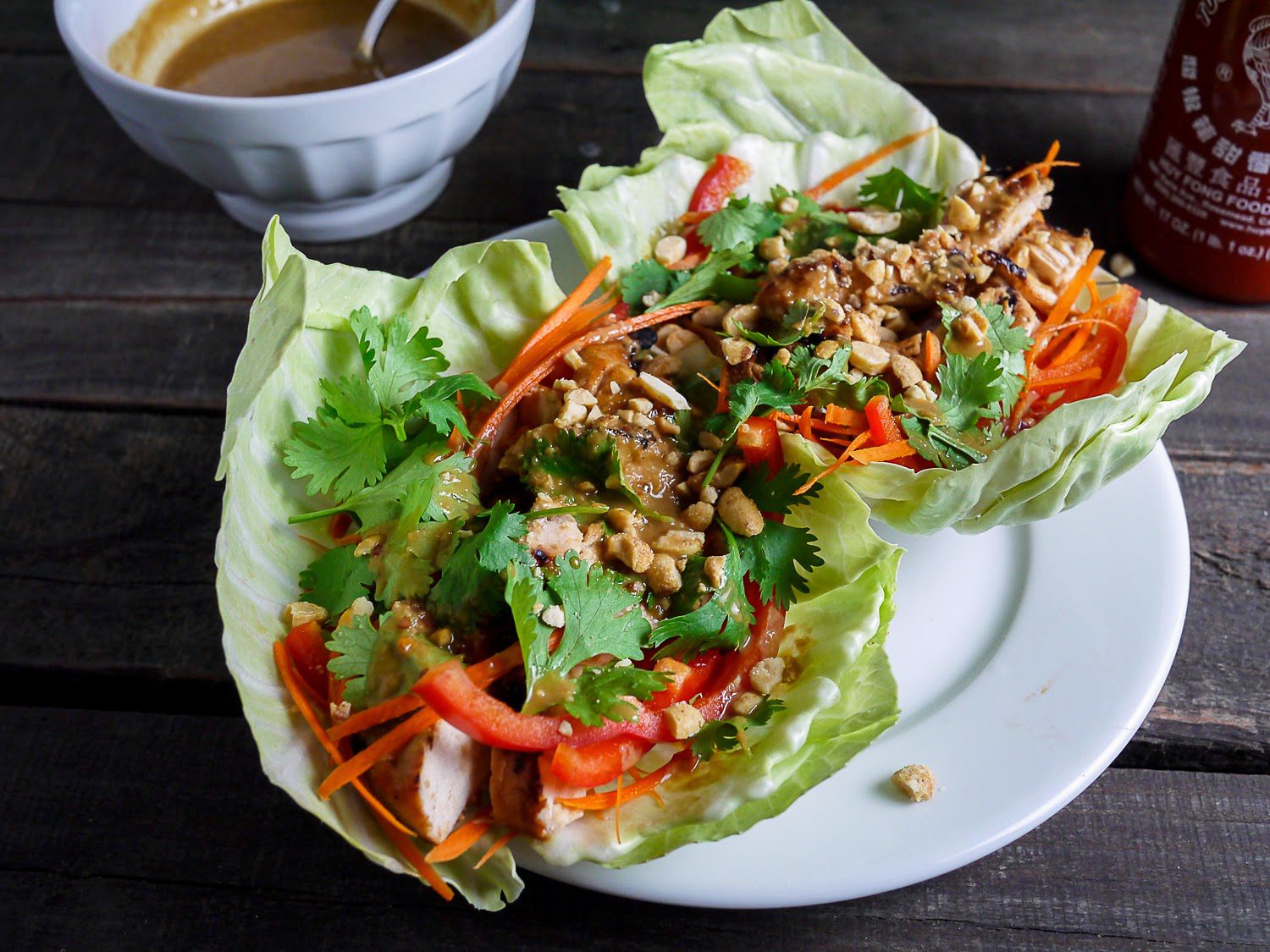 So, Thai Chicken Tacos it is.
Fun, spicy, colorful, tangy, crunchy, flavor explosion in your mouth, not Mexican, did I mention healthy, tacos.
Yum.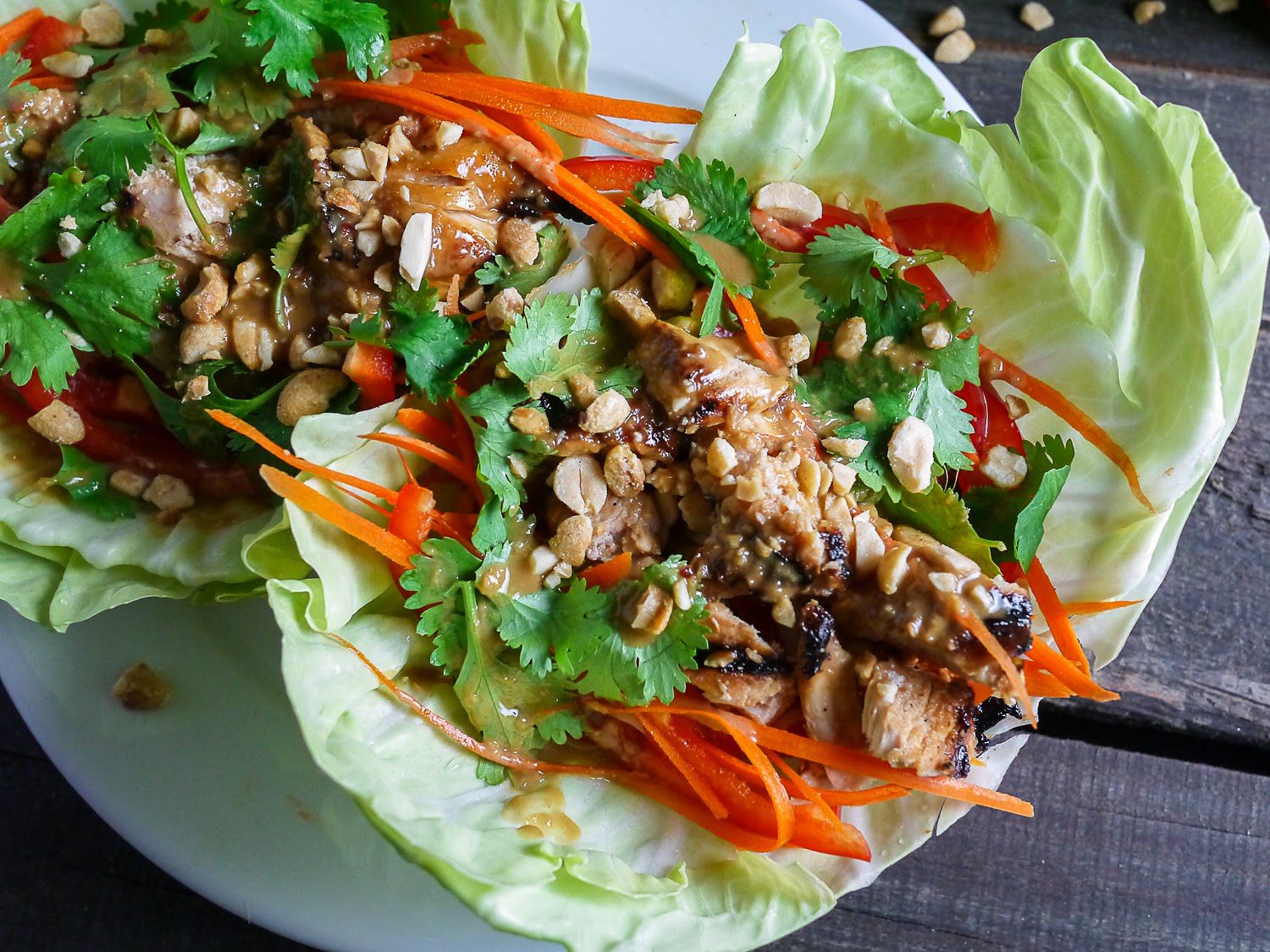 Thai Chicken Tacos
Serves: 4
Prep Time: 25 minutes
Cook Time:  15 minutes
Total Time:  40 minutes
Ingredients:
For Marinade:
1/2 cup orange juice
1/4 cup soy sauce
2 tablespoons honey
1 tablespoons grated ginger
1/2 lime, juiced
1/4 teaspoon red pepper flakes
For Peanut Sauce:
2 tablespoon peanut butter (I used chunky)
2 tablespoon soy sauce
2 tablespoons grated ginger
1 tablespoon sesame oil
2 tablespoons honey
1/4 teaspoon red pepper flakes
For Tacos:
4 carrots, julienned
2 red peppers, deseeded and sliced  thin
1 head of cabbage, pull 12 whole leaves, thinly slice or shred rest
6 chicken breasts
Cilantro, crushed peanuts, limes wedges, sriracha sauce for topping
Directions:
For marinade, combine all marinade ingredients in a large bowl, whisk, and add chicken breasts.  Cover and marinate 4 hours to overnight.
When ready to cook, preheat grill to medium heat.  Combine all ingredients for peanut sauce in a bowl and mix well.  Refrigerate sauce until ready to serve.  Remove chicken from marinade and grill 6-8 minutes per side or until chicken reaches 160 F.  Slice chicken breasts thinly.  Assemble your Thai tacos with chicken, red pepper slices, shredded cabbage, peanut sauce, cilantro, crushed peanuts and any other condiments of your choosing.  Enjoy!