My kids wanted me to make ice cream for them when I announced that I've taken Kids Delight as my theme this week. The thought of seeing them eat ice cream with the cream dripping from their hands and with white/brown big mushes around their mouth is just hilarious. Since I didn't have an ice cream maker I thought of filling a pastry shell with whipped vanilla cream and top it with fruits. I didn't know that, it would be a bliss to have a bite of this combo until I actually did. The thought of my workout or my weight loss goals were completely striken from my mind. Its like escaping to an exotic beach far, far away from my daily chaos for a moment. Oh!!! how nice would that be? The thought by itself energizes me and with a hope of really going to that beach one day motivates me to move on with my daily chores. Until then, this pastry will sure keep my spirits high. What say?
Ingredients:
Puff pastry shells (Peppridge farm, picture below) — 1 package
Heavy Cream — 3/4 cups
Vanilla Extract — 1/2 tsp
Granulated Sugar — 1/2 cup
Strawberries/Apples/Blackberries — washed and sliced (to keep the apples from browning toss a tablespoon of lemon juice in a bowl and toss the fruits in it)
Method:
1. Preheat oven to 400F. Line parchment paper on a cookie sheet. Place the puff pastry shells on the lined cookie sheet and bake in the middle rack of the oven for 20 minutes or until the shells turn golden brown.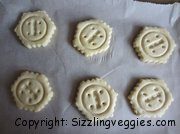 2. To make the whipped vanilla cream filling — Combine the cream, vanilla, and sugar in a large bowl. Beat with an electric mixer until thick. Refrigerate until ready to use.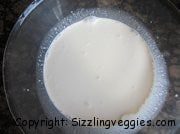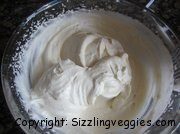 3. Remove the puff pastry shells from the oven. Let it cool and using a fork remove the top of the shell. Fill the shells with the cream filling and top with your choice of sliced fruits. Refrigerate until ready to serve. To be eaten immediately after removing from refrigerator otherwise the filling will start to melt. Serve chill and Enjoy!!!