Scones are a tricky thing.  They can come out dry and dense, like a rock.  Or they can be too sugary, masking any flavor.  It is an accomplishment when they come out soft, delicate and flaky.  I like the idea of a mildly sweet scone, to have with cream, preserves and tea–so I can pretend I'm refined when I eat them as the British do.  Unfortunately, finding that perfect scone isn't as easy as going to the nearby Starbucks, and going out for tea can cost an exorbitant amount for such simple foods (but one can argue that we're really paying for the experience).  The best scones have turned out to be the ones I've made (and I'm not being boastful!), using tried and true recipes like Tartine's.  These came out perfectly lightly sweetened and buttery, with the requisite soft layers on the inside.  Paired with preserves and tea makes for a perfect morning (or afternoon).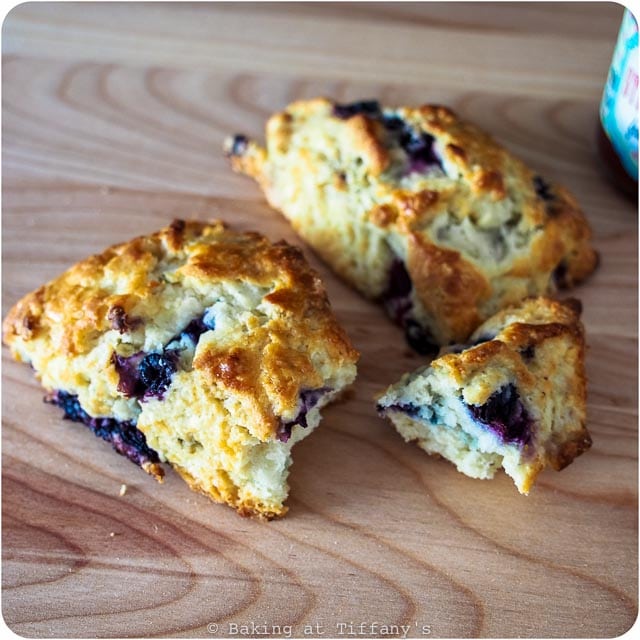 Recipe notes: Tartine typically uses zante currants for their scones, but I used the blueberries I had instead.  I froze them prior to mixing into the dough, to prevent from popping them while mixing (which was somewhat successful).  I handmixed the dough using a pastry blender, but you can also use a food processor.  Tartine's recipe suggest topping the scones with melted butter and sprinkled sugar.  I used buttermilk instead to use up what I had left, which still produced a rich golden brown color.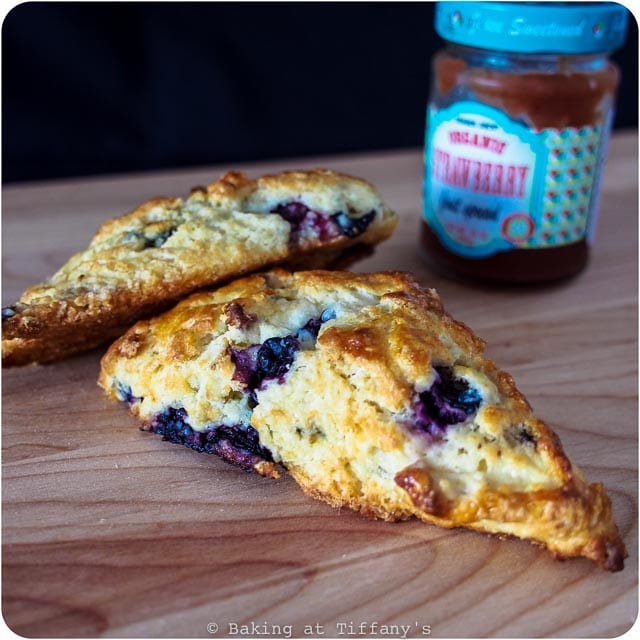 Ingredients
3/4 cup frozen blueberries (1/4 cup if using dried currants)
4-3/4 cup (680 g) unbleached all purpose flours
1 T. (15 ml) baking powder
1/4 t. (3-3/4 ml) baking soda
1/2 cup (100 g) sugar
1-1/4 t. (6-1/4 ml) salt
1 cup + 1 T. (255 g) unsalted butter, very cold, cut in cubes
1-1/2 cups (375 ml) buttermilk
1 t. (5 ml) grated lemon zest
3 T. melted unsalted butter or buttermilk to brush on top of scones
sugar for sprinkling
Preparation
Preheat oven to 400F degrees, and line baking sheets.
Sift flour, baking powder, and baking soda into a bowl.
Mix in sugar and salt.
Add cubes of butter over flour mixture, and mix in using the pastry blender until mixture is coarse until butter pieces are about the size of peas.
Using a wooden spoon or your hands, mix in buttermilk and lemon zest until the dough holds together. Butter pieces should still be visible.
Gently mix in the frozen blueberries, being careful not to pop them.
Flour your work surface. Transfer the dough to your work surface, shaping it into a rectangle approximately 18″ long, 5″ wide, and 1-1/2″ thick. Cut into about 12 wedges.
Transfer wedges to the baking sheets, keeping them about 1″ apart. Brush the tops with melted butter or buttermilk, and sprinkle with sugar if desired. Bake for about 25-35 minutes or until lightly browned on top.
Adapted from Tartine by Elisabeth M. Prueitt and Chad Robertson.