"Food is the most primitive form of comfort" — Sheilah Garaham
I love food, it's as simple as that and good for me, my family loves to try new recipes every now and then. There are days when we resort to simple comfort foods and this salad is as simple as can be. I make this salad very often but with different dressings and I can guarantee this salad goes with any type of dressing. They don't need anything fancy a simple oil, vinegar, salt, and pepper will also make them so delicious to taste.
I mixed the beans with the dressing as I didn't have bell pepper and I didn't want the raw onion taste. Feel free to add red bell pepper and chopped onions to the recipe, they do taste yummy with them. I used some crushed ginger in the dressing and many don't like the taste of ginger due to its strong taste, so if you are one of them then don't add ginger to the dressing. I've also replaced orange juice in the dressing to carrot juice and it was perfect. This salad is perfect for potluck or any festive setting. Enjoy!!!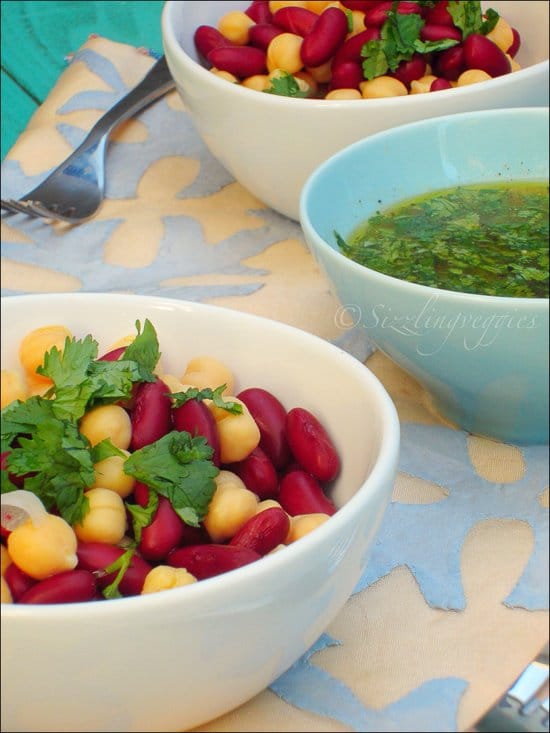 Print
Chickpea & Kidney Bean Salad
Ingredients
Garbanzo Beans — 1 can (15 oz, drained and rinsed)
Red Kidney Beans — 1 can (15 oz, drained and rinsed)
Red Onions — 1 medium (finely chopped, optional)
Red Bell Pepper — 1/2 cup(finely chopped)
Feta Cheese — 1/2 cup crumbled
Cilantro — 1 tsp (finely chopped)
For the dressing
Garlic — 2 medium pods (finely chopped)
Ginger — 1/8″ piece (peeled and crushed)
Olive Oil — 1 tsp
Rice Vinegar — 2 Tbsp (can be substituted with lemon juice)
Carrot Juice — 1 Tbsp
Cilantro — 2 Tbsp (finely chopped)
Salt and Pepper — to taste
Instructions
In a small bowl mix all the ingredients for the dressing until well combined.
In another bowl mix beans, onions, bell pepper, feta cheese, cilantro along with the dressing until all the ingredients are well coated with the dressing. Adjust salt and pepper to taste. Serve immediately or chill until ready to serve. Enjoy!!!