This salad is good.

It even has chicken in it.  I have to say that this chicken aversion monster I've got going in this pregnant body of mine was tossed to the side and I fully enjoyed this salad.  Really.

Last week at the store I got a wild hair and bought some refrigerated fully-cooked chicken breast strips in the deli and cheese section of my grocery store.  I broke a couple of my personal rules that morning when I added this little 8-ounce bag of chicken to my grocery buggy.

1.) It wasn't on my list.  I never buy something that isn't on my list.  I even put chewing gum on my list, folks.  Over the course of my shopping trip I may leave/delete things off my list- but I don't typically add to my list.  Keeps me in my grocery budget.  I would be a wild woman if I went to the store without a list.

2.) Pre-packaged meat.  Way out of the norm to buy something like this.  I do love me some rotisserie chicken. I typically will still make my own shredded chicken breast in the Crock*Pot to save money. Mostly because my favorite rotisserie chicken is from Whole Foods.. all seven dollars and ninety-nine cents of it.   (It is really good, and worth the $7.99 in my book. But, me and the Fireman don't read the same book..)

and lastly..

3.) It is pre-cooked chicken.  I know I already made my point about the pre-cooked meat, but really my point for this is more personal than financial or out of respect for my Fireman's wishes.  Pre-cooked chicken means that I didn't take the time with it beforehand to get every ounce of rib meat/gristle/skin off of that piece of chicken before I cooked it myself.  The risk of getting one of those squeeky bites of chicken between my teeth has gone up tremendously.
I have given myself the ringer of scoldings for making that purchase- especially when I knew in that moment that there was a 97% chance I wouldn't touch the stuff after I got it home- especially because I had no clue what I was going to do with it.
But there is always that 3%, you know?  And I have a creative brain- I can figure something out.  After I had a delicious salmon salad for lunch one day last week, I decided I wanted another salad for dinner.  My sweetie happened to be at the fire station that evening, leaving me to cereal or leftovers for dinner.
2 things.. One: cereal has become a not-so-regular meal for me anymore, mainly because I am already eating it dry at least once/day,   and I need more protein than that.
and number 2: I can't do leftovers.  I try, but I just can't make myself do it.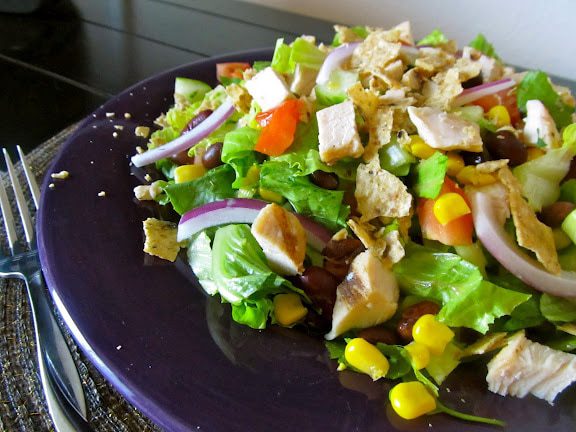 Enter my development of this dinner salad!  Ok, so it isn't complete rocket science to come up with this one, but I actually had all of these ingredients on hand- and with my impulse grocery buy of pre-cooked chicken I was set for a hearty salad for my dinner meal.
Even after serious examination of my chicken strips I found little need for tossing any away due to questionable appearance.
Super simple, and the dressing is super light and delicious.  I do think this would be great paired with grilled fish or shrimp- salad or not.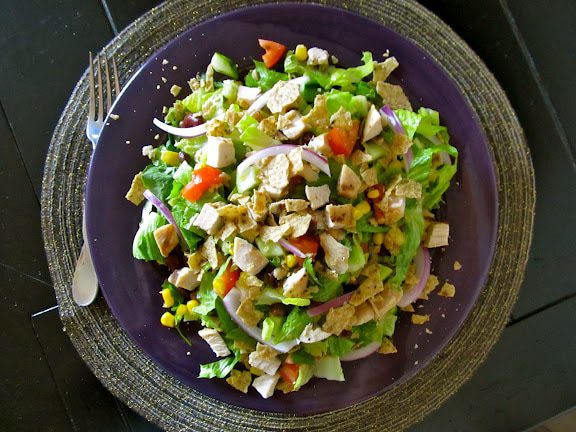 For the record: No squeeky chicken bites.  Success!
Mexican Cobb Salad
Yield: 4 servings
Fully cooked fajita chicken breast strips can be found in the deli or freezer section of your grocery store.
Ingredients
Honey-Lime Vinaigrette
3 tablespoons white wine vinegar
2 teaspoons honey
¼ cup fresh lime juice
1/4 teaspoon ground cumin
1/2 teaspoon smoked paprika
1/2 teaspoon garlic powder
1/4 teaspoon ground red pepper
2 tablespoons canola oil
Salad
8 ounces refrigerated full-cooked fajita grilled chicken breast strips, cut into 1/2-inch pieces
8 cups torn romaine lettuce
1 cup diced tomato
1 cup peeled, seeded, and diced cucumber
½ cup diced avocado
¾ cup (3- ounces) shredded Colby Jack cheese
1 small red onion, sliced thin (about 1 cup)
1 (15-ounce) can organic low-sodium black beans, rinsed and drained
1 cup golden whole kernel corn, fresh (about 2 small ears) or frozen
1 cup baked tortilla chips, coarsely crushed
Instructions
To prepare vinaigrette, combine first 7 ingredients in a medium bowl, stirring with a whisk. Gradually add oil, stirring constantly with a whisk; set aside.
Place 2 cups of mixed salad greens on each of 4 plates. Arrange 5 tablespoons chicken breast, 1/4 cup tomato, 1/4 cup cucumber, 1/4 cup onion, 1/4 cup corn, 2 tablespoons avocado, and one-fourth of beans over the salad greens. Sprinkle 3 tablespoons Colby Jack cheese and 1/4 cup crushed chips over each salad. Drizzle Vinaigrette over each salad.
Toss to combine and enjoy.
Nutritional Information:
Calories: 453; Fat: 18.5 g; Carbohydrate: 49.5 g; Fiber: 7.2 g; Protein: 29.5 g