I wouldn't be giving fair credit if I didn't say this recipe idea wasn't mine. A few weekends ago after eating breakfast on a lazy Sunday morning, I mentioned to my boyfriend I wanted to bake something but I didn't really have any ideas (unusual, right?). So, naturally, like a good boyfriend does, he suggested brownies. I've already perfected the right brownie recipe so why try to reinvent the wheel when you don't have to? I kind of poo-poo'ed the idea until… "What about sweet potato brownies?". Genius, right?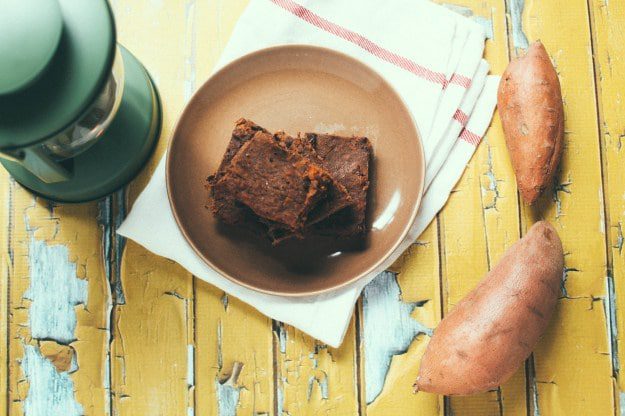 So, thanks to Google having a million paleo/gluten-free sweet potato brownie recipes (I'm serious, that's literally all I could find… not complaining though), this is what I came up with. They turned out super moist, chocolate-y and just a hint of the sweet potato starch. And the best thing is they're actually really healthy. There's no wheat flour or butter, just coconut flour and oil. Plus you've got some cinnamon, carob chips, raw honey, and cinnamon to make it oh so delicioso. Not one square brownie was wasted.
Sweet Potato Carob Chip Brownies
Ingredients
1 sweet potato
3 eggs, whisked
¼ cup coconut oil, melted
⅓ cup raw honey
½ cup carob chips
3 tablespoons coconut flour
2 tablespoons unsweetened cocoa powder
¼ teaspoon baking powder
¼ teaspoon vanilla extract
¼ teaspoon cinnamon
pinch of salt
Instructions
Bake the sweet potato. Preheat your oven to 425 degrees, use a fork to puncture holes all around it, then throw in the oven for 40-50 minutes.
Once your sweet potato is soft and cooked through, peel off the skin and mash it up in a bowl. And turn your oven down to 350 degrees.
Now add the wet ingredients: coconut oil, honey, vanilla, and whisked eggs to the bowl and mix together.
Then add your dry ingredients: coconut flour, cocoa powder, baking powder, cinnamon, salt and carob chips.
Mix well.
Pour into an 8×8 glass baking dish coated with oil.
Bake for 30-35 minutes.
Let rest to cool a bit. Cut into squares!