The transition into full time baking at a start-up restaurant in Boulder, CO has been everything I'd hoped it would be, and then some – a dream come true and whole lotta work. Like most, making dinner on a weekday night can be difficult for me. I've exhausted all creativity and effort by 5pm and preparing dinner has shifted from its former role of cathartic escapism into one of routine task resulting in a full belly and an even fuller sink of dishes. I get to spend my days doing what I love and feel gifted at – baking, cooking, troubleshooting – pouring myself into my work, food, and (hopefully) those around me. But at the end of the day I don't want to spend any amount of time or energy on my last meal.
Perhaps it's a budgeting issue on my end, or lack of inspiration when I'm the only one partaking because I truly don't care if I eat the same thing for dinner 32 nights in a row (single lady perk!) – family pack of chicken breast and a bag of sweet potatoes? Fantastic, I won't have to think about what I'm making again for a week and a half. Having a fridge stocked with homemade condiments (chimichurri! ketchup! bbq sauce! avocado ranch!) keep things from getting mundane with this style of "meal planning" and they stop me from bringing home Fresh Thymes or buzzing through Whole Foods to binge on taro chips and a $3 avocado every night. This olive tapenade has been in the rotation since early spring and it surely does not disappoint.
All you need are a couple vinegar free cans of olives, olive oil, garlic cloves, and a blender or food processor. Stir into tuna for a quick salad, top grilled greek chicken breasts, or use as a dip for quinoa tortillas! (sadly, the tortillas are not AIP)
Make sure to say hi the next time you're dining at Fresh Thymes!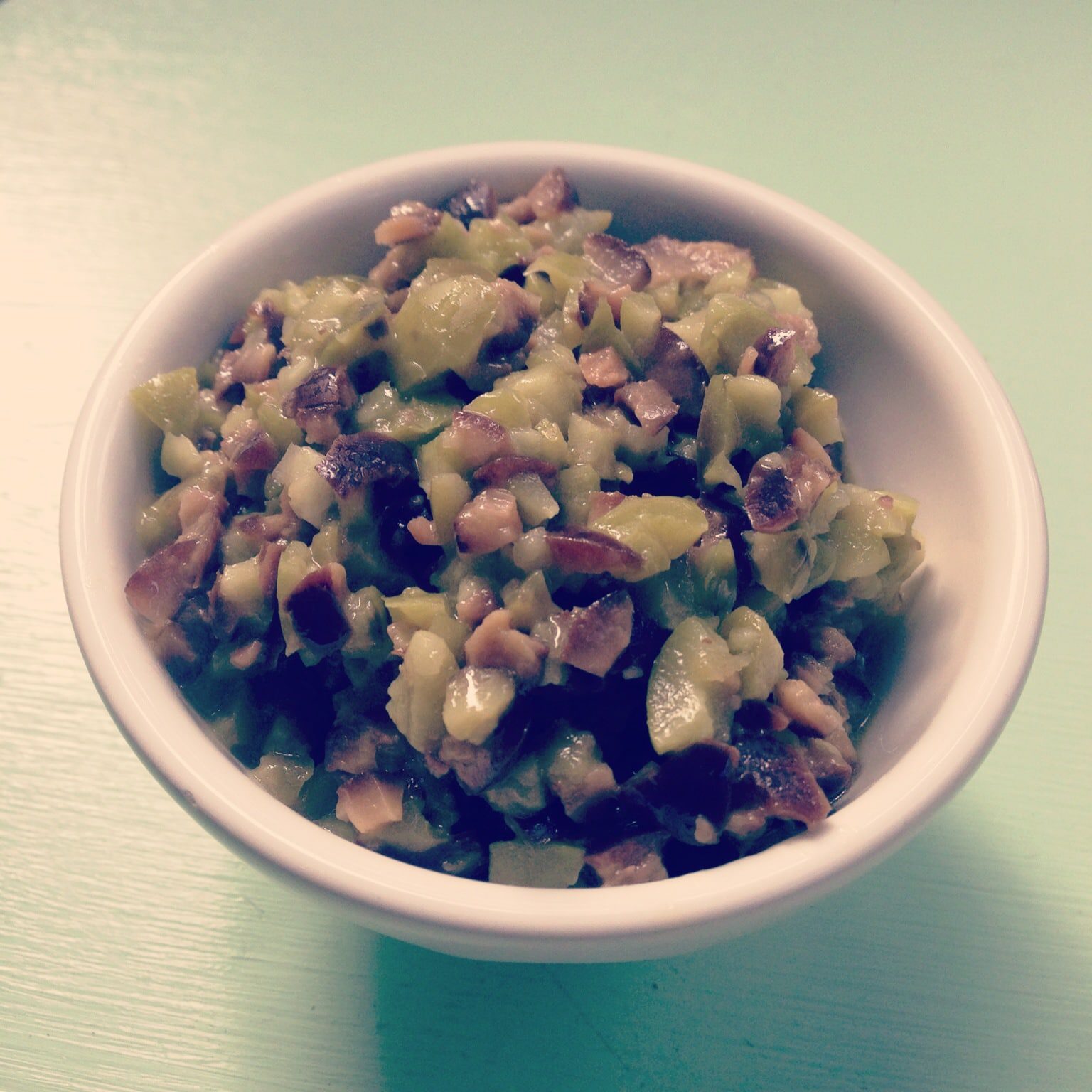 Olive Tapenade
Makes about 2 cups
1 can/jar drained Black Olives, vinegar-free
1 can/jar drained Green Olives, vinegar-free
1/4 cup Olive Oil
1 tbsp Lemon Juice
2 cloves Garlic
1/2 – 1 tsp Salt
Combine the olive oil, lemon juice, and garlic cloves together in a food processor or blender until garlic is completely puréed. Add olives and salt and pulse until olives are broken into small pieces.
Store in the refrigerator in an airtight container for a couple weeks!