I can think of having grill party all years round. In summer when the sun is warm and the sky is bright, it's wonderful to have a party in the garden with the charcoal pit firing up those fresh seafood and juicy steak. In winter, I find it the most comforting to have a small portable
bbq over the table where the steam and smoke of food make the home feel so cozy. In rainy season, as I am now in Kerala, the rain are generous and flourish, it always be too indulgenced to sit by the fire with family and have the hot and steamy grills rise up to your face. We can have party all years round and grilling is always fun and the center of attraction.

I love grilling, the way it transforms the simple ingredients to the bites of heaven. Oozing steam and hot juice gushing out, fat melted and dripping over the grill that busting out delicious smoke makes grilled food irresistible. Family and friends surround the grills with conversations and everyone has the time of their lives.

Of course, to have the perfect grill party, you should have the perfect gadgets. I have recently discovered a wide range of shiny grills at csgrills.com, they are so inspired and catchy that I immediately need to call for my favourite grilling recipe to use immediately.

Asian Grill Party

To make your grill party the most sassy and juiciest one in town, you should try introducing Asian flavours into your event. Asia is known for mystery, exotic ingredients, and spiciness- the things that would make your party fun and exciting.

Here are some Asian grill party guides I follow to make the talk of the town party…

Invitation/Companies/Guests

Good food meant for sharing, so don't be shy passing out the invitations to a lot of friends. Tell your friends to bring friends and get the huge crowd gather around the fire pit.

Ambience

A grill party in the garden/backyard sounds like a scrumptious occasion. The good location for grill is the outdoor with fresh breeze, warm sunshine and flowers, having space for the guests to walk around and mingle. If you have limited space like mine, you can always relay on a cozy balcony party.

Right Equipment

The right grill and grilling equipments is so important for the party. Select the products that suitable to your styles and budgets not only work for your fun party but become the assets for your kitchen. Like other kitchenware and equipments, I always pay attentions to the quality of grill. I wanted something stylish, durable, and the variety of grills at csgrills.com satisfy me. Check them out and those sleeky, shiny machine will make you want to have a grill party.  Versatility is a big factor and Napoleon grills are a safe bet.

Right ingredients

You can grills almost everything even fruits and vegetables make a wonderful grilling spread in the party so get the fresh organic ingredients so your serving become juicy and delicious.

Technique

Food should be cooked just a few minutes over medium heat (190- 210 degree C) so they are tender and cook thoroughly, yet retain that juicy and sweet flavour.

Sauces/Condiments/Assortments

You must have various sauces, condiments or salads spread along sides your grills. It's Asian flavour to have sweet chilli sauce, chutneys, spicy dips and cold salads alongside those hot bites.

Food Must Flow

Be generous in your party, have food furnished your party, along your hot grills, sweep in some cool drinks, rice, noodle, homemade bread and any of your special dishes to have the smooth flow in the party.  Food should continuously fly out of the grill and new fresh ingredients replaced over the fire, so you guests keep coming back for refills.

These simple points help reminding me to have a fabulous Asian grill party for my friends. The tender, smoky, juicy meat dipping in sweet chilli sauce sat them to the verge of culinary ecstasy, and when I placed spiced Indian Kebabs over the grill, the aroma of herbs and spices is a simply delicious hypnosis. Make sure you have some juicy Asian grill recipes up your sleeves…here's one.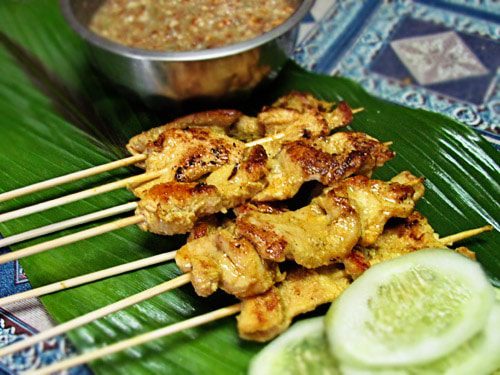 Chicken Satay

Ingredients: (make 20-25 skewers)

1 kg boneless chicken- cut into long stripes

2 tbsp galangal paste

1 tbsp garlic paste

1 tbsp ginger paste

3 coriander roots finely minced

1 tsp turmeric powder

1 tsp salt

1 tbsp light soy sauce

1 tsp sugar

1/2 cup coconut milk

You will also need: 20 bamboo skewers soaked in water

Preparation

1.   Combine galangal paste, garlic paste, ginger paste, coriander roots, turmeric powder, salt, light soy sauce, and sugar in the large mixing bowl. Stir in coconut milk, add chicken and mix well.  Marinate the chicken for 1-2 hours in refrigerator.

2.   Skew the chicken pieces on the bamboo skewers.

3.   Heat the grill, or charcoal fire to the medium heat. Grill the chicken over the medium heat for a few minutes one each sides or until the outside turn brown and the inside cook thoroughly.

4.   Serve hot with spicy and sweet peanut sauce and sweet and sour cucumber salad
Have a lovely day,