As you may have guessed from some of my previous posts, I have a pizza problem. It is my number one, go-to cheat food. If I'm going to treat myself after a couple weeks of eating clean and being healthy, I dial the local pizza place. So tonight, I decided to take my beloved pizza and give it a healthy (or healthier than regular pizza) spin. The only things about this recipe that isn't strictly healthy is the BBQ sauce and the cheese. If you have an issue with gluten, then the crust is a no-no as well but you are saving a tremendous amount of calories when you go this route. To put the cherry on top, this just happens to be delicious. I knew it would taste good but I didn't know that it would taste this good.
I use tortillas as the base which gives it a crispy, ultra thin crust taste and the sautéed garlic, onions and kale add an incredible flavour. Everyone should try this recipe. If you do, you will not be disappointed.

Ingredients
This recipe makes four pizzas
4 flour tortillas
1 ½ cooked chicken breasts cut into small slices (I had some leftover from this recipe)
2 cups kale
1 ½ small onions sliced
1 tablespoon garlic
1/2 tablespoon extra virgin olive oil
1 ½ cups cheddar cheese
BBQ sauce (I used Diana Sauce Gourmet Honey Garlic)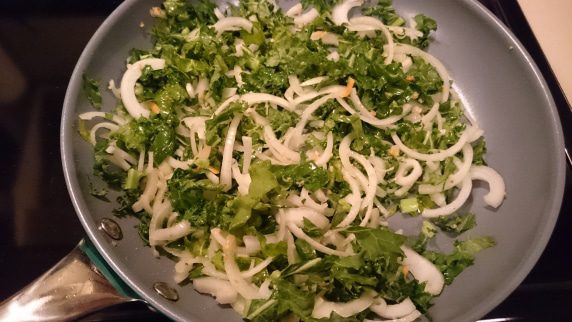 Directions
Preheat your oven to 400° and line your baking sheet with tin foil.
Spread BBQ sauce onto your tortilla.
Heat oil and garlic in a skillet to medium heat and add kale and onions. Cook for 10 – 15 minutes or until the onions have browned and are soft and the kale has browned and is crispy. Add to the tortilla.
Add chicken and then sprinkle cheese on top.
Pop into the oven and bake for 15 minutes. Broil on low for 7 minutes or until the cheese is slightly browned and bubbly.
Eat.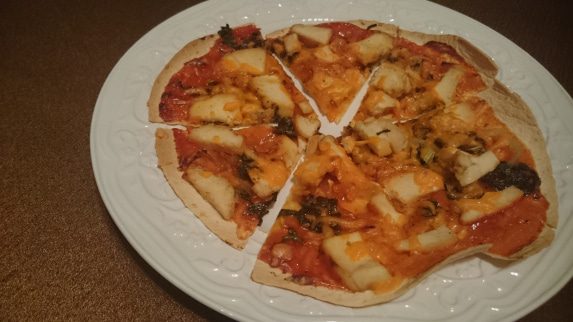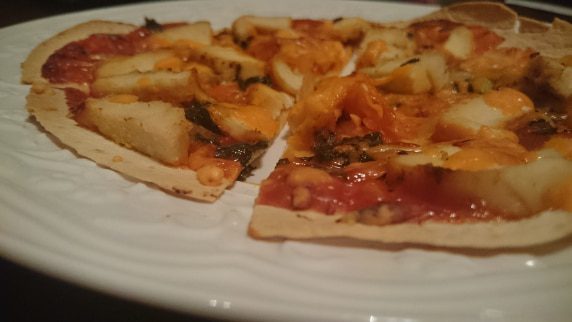 If you don't find this delicious, then redheads aren't awesome.