HEY HI HELLO! Happy (end of) Saturday my dear frands!

I know I've been a little absent from the blogosphere (yeah I just said blogosphere) lately, and it's because I have a super cool internship that has let me sit courtside at the BB&T Atlanta Open Tennis Tournament all week! It's been so fun and so cool and I've gotten SO MUCH experience that I am indebted to my fabulous boss (The PR Studio is fabulous <– shameless plug). Today was my last day working it, even though it ends tomorrow (and I'm missing the most exciting day womp womp.)

BUT I have great news. I get to move into the cutest purple house in cute little Normaltown with my cute little friends at a cute not-so-little university on Sunday!! So that's why I'm missing the finals of the open. Which makes it okay, because I'm SO EXCITED!!!

So most of my food posts (after this one, of course) might be catered towards easy, quick, DEEEEEELICIOUS (of course) meals that even a college student can do! Because I'm a college student (have I mentioned that before? Just kidding. Haha. Yeah. College.) So don't go expecting to see a Turducken anytime soon (or ever because that's too much bird for one meal). Kapeesh?

PS I got a crock pot so I'm gonna go ham on that thing. (food pun)

Anyways, why am I writing a blog post? Food? Did I make something?

OH.

YES.

JELLY.

AND CRACKERS.
So my dear friend Bev (we've never met, but I follow her blog so obviously I feel like I've been her bestie for life) made this hot pepper jelly with the jalapeños from her garden and I thought OMG FINALLY the jala-party I've been waiting for! Except I added sweet peppers and used different pectin, so it looks different, but it's FAB.
And my other dear friend, Ina (if I ever met her I think I'd pass out from awe. She's wonderful.) has made like 3874728 different recipes for crackers, so I thought I'd take a stab at them with this jelly! The crackers have lots of southwestern flavors to compliment the pepper jelly. Think: cumin, lime, cilantro, paprika, love, a saloon, tumbleweeds, and a ten-gallon hat.
I put the jelly on brie and then put it with the crackers and YES. Just yes.
So without further ado…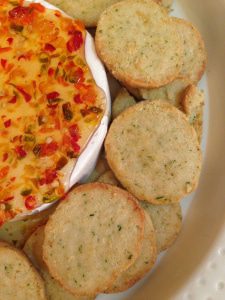 Sweet Heat Pepper Jelly
Ingredients:
10 medium-sized jalapenos, roughly chopped
1 bag of multicolored sweet peppers, roughly chopped
1 ½ cups apple cider vinegar
6 cups cane sugar
6 tablespoons instant pectin
Directions:
Place the peppers in a food processor and pulse until finely minced.
In a large pot, add the sugar, apple cider vinegar, and peppers. Bring to a boil and let boil for about 6 minutes. Add the pectin and stir for about a minute.
Then pour the mix into jars and let sit for about 30 minutes! Yay! Pep jelly for everyone!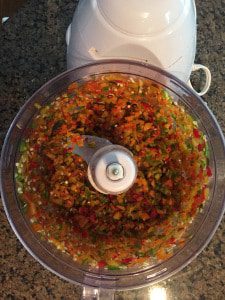 Cilantro-Lime Crackers
Ingredients:
2 cups all-purpose flour
1 teaspoon kosher flour
1/8 tsp. baking powder
14 tbsp (1 ¾ sticks) cold unsalted butter, diced
1 tbsp honey
1 ½ tbsp. lime zest
1 tbsp. finely minced cilantro
1/8 tsp. cumin
1/8 tsp. smoked paprika
3 tablespoons ice water
1 egg beaten with 1 tablespoon milk, for egg wash
Fleur de sel or sea salt
Directions:
Place the flour, kosher salt, and baking powder in a food processor fitted with the steel blade and pulse to mix. Add the butter and pulse until the mixture resembles course meal. Add the lime zest, cilantro, cumin, paprika, and honey and pulse again. With the food processor running, add the ice water all at once. Continue pulsing until the mixture begins to form a ball. Dump the dough onto a floured board and roll it into a 14-inch log. Wrap in plastic wrap, and refrigerate for at least 1 hour.
When ready to bake, preheat the oven to 400° Line a sheet pan with parchment paper.
Cut the dough in 3/8-inch thick slices. Place the crackers on the prepared sheet pan, bursh with the egg wash, and sprinkle with the fleur de sel. Bake 12-15 minutes, until golden brown. Serve slightly warm or at room temperature.