I was introduced to Bael fruit as a kid, it was a rewarding treat we found everywhere in our hometown. They were naturally grown in people's homes, farmlands and forests.

When the fruits are perfectly ripe and ready to eat they would fall down on the ground waiting for the children to pick them up. We would break the hard shell of this fruit up in half and scooped out the sticky centre which coated in the amber liquid. The mushy mottled yellow pulp layered on the shell was mellowing sweet and very aromatic. We ate a mouthful of it like pudding, or mashed together with sticky rice and devoured.
Bael fruits or "stone apples" are seasonal fruits grown over the medium-sized trees with luscious fresh leaves. The fruits are about the size of large grapefruit with wood-like hard shells. The fruits are green when they are young and turn brownish yellow as they ripe. The cores of the fruits are sticky slimy while the pulp surrounded the inside of the shells are creamy, sweet and aromatic.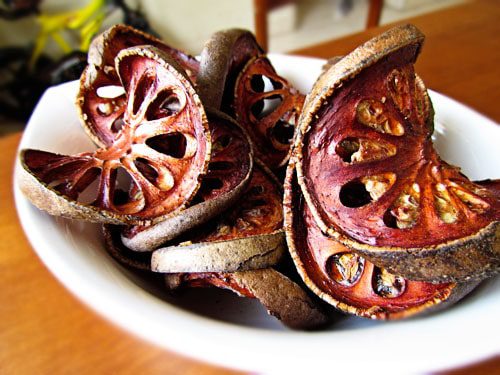 The young fruits are dried up or preserved to use as tea or infusion while the ripe fruits can be boiled or eaten fresh.
These fruits are not only aromatic and delicious but they are also very good for health in a number of ways. They are good for heart, brain and digestion. They are also made an ideal drink for diabetic patients.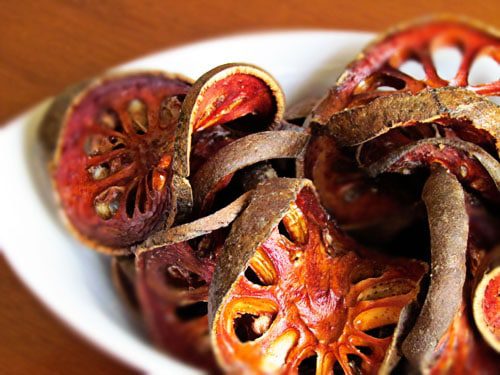 I bought these dried bael fruit wheels from Thasadej Market in Thailand. The aroma of the fruits leaked out from the roughly packed plastic bags. They are great for making a refreshing summer drink.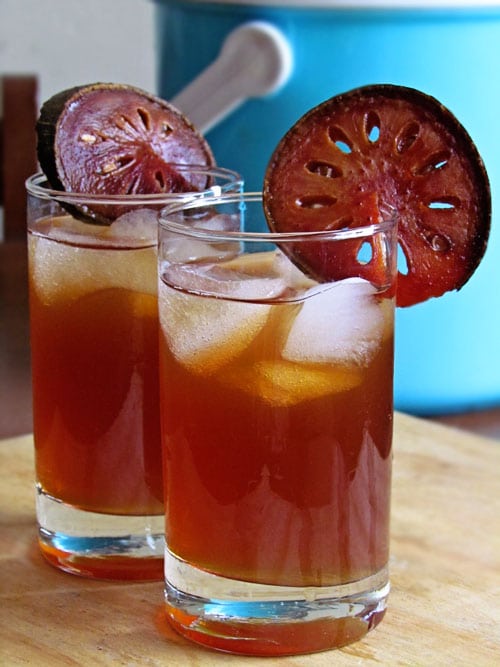 Bael fruits ice-tea is an instant sweet refreshing drink. Dried bael fruit turns the water to pale orange with beautiful fragrance and delightful earthy flavour. It is usually sweeten with sugar and serve with some ice.
Bael Fruit Ice Tea

Ingredients: (4 servings)

Few dried bael fruit slices

4 cup water

3 tbsp sugar (or as per your liking)

Preparation

Boil water in the medium pot.
Add dried bael fruit and let it boil for few minutes.
Add sugar and stir until dissolved.
Remove from the heat and let it cool.
Serve chill with some ice.
Have you ever tried Bael fruit before? What's your favourite ice tea recipe?
Take care,