There is definitely a wrong way to make
a fruit salad. It seems simple but I've been personal witness to many
tragedies. Bad combinations, gunky brown bananas, and unripe
fruit…the abominations! The key to a great fruit salad is fruit
that works together but doesn't disintegrate over time (no bananas!)
plus you need small enough pieces so you can actually have multiple
pieces of fruit in one bite, that's the true beauty of a perfect
fruit salad. What you need is the berry trifecta, ripe pineapple and
peaches. The key with the peaches is they need to still have a bit of
a crunch, no mush.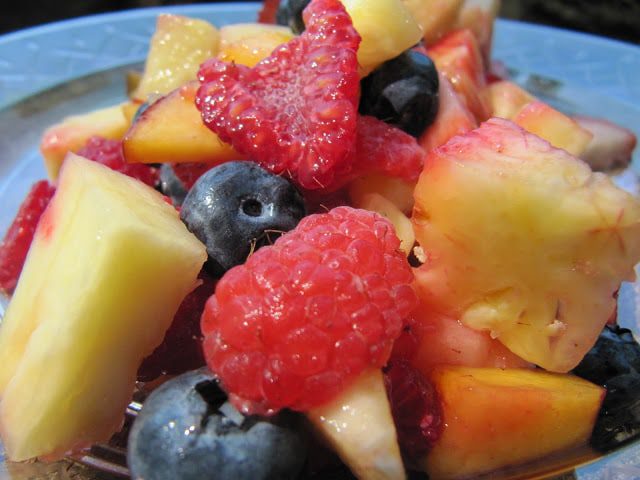 Fruit Salad
2 small crates strawberries
2 small crates raspberries
1 crate blueberry
2 small pineapple
3 peaches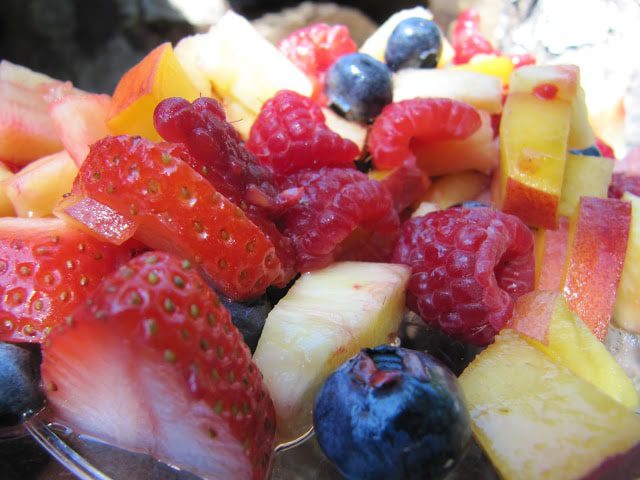 First, you want to chop your pineapple. You need to slice these into
very small bits. I slice the pineapple into 1 inch by 2 cm pieces and
then chop into little sections. This is important…it makes the
salad! Next, you'll chop the strawberries into small slices. If you
have large strawberries you should be able to get about 8 pieces from
each. The chopping is time consuming but so worth the result so stick
with me here. Onto chopping your raspberries, I slice them in half.
By sicing the raspberries in half their juice will trickle onto the
pineapple and tastes so amazing. If you have overly ripe raspberries,
you may not need to chop them. Don't worry – the blueberries stay
as is but the peaches need a chopping loving as well.
Once everything is finely chopped, it is all about layering. This is
crucial to success. First, you'll put about ½ of your pineapple on
the bottom of a large bowl then half the raspberries and strawberries
then a ¼ of pineapple followed by the rest of your raspberries, ¼
of strawberries, ½ peaches, ½ the blueberries. The rest of your
pineapple, peaches, strawberries, and blueberries. Perfection! The
best thing about this fruit salad is that you can make it the night
before and it is still beautiful the next day.