Despite a having a thriving bush of Thai basil in my patio, I hardly cook with them. I have always been partial to sweet basil variety, until I saw a lot of Thai Basil chicken recipes swarming the net. We have been craving for a light lunch for the weekend, so with some leftover rice I decided to go ahead and make some delicious thai basil chicken fried rice. Originally a Thai inspired recipe, this healthy one-pot meal requires minimum cooking but yes, you may need to marinade the chicken overnight for better flavour.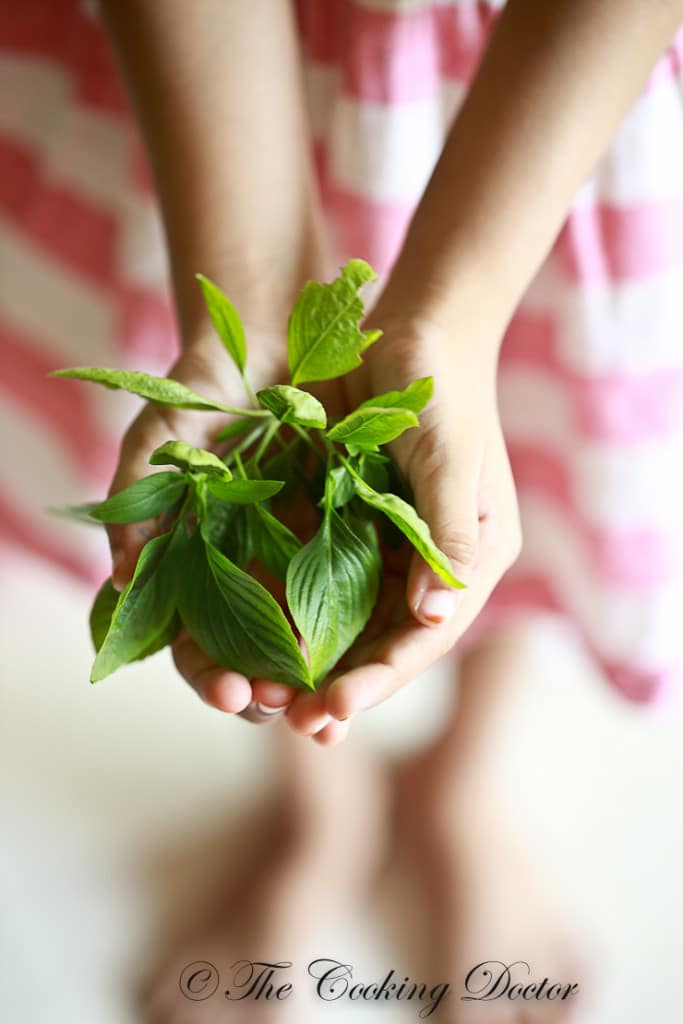 I have used chicken breast as it is also kid-friendly and gets cooked in no time. The marinade consists of garlic, soy sauce, Thai basil and homegrown chilli padi or bird's eye chilli all pounded in a traditional way-pestle and mortar. Whilst you can easily use food processor to achieve the same result, I prefer using pestle-and-mortar. There is something therapeutic about it,  and you can literally see the juice of the spices  flowing.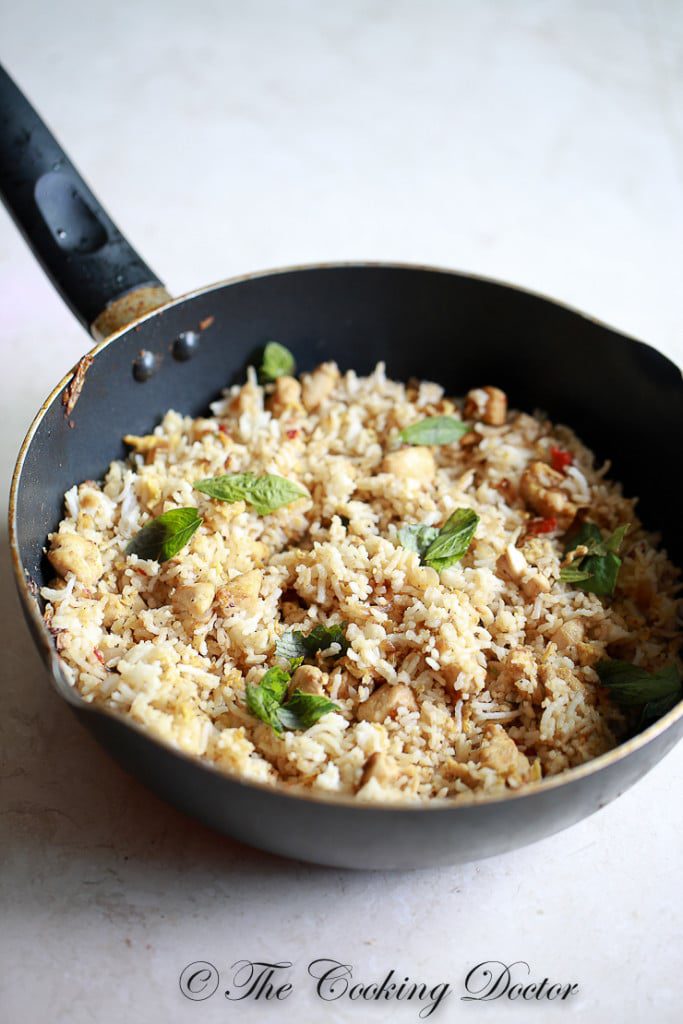 Ask any Asians about fried rice and they will tell you the universal tip; cold leftover rice makes the best fried rice. This will ensure the grains are separated and not become a mushy clump upon frying. I have also added some fish sauce to get the Thai kick-ass flavour. Even if you are not a fan of Thai fish sauce ( i am not!), this little extra secret ingredient makes a lot of difference to the final umami flavour. We certainly clean off our hot steaming plates of the fried rice in no time!
Thai Basil Chicken Fried Rice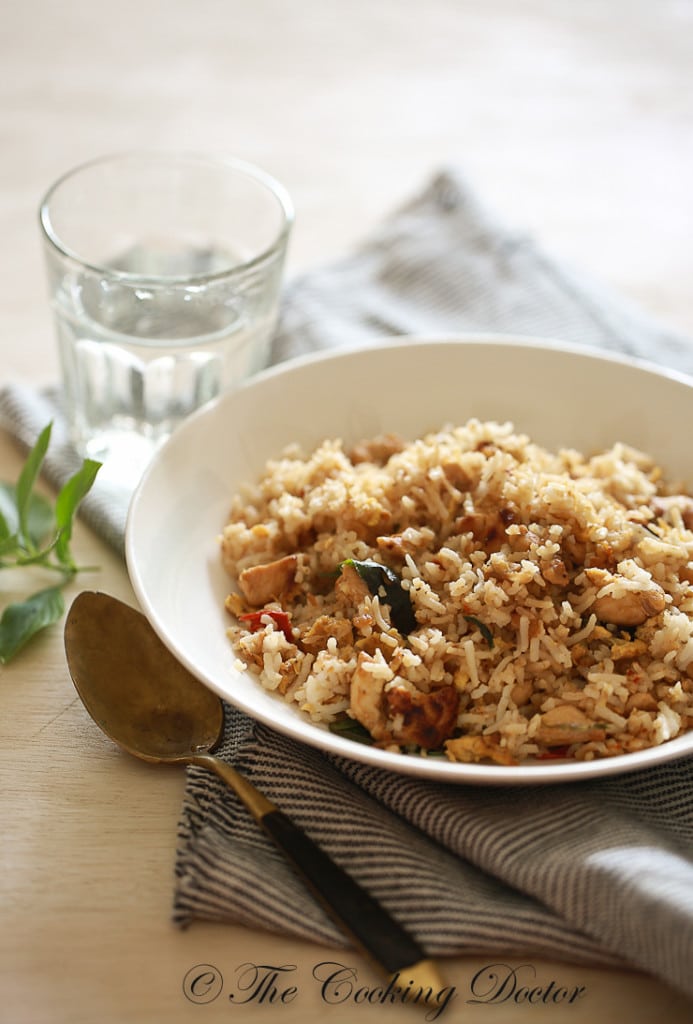 Thai Basil Chicken Fried Rice, healthy one pot meal ready in no time
Serves: 4 people
Ingredients
1 large chicken breast fillet ( around 200g), cut into small cubes
For marinade:
3 cloves garlic
a small bunch of Thai basil leaves
1 large red chilli or 2 chilli paid ( bird's eye chilli)
1 tbsp dark soy sauce
1 tsp light soy sauce
1 tsp black pepper
1 tbsp Thai fish sauce
2 tbsp canola oil
1 large red onion, diced finely
2 large eggs
salt to season
4 cups cooked rice
Instructions
Pound the red chilli, thai basil and garlic until finely minced. You can also use a chopper or food processor.
Marinade the chicken with the pounded mix, along with soy sauces, fish sauce and black pepper, ideally overnight or at least 2 hours.
Heat the oil in a wok.
Saute the onions until translucent.
Add in the chicken with all the marinade juices. and simmer until chicken are cooked.
Make a well in the centre and add in the whisked eggs. Leave for a minute before stir frying it.
Add the cooked rice in batches and mix well so the rice is well coated with the rest of the ingredients.
Season with salt if needed ( soy sauce could be salty enough), and serve warm.