This weekend has seen a drop of 20 degrees from Wednesday.
Brrrrrr.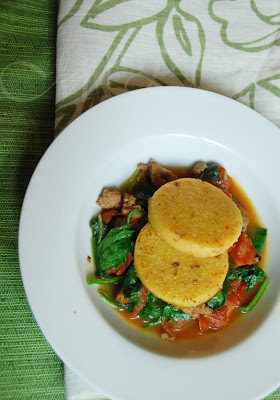 On night like this, all I want to do is curl up next to the fire with a big bowl of something warm. But I had already made some soup and a big bowl of pasta, so I scrounged around in my kitchen and stumbled upon a match made in heaven: polenta and canned fire-roasted tomatoes. Out of my fridge came a bag of spinach and some delectable turkey sausages.
Guys, it was so perfect.
If this recipe was a romance novel, it would probably go something like this: Tender, succulent polenta is sauteed until it forms a crisp crust, and then is topped with warm fire-roasted tomatoes, spicy turkey sausage, and earthy spinach. They snuggle up together, warmed by the heat of a smoldering fire, and end up being devoured in pure bliss and harmony.
Well, that wasn't awkward or anything.
But seriously, you should really try this recipe. I used a sun dried tomato polenta, the kind you buy in tubes at the grocery store, so it was so incredibly easy. This recipe honestly took me 20 minutes max, and it was one of the best ones I have made all winter. It was warming, hearty, and satisfying. What made it even better was knowing that is was healthy and packed full of vitamins, protein, and only required five ingredients!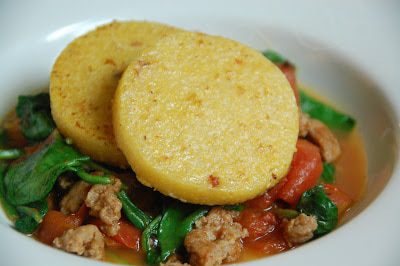 Sundried Tomato Polenta with Sausage, Spinach, and Fire-Roasted Tomatoes
Serves 4          Serving Size: 3 slices polenta and 1/2c. sausage mixture       Calories/Serving: 208
Ingredients:
2 Jennie-O's hot italian turkey sausages, removed from castings
Cooking Spray
1 (18-oz) tube sundried tomato polenta, sliced into 12 equal rounds
1 (14.5-oz) can of lower sodium fire roasted tomatoes with garlic
1 (6 oz) bag of baby spinach
Instructions:
Cook sausage in a large skillet over medium-high heat, breaking apart with a wooden spoon so you get little sausage chunks. When all sides are browned and the sausage is cooked through (it took me about 8 minutes, but make sure to check and see that no pink whatsoever remains), remove it from the heat but leave the fat in the pan.
Spray some cooking spray on the same pan, then add the polenta slices. Cook for about 3 minutes on each side over medium heat, or until golden brown and warmed through. Move to a separate plate.

Lower the heat and carefully add the tomatoes to the pan. Add in the spinach, and heat on medium-low (stirring occasionally) until the spinach has fully wilted and the tomatoes are very warm (about 4 min). Return the sausage to the pan, and stir until evenly distributed.
To serve, place 1/2c. of the sausage mixture on each plate and top with 3 polenta slices. Devour!