Tzatziki is a staple at my house and replaces ranch dip for veggies, bread sticks, baked potatoes…the list could go on forever. My family also loves eating the dip with homemade pita chips. You'll never guess that the pita chips are gluten and dairy free. By blending raw cashews with nutritional yeast, garlic powder, and sea salt, you'll never go back to that green can of parmesan again.
Tzatziki Dip
Ingredients:
1 1/2 cups of plain yogurt (I used Silk non-dairy)2 Persian cucumbers
1 garlic clove, crushed and minced
1 tablespoon of extra virgin olive oil
Juice of 1 small lemon
1/2 teaspoon of lemon zest
2 tablespoons of fresh dill, chopped
A pinch of fine sea salt and white pepper
Directions:
1. Grate the Persian cucumbers into a fine meshed sieve, and press out most of the liquid. If you are using a regular cucumber, peel it first.
2. Add the cucumber to the yogurt with the remaining ingredients. Cover and chill in the refrigerator for 30 minutes or until you are ready to serve.
Meanwhile…make the pita chips.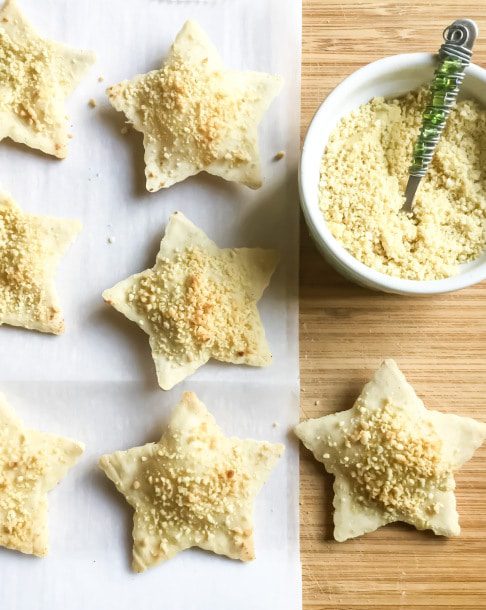 "Parmesan" Pita Chips
Pita Chip Ingredients:
2 ¾ cups gluten free flour (I used Bob's Red Mill)
1 packet of instant or fast-acting yeast
1 cup warm water
½ teaspoon fine sea salt
Extra virgin olive oil (EVOO)
For the "Parmesan" Cheese:
In a food processor, blend 1 cup of raw cashews, 3 1/2 tablespoons of nutritional yeast, 1/4 teaspoon of garlic powder, and 3/4 teaspoon of fine sea salt. Pulse until crumbly.
Directions:
Put 2 1/2 cups of flour in a large bowl. With a fork create a well in the middle of the flour. Add the yeast and ½ cup of warm water inside the well, and wait for 3 minutes to let the yeast absorb in the water. Drizzle about a tablespoon of EVOO into the well.
Use your fork to bring the flour in gradually into the water. Keep stirring, drawing more flour inside the liquid. Add additional water as you go. After a few minutes, you'll notice the flour is starting to bind together.
Dust your hands and surface with flour and knead the dough until it feels springy, like the texture of play dough.
Drizzle about a teaspoon of olive oil in a medium sized ceramic bowl. Use the ball of dough to gently coat the bowl with the olive oil. Place the dough in the bowl. Cover the top of the bowl with a warm, damp tea towel, and let it stand in a sunny place for 30 minutes.
Heat the oven to 450°.
Roll out the dough and use cookie cutters to stamp out the pita chips.
Place the pita chips on parchment lined baking sheets (as many as will fit). Brush with EVOO and sprinkle with "parmesan" cheese. Bake for about 3 minutes or until slightly golden. Repeat and enjoy immediately!