Last weekend, John and I spontaneously took a trip to Maine to see his family.  Of course, everyone else in New York City also spontaneously took trips to Maine.  After sitting in traffic for 4 hours and getting just to Massachusetts (a drive that should have taken 2 hours), we pulled off to eat and fill the car with its own food.

There, John found a surprise – a flat tire.  Of course, we have been talking about getting the car new tires for a few weeks now but money and time kept us from doing it (wait, isn't this ALWAYS the way?!).  So, on a doughnut, we drove the remaining 100+ miles to Maine.  Eight and a half hours later, and we were there.  The next day, we immediately went and got 4 tires; an expensive spontaneous trip to say the least.

By the time we got home Monday, I was almost glad to be going back to work and decided we should end the weekend on a sweet (and inexpensive) note!  Some leftover strawberries and quick topping, and we had a delicious dessert to end the last weekend of summer.
Strawberry Crisp
Serves:  4
2 cups strawberries, hulled and halved
2 tablespoons sugar
1 teaspoon lemon juice
1 cup flour
1 cup oats
1 teaspoon baking powder
1/3 cup brown sugar
2 teaspoons cinnamon
6 tablespoons butter
Preheat the oven to 400 degrees F.  Combine strawberries, sugar, and lemon juice into a 9×6 baking dish.  Let sit about 10 minutes while you make the crisp topping. In a small food processor, combine flour, oats, baking powder, and brown sugar until mixed
well.  Cut the butter into tablespoons and using two forks (or a pastry
blender), cut the butter into the flour mixture until the butter is tiny
peas.  Spoon
the mixture over the top of the strawberries.  Bake in the oven for
25 – 35 minutes until the topping is golden brown and the dish is
bubbling up on the sides.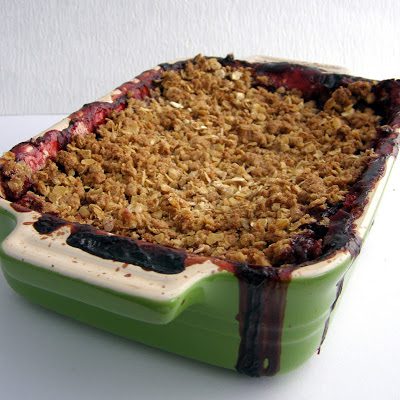 Until the next time my oven is on…