Sugee Cake is a cake commonly served during festive occasions by the Chinese, Malay and Eurasian communities alike. Good thing too, for this is one heck of a calorie-laden, artery-clogging, heart attack-inducing cake. It's such a sweet and rich treat, you could get diabetic just looking at it. It is therefore imperative that you eat this cake sparingly.
When I was little, I spent a lot of time at my grandparents' home. They lived right across the street fromChin Mee Chin Confectionary, a corner coffeeshop in Katong. This little piece of history has stood the test of time, with nary a change to its interior or menu. In fact, this is where many would agree, serves up the best kaya toast – a reputation formidably upheld since the 1950s.
My maternal grandparents, being Hainanese, were well-acquainted with the people at Chin Mee Chin, who were/are fellow Hainanese. In fact, they go way back to the time when my mother and her siblings were still youngsters.
My grandfather used to frequent the coffeeshop everyday, for years. He would sit and chat with his buddies till evening. Each time he returned, he would bring back bags of tasty cake ends or leftover pastries for us children to eat. Sugee Cake never failed to be included because it was, and still is, one of the signature cakes. You could say I grew up eating the best. Lucky me, I know.
Sadly, after my grandparents moved, they kept in touch less and less. Years later, my grandfather passed on, as did all his contemporaries, and it spelt the end of an era. But my grandmother is still alive, and for sure, she would get a superstar reception if she went back for a cuppa. The second generation at Chin Mee Chin still recognise my mom and her siblings, so all is not lost, I guess.

Crumbly and nutty!
Anyway, I wanted to try making Sugee Cake for Chinese New Year. I know it'll never be as good as the one I grew up eating, but I had to try it at least once. Some of the recipes I saw online were plain scary: FIFTEEN yolks! I almost fell off my chair. But then, that's why the best Sugee Cakes are so tender, because of the high proportion of yolks to whites.
So then I thought, why not try asking people I know? Someone might have a tried and tested recipe I could use. The first person I asked wasZurin, and not surprisingly, she had one on hand. In fact, it was her late aunt's recipe, one which her aunt had used to bake for sale. How generous is that?! I have the most wonderful blog friends. Ever.
*wipes tear*
If you want to see the recipe and read about the history behind it, please hop over to Zurin's atCherry on a Cake. You'll also be able to view notes which I have included, as I made some changes to suit my preferences. Thank you so much, Zurin! It was a lovely, nutty, aromatic cake indeed.
Note: If you choose to use my adapted version, don't just credit it to me only, but also to Zurin. Please provide the proper links to:
"The Little Teochew, as adapted from Cherry on a Cake".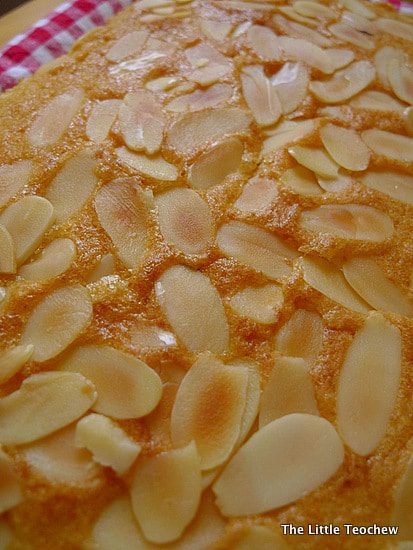 Now, follow the yellow brick road … to Cherry on a Cake.