It's been a weird week for me. On Tuesday my home country, Belgium, found itself under a very dark cloud. Today is Friday and I feel that the cloud slowly is lifting. I think about what happened a lot. Like a lot of people I have questions. Lots of questions. Am I angry? No, just disappointed that one human would want to hurt another. And that is true for every conflict that is going on anywhere in the world, wether it be war or in the family home. But this is what I believe: we are strong. Like grass. You can step on grass but it doesn't break. It just bends. And then it raises itself back up to grown some more.
Here in Berlin, spring is becoming more and more present. Small blossoms are appearing on the trees in the street, yellow and purple crocuses as well as snowdrops are pushing their way through the soil and grass; strong, green grass; is growing again. Today is the start of the Easter weekend. For me, it has always been the moment where I choose to leave the dark winter days behind and focus on the new life and opportunities that spring brings. So, despite what happened this week, I am going to keep focusing on the good things.
We are all home for Easter this year. This doesn't happen often when you have a pilot husband. I am so excited about that, that I think I've made too many plans for things we can do together. On top of that, our son is turning 3 only 2 days after Easter. I suppose we are looking at 5 solid days of celebrations. To start off this Easter weekend, S. (home from Kita with fever) and I made these lovely hot cross buns. The list of ingredients is on the longer side but once you have them all assembled it's a piece of cake. The mixer does most of the work. Then it's just the waiting and the finishing touches to do. Class them as bread and have them for breakfast. Call them buns and have them with your afternoon coffee. Or just have them because you want something sweet that isn't a chocolate easter egg.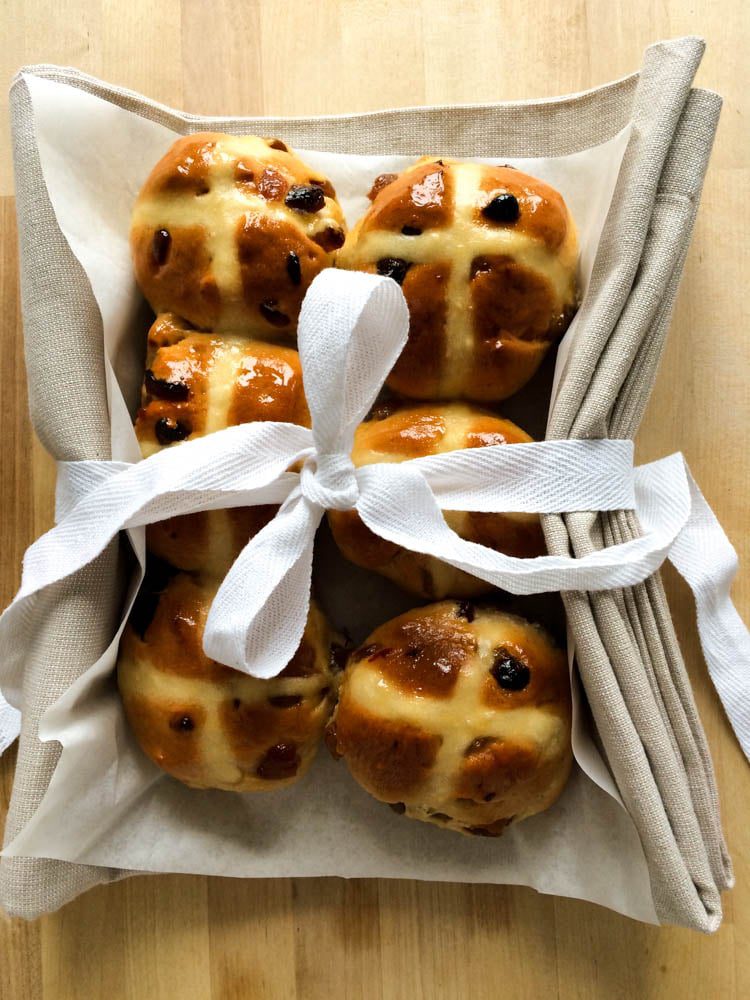 Hot cross buns
makes about 18 buns
Ingredients:
7g dried yeast
50g sugar
375ml milk heated to lukewarm
700g flour
1 tsp mixed spice * (recipe all the way down)
1 tsp ground cardamom
250g raisins
60g soft butter in cubes
1 egg
For the cross: 5 heaped tbsp flour
For the glaze: 5 tbsp apricot jam
Method:
1- Use a standmixer with the dough hook attached.
2- In the bowl of your mixer add the flour, spices, raisins and yeast. Let it mix for a minute.
3- Add the sugar to the milk and give it a stir. Then pour it into the bowl and add the egg and butter too. Mix this mixture for about 10 minutes on the lowest speed. The dough will form into a ball and start to come away from the bowl sides.
4- Brush the inside of a large bowl with oil. Take the dough out of the mixer bowl and make sure all the raisins are evenly distributed within the dough. Then form into a ball and place it in the oiled bowl. Cover with clingfilm and let it rise in a warm place until doubled in size (about an hour).
5- When the dough has risen enough, take it out of the bowl and place it on a lightly floured service. Knead it for another minute and shape into a long sausage. Cut 18 equal bits from the dough and shape into balls. Place them onto a baking tray lined with baking paper leaving about 3 cm between each ball. Cover with a clean towel and let rise for another 30 minutes.
6- Preheat your oven to 200 degrees C.
7- For the cross, put the flour to a small bowl. Gently add some water, tbsp by tbsp until you have a paste with the consistency of pancake batter. Put the paste in a piping bag with a nozzle that has a diameter of about 5mm.
8- When the buns have risen they should nearly touch each other. Make the crosses by piping across all the buns at the same time. In other words, you will be making several long horizontal lines and then several long vertical lines.
9- Bake for 20 minutes until they are a nice golden brown.
10- During the last 5 minutes of the baking process, heat the apricot jam in a saucepan on a low heat. Once runny, pass the jam through a sieve to get rid of any bits. Brush the het cross buns with the jam when they come out of the oven and still hot.
11- Let the hot cross buns cool inside the tray.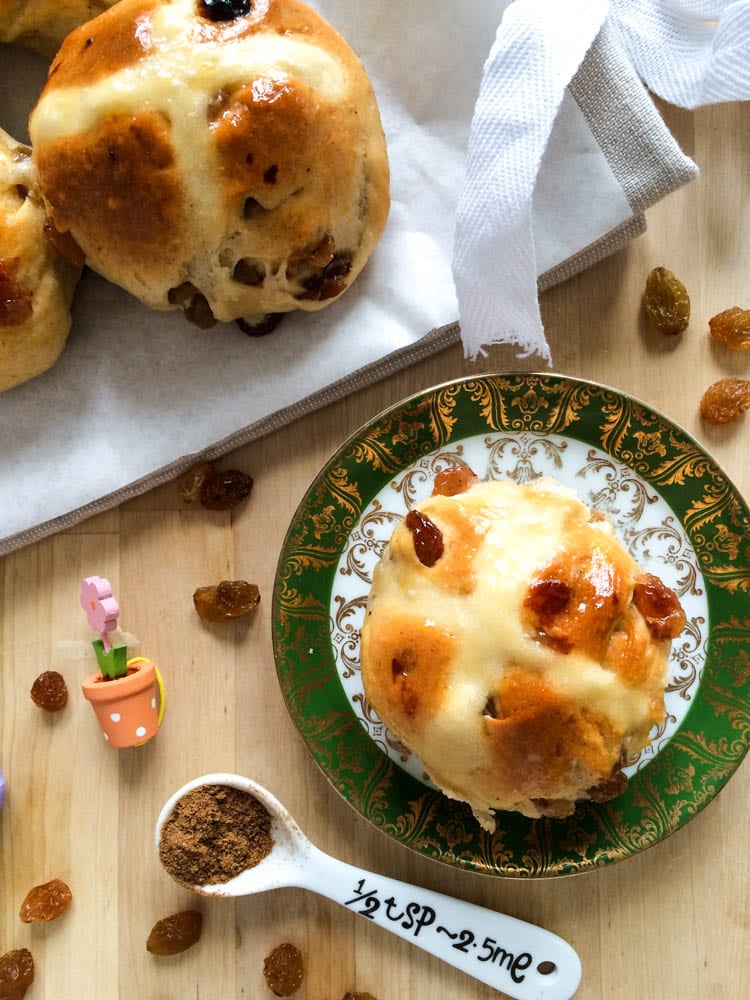 1 tbsp ground allspice
1 tbsp ground cinnamon
1 tbsp nutmeg
2 tsp ground mace
1 tsp ground cloves
1 tsp ground coriander
1 tsp ground ginger