To try and lift up theLondon fog.
NANAIMO BARS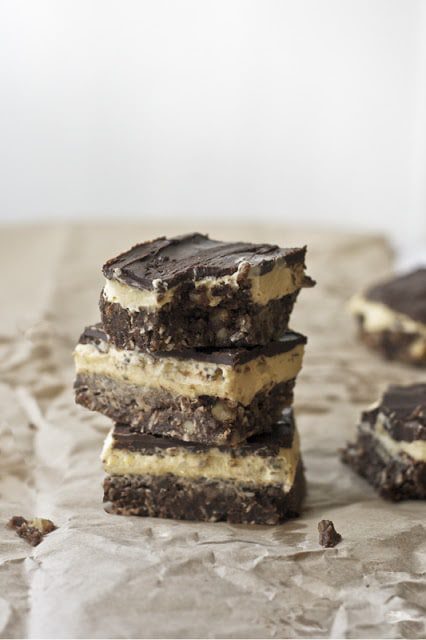 1 tablespoon ground flaxseed
3 tablespoons water
115g (½ cup) margarine
55g (¼ cup) sugar
35g (¼ cup + 1 tablespoon) cocoa powder
200g (12) vegan digestive biscuits, ground into fine crumbs
60g (½ cup) finely chopped walnuts
80g (1 cup) desiccated coconut
Custard layer:
115g (½ cup) margarine
2 tablespoons + 2 teaspoons soya cream or other non-dairy cream
2 tablespoons custard powder
120g (2 cups) icing sugar
Chocolate layer:
120g (¾ cup) dark chocolate chips or
chopped dark chocolate
2 tablespoons margarine
In a small bowl, whisk together ground
flaxseed and water and leave to set. Place margarine, sugar and cocoa powder in
a pan over low heat until melted, stirring to combine. Remove from the heat and
stir in crushed biscuits, walnuts, coconut and the flaxseed mixture, then spoon
the mixture into a 20x20cm (8×8") square pan, pressing it down evenly and
firmly.
Next make the custard layer. Cream
margarine, soya cream, custard powder and icing sugar together until light and
fluffy, then spread over the first layer. Place in the fridge to firm up whilst
you prepare the chocolate topping.
Melt chocolate and margarine over low heat.
Leave to cool slightly then pour over the custard layer and place in the fridge
to set for at least half an hour.