Banoffee Pie is a short form for "Banana Toffee" pie. I was very much intrigued by this recipe when I was browsing Ruchira's blog (thegreatcookaroo), my partner for this month's Blog Hop. She has a great writing style capturing the readers with details. Being a vegetarian I had a list of recipes selected from her vast selection that's appetizing for both vegetarians and non-vegetarians alike. I love this recipe for ease of its making and as a bonus I had a can of Dulce de Leche already in my pantry. The only thing I changed for my individual serving of this pie was swapping bananas with strawberries, me and banana are poles apart. Other than that its pretty simple recipe that can be made in a jiff if you have access to ready-made Dulce de Leche (don't worry even if you don't, the recipe includes the method for preparing it from scratch). I loved my Strawoffee(strawberry toffee pie) as much as my family loved their Banoffee.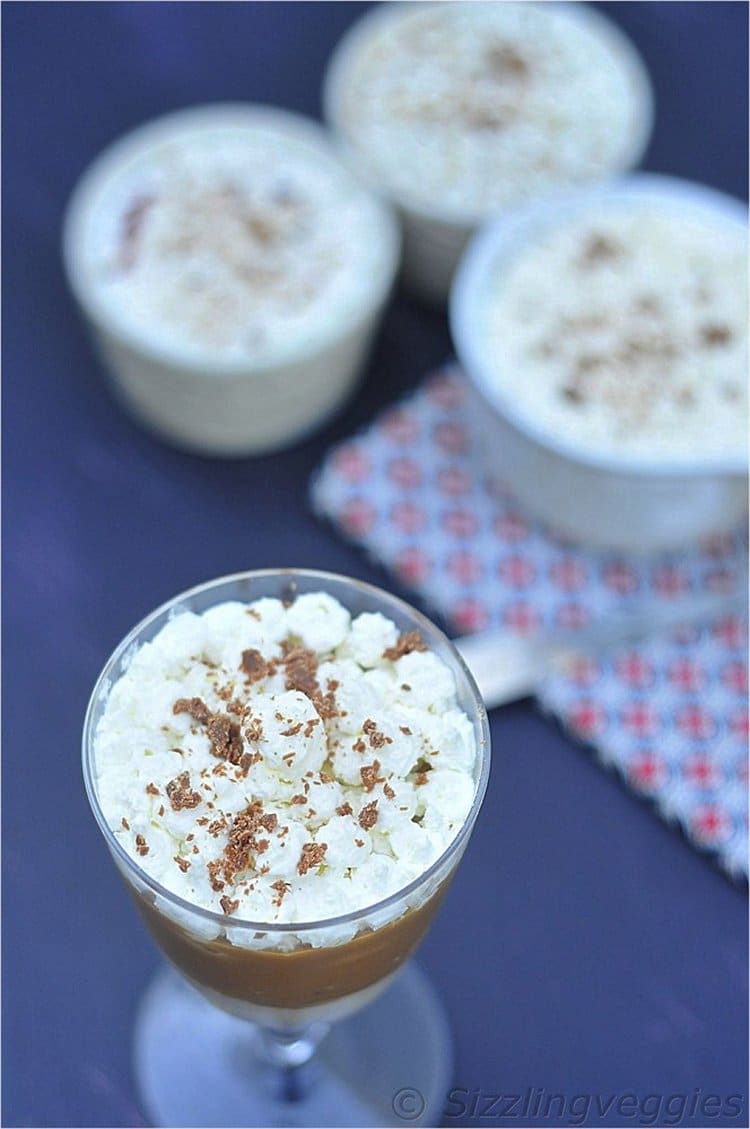 Ingredients :
Graham Crackers (Alternatively digestive biscuits such as Marie can be used) — 10
Melted Butter — 1 Tbsp
Dulche de Leche — 1 can (See note if you want to make it at home)
Milk –2 Tbsp
Banana/Strawberry — 1 (sliced)
Heavy Cream — 1/2 cup (Alternatively store-bought whipped cream can be used. )
Method:
1. Using a blender or rolling-pin crush graham crackers or digestive biscuits in to a fine powder. Add melted butter to it and mix it well. In a glass jar/glass/mini pie dish add about 1 to 2 tablespoon of graham cracker mixture and press it down tightly. Chill them in refrigerator for at least an hour to set.
2. Blend Dulce de Leche and milk and set aside. Whip the heavy cream with a hand blender until fine peaks are formed (alternatively cool whip or other ready-made whipped cream can be used).
3. Remove the set graham cracker dish from the refrigerator and add about 4 Tbsp of the Dulce de Leche to it. Layer sliced bananas or strawberries topped with whipped cream and optional chocolate shavings. Return the pie back to the refrigerator to chill for at least an hour before serving. Enjoy!!!
Note:
If you are making Dulce de Leche at home, you need a can of sweetened condensed milk. I'm giving Ruchira's recipe for Dulce de Leche verbatim —
Make the Dulce De Leche by emptying the tin of condensed milk into a large microwable bowl. Microwave on high for 4 minutes, if the bowl threatens to boil over. Turn it off, give it a stir. Turn the microwave back on, and let it thicken for another 3 minutes. Totally the dulce de leche should take under 10 minutes. If it's browning too quickly, yank it out of the microwave and set it aside to cool.