Here's a quick shout-out:
When people tell you they enjoy reading your blog, it is already a huge compliment. But when fellow bloggers devote an entire post to your blog, it is a tremendous privilege. And I have had that privilege twice this week.
Thank you, Monique and Dave, from the bottom of my heart. Thank you for your generosity, kindness and friendship.
Take a look at
– Monique's Moist Butter Cake at La Table de Nana, and
– Dave's Son-in-law Eggs at Year on the Grill.
– – – – –
I am still eating my way through the stash of Belgian chocolates my aunt hauled back from Brussels. One of the items is instant chocolate pudding. You just add sugar, boiling milk, and voila! A nice chocolaty treat awaits.
I made the pudding yesterday – perfect indulgence on a windy, rainy afternoon. Half of it, we ate when it was still warm, for we just could not wait ("we" refers to my daughter and I). And it was so gooood! Well, it's Belgian after all. The other half, I poured into serving cups and chilled them in the refrigerator.
At first, I never thought of doing a blog post on this. Instant pudding … what's there to write? But then, an idea struck. I saw some Sugar Frosted Rose Petals from Jo Pratt's In a Mood For Food – it wasn't even a proper recipe, more of a 3-line side note. But I fell in love with them right away. I envisioned how they would turn these Plain Jane puddings into elegant eats.
Frosting the petals was a breeze … it only took minutes. But the finished product … oh, they were a vision to behold. Delicate, beautiful and enchanting … literally jewelled petals, ready to add glamour to whatever dish they were to garnish.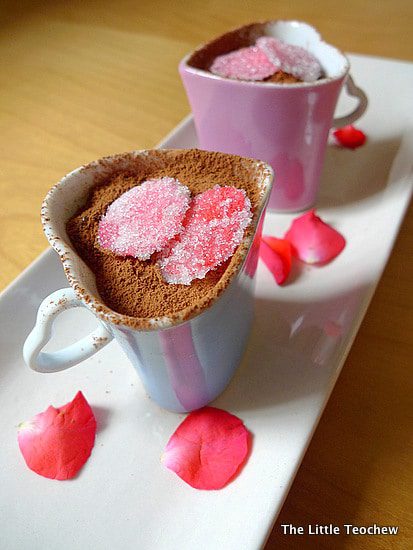 A little bling bling never did hurt anything! No one will realise you are serving instant pudding when they see these glittering rose petals.
For your next party, why not give these a try? Any dessert – whether an elaborate 3-tier cake or indeed, a cup of no-frills instant pudding – can do with an added touch of class. A word of caution, though: before you serve, take a deep breath and be prepared to face an onslaught of "oohs" and "ahhs".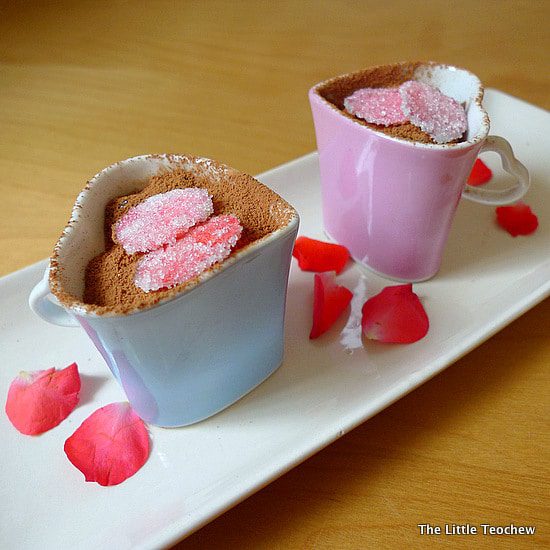 Recipe
(from Jo Pratt's In the Mood for Cooking)
– 1 rose (get organic if you intend to eat the petals!)
– 1 egg white, lightly beaten
– Caster sugar
1. Gently rinse individual petals and pat dry on paper towels.
2. Dip each petal into egg white, allowing excess to drip off.
3. Gently coat in caster sugar.
4. Leave dry on plate before using to decorate. Any leftovers can be stored in an airtight container.
5. If you don't have roses, I would imagine other edible flower petals would do fine too.