Girls today get a lot of terrible messages from social media about food.  Supermodels on Instagram seem to live only on homemade vegetable juice and the occasional bite of raw fish and we praise them for setting such healthy examples.  I greatly prefer the message of a beautiful woman who balances indulgences with smart, vegetable heavy meals while telling her readers to drink tons of water and get out and move.

The Londoner posted this recipe a few months back and I've fallen completely in love with it.  It's a regular in our house and just doesn't seem to get old.  I used to swear up and down that I hated cauliflower, but since falling in love with it in this recipe I've been eating it in quite a few dishes.  For now, I will swear that I hate beets.  Maybe then Rosie will change my mind about those too.
Guilt-Free "Fried Rice"
fromThe Londoner
Ingredients
2 tbsp coconut oil (or olive oil if you're allergic)
2 tbsp sesame oil
2 cloves of garlic, crushed or minced
2 or 3 fresh chilies, chopped (when I can't find fresh, I use paste)
1 head of cauliflower
2 tbsp low-sodium soy sauce
2 handfuls of cooked shrimp
2 eggs
2 scallions, chopped
optional for topping – fresh chopped cilantro, chopped peanuts or cashews, sweet chili sauce
Cut your cauliflower into florets.  (For easy, excellent technique lookhere.)
"Rice" your cauliflower by either pulsing it in a high quality blender (my weapon of choice) or putting it through a food processor with a grating attachment.  Put your cauliflower rice in a bowl and set aside.
Heat a wok over medium-high heat and add your coconut and sesame oil.
Add your garlic and cook until golden and fragrant, about 60 seconds.  Add chopped chilies and stir.
Add your "rice" to the wok and stir well to distribute the oil, garlic and chilies throughout.
Add scallions and stir through.
Add 2 tbsp soy sauce and stir through so that the "rice" becomes golden in color.
Add shrimp and stir through.
After a minute, make a hole in the middle of your rice so you can see the center of the wok.  Crack one egg into the center and let cook for about 60 seconds, or until the bottom begins to turn white and firm.  Stir the egg thoroughly through the rice mixture.  Repeat process with 2nd egg.
Cook another minute, stirring frequently to ensure the egg is cooked and watch your rice become delightfully fluffy.
Serve immediately.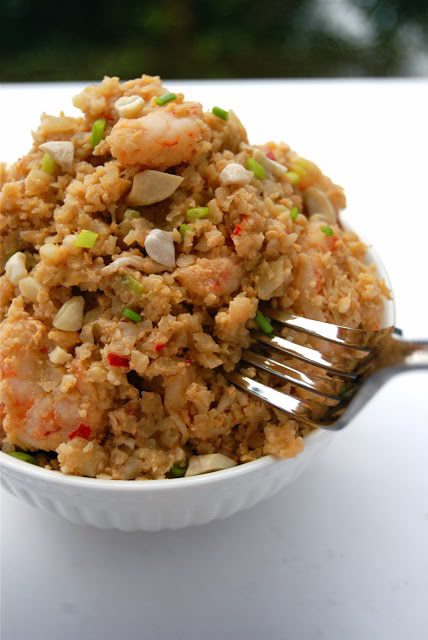 I like to top mine with a few chopped cashews, but peanuts work well also.  Paul likes his with cashews and sweet chili sauce.  We usually have enough rice for two very hungry people as well as lunch the next day.  Understandably results will vary depending on the size of your cauliflower.